Starting yesterday, the National Restaurant Association (NRA) is having their huge annual trade fair (NRA Show 2011) where vendors introduce new products and services for the entire US Restaurant Industry.
This may very well be a pivotal moment in the increasingly competitive on-line restaurant reservation business currently dominated by OpenTable (Nasdaq: OPEN), which has been referred to as a bubble stock.
[Click to enlarge]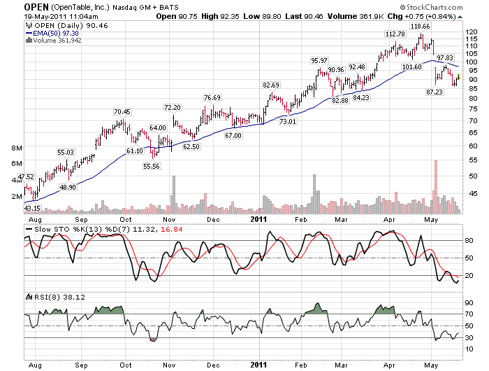 Click to enlarge
With Google's major push into social media and reservations, does it surprise anyone to learn that Google (NASDAQ:GOOG) is a keynote speaker at NRA Show2011?
NRA Annual Show: An Ideal Forum to Announce New Products
The "NRA Show 2011" will be a very likely forum for potential competitors to roll out their answers to OpenTable's expensive on-line restaurant reservation business model ("free" to diners, but very costly to restaurants). NRA has almost half of the approximately 900,000 U.S. restaurants as their members. NRA's stated mission is to improve profitability of their member restaurants.
Open Table's Costly Business Model
OpenTable charges $1.00 per seated diner for OpenTable reservations and $0.25 per seated diner for reservations made through the restaurant's own website.
In addition, there is a $199 monthly fee, plus training & setup fees. With common industry stats citing that restaurant profit margins are a paltry 5%, we can conclude that the $1.00 per seated diner essentially eats up all profit on a $20 dinner.
Competitive Threats
An insightful analysis suggested earlier last week that there are many reasons to expect competitive threats from Google, MICROS, Livebookings, IAC, Reservation Genie. Google seems most likely to take on OpenTable with its "Google Places" offering.
In addition, the NRA has every reason to push for an open database of restaurants to someone with as many eyeballs as Google gets. And this article speculated that the NRA'S hiring of Hans Lindh from OpenTable's competitor (Livebookings.com) in February was possibly a sign that the NRA wanted his expertise to help them either develop a free competing reservation system for NRA's member restaurants or to partner with another company to do so.
If either of the foregoing theories hold water, then the "NRA Show 2011" would be the place to announce it. And if speculation that Google is on the verge of getting into restaurant reservations are well-founded, this weekend may hold more clues than ever before.
NRA Show Attendee List Showcase "Social Media" Players
Having said the foregoing, the next question would be: "Are the potential OpenTable competitors even going to attend the NRA SHOW 2011?" And here is the answer:
"With eight out of 10 restaurant operators saying social media will be an increasingly important marketing tool, the National Restaurant Association will feature leading social media players at NRA Show 2011 in Chicago. The NRA Show will provide attendees with a veritable "who's who" of social media companies like Facebook, Google, Groupon, LivingSocial, SocialGrub, Travel Zoo, Where and Yelp to meet with on the exhibit floor – as well as highly focused education sessions that speak to every level of social media knowledge, from the basics to the advanced."
Not to mention the
NRA Show 2011 website
also lists UrbanSpoon and MICROS as attendees. This is probably the first year that the "social media" theme is so prominent at the NRA 2011 Show, and Google is a keynote speaker! Finally, the key takeaway from this weekend's event is mentioned on the
NRA SHOW 2011 Blog
:
"Google will be the keynote in the Technology Pavilion on Sunday, May 22, 12:00PM – 1:30PM"
Since this is probably the first time Google has been a keynote speaker at the annual NRA Show, one can only conclude that Google
plans to be a major player
in the restaurant business ecosystem -- including reservations -- especially after they acquired the travel reservations company, ITA Software. Not to mention that Google has been hiring many photographers to gather pictures of restaurants and other business establishments for "
Google Places
."A nd what is the NRA "
Technology Pavillion
?"
Technology Pavilion
The Technology Pavilion hosts demonstrations, education sessions, and exhibits focused on increasing efficiency, guest satisfaction, transaction speed and lowering costs." And what costs are currently too high? (online restaurant reservations, maybe?)
Enter: Google' s OpenTable-Killer App
To see a preview of what Google might be Demoing at the NRA SHOW 2011, click on this YOUTUBE Video showing a Google Hotspots mobile demo on a mobile device in which the user searches for restaurants near where they are currently.
As you can see in the video, in one fell swoop, Google has pretty much done an "end run" around OpenTable's restaurant search/aggregation offering. In other words, Google will be stealing restaurant-diner eyeballs from OpenTable. Google adding restaurant reservation capability on top of their Hotspots offering would be icing on the cake for Google, but almost not necessary if Google can monopolize restaurant search & query traffic for free.
For the many restaurant owners attending NRA Show 2011, do you think they'll now want to be listed with Google Hotspots for free, or join up with OpenTable and pay $1.00 per seated diner plus $199/monthly fees?
As announced here, Google is going to "update" all the NRA Show restaurant owners on their "product plans" with a tour of the Google Chicago office on Tuesday:
May 24: 2:00 p.m. - 5:00 p.m. Group Outing: Google The I.T. Study Group will tour Google's Chicago office and receive an update on Google's technology and product plans as they relate to the restaurant industry.
An "update" means there is new stuff beyond that which we know already (e.g. Google Places, Google Hotspots). Could that be "Google Reservations?"
Conclusion
The writing is on the wall that the "private club" aspects of OpenTable's restaurant reservations model will soon be eliminated by free market competition.
Many restauranteurs have stated they would welcome lower-cost or free alternatives to OpenTable's costly online reservations. As soon as viable alternatives emerge, OpenTable's revenues could plummet overnight as restaurants liberate themselves from this costly quasi-monopoly.
Could that be why OpenTable insiders have been selling shares like there's no tomorrow and the CEO has taken another job in a venture capital firm? This weekend's NRA Show may be a key turning point for online restaurant reservations. Stay tuned...
Disclosure: I am long GOOG.
Additional disclosure: The author makes no warrant for the accuracy of the content herein other than the links provided to traditional online sources of information for verification purposes. Additionally, investors shall not take any comments stated herein as advice to buy or sell any equities and if investors do so, they acknowledge that they have done their own proper due diligence and proceed at their own risk.