We turned our attention to the for-profit education industry. While never having invested in the industry, we have followed Strayer Education, Inc. for the last few years since it turned up on one of our screens. Looking solely at the fundamentals of Strayer and several of its competitors, we wonder if any of them would make potentially attractive investments. For this comparison, we looked at Strayer Education, Inc. (NASDAQ:STRA), ITT Educational Services, Inc. (NYSE:ESI), American Public Education, Inc. (NASDAQ:APEI), Bridgeport Education, Inc. (NYSE:BPI), and Apollo Group, Inc. (NASDAQ:APOL).

Using analyst's projected 5-year growth rates, we get the following results on our intrinsic value analysis:



While BPI, ESI, and APOL are selling anywhere from 50% to 80% of intrinsic value, STRA seems to be appropriately priced and APEI selling at a slight premium to intrinsic value.
For reference, the annual growth rate over the past five years for FCF/Share and EPS are as shown below. (Note: both BPI and APEI have less than 5 years' data available)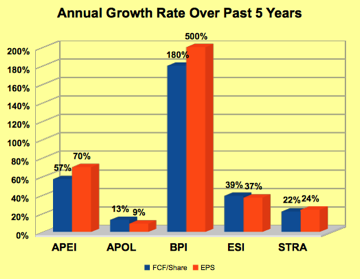 The analysis of valuation ratios gives us the following:



Looking at EV/EBITDA, APOL, BPI, ESI, STRA all seem to be selling below our value target of 7. BPI, the one stock that has a PEG ratio well below 1.0 as well as low price/FCF and EV/EBITDA, seems to be the standout with a good combination of growth and value metrics.

When we look at the returns on investment, we get the following:



All companies have Returns on Invested Capital well above our target of 15%. Of the 5 companies we have looked at, only APOL has shown a steadily declining ROIC over the last 5 years. This would bear monitoring going forward to see if they can stem the slide.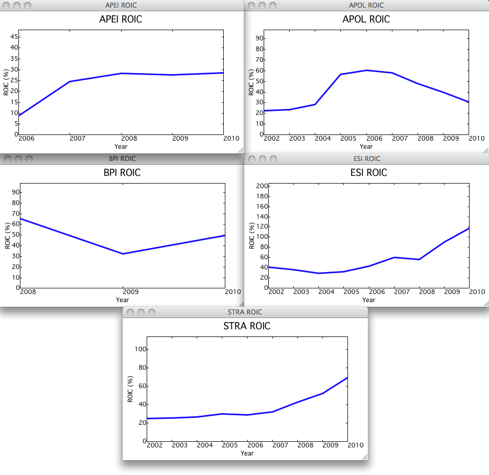 Finally we look at the debt and liquidity analysis for this group of stocks.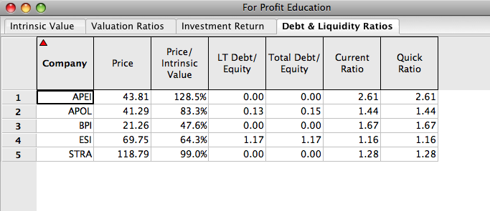 ESI and APOL are the two companies that have used debt significantly to finance their businesses. APOL has steadily reduced this debt over the past year or so and are down at 0.15 as of the last quarter.





It is always prudent to check the current and quick ratios of a company, especially when that company takes on debt, to ensure they are well prepared to pay their short-term obligations. We hope to see current ratios above 1.5 and quick ratios above 1.0. ESI, in this case, the company with the most debt also has the lowest current and quick ratios. This would bear longer term monitoring for anyone wishing to invest in ESI. APOL, ESI, and STRA all show declining current ratios over the last several years, and should be monitored going forward to see if they can stem the decline.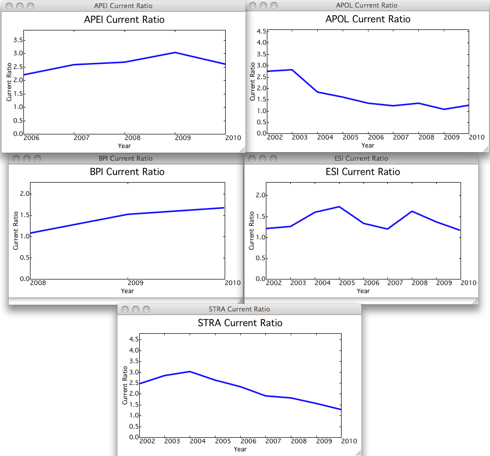 Reviewing the fundamentals and valuations of each of these companies, we come to the conclusion that BPI shows the best combination of prospective growth (if we believe the analysts), discount to intrinsic value (selling at 50% intrinsic value), high returns on investment and low debt.

Before investing in any company, of course, an investor should go beyond the fundamentals. For example, looking at the shares sold short for these companies we find that while BPI seems to have great fundamentals, it also has a huge percent of the float selling short. Further investigation into BPI's business case would be prudent to understand whether the high short float is indicative of serious problems at the company.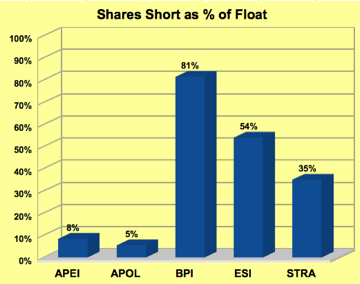 Disclosure: I have no positions in any stocks mentioned, and no plans to initiate any positions within the next 72 hours.