Stocks compete with the bond market for investor dollars. Equities are often compared to 10-Year Treasuries: when notes have low yields, stocks are considered attractive. However, little attention is paid to a comparison of a company's stock dividend and its 10-Year bond yield.
A look at stock dividends and bond yields for the same company gives a treasure trove of information -- how well does the bond market think about a company's business and safety and whether the bond or stock has the more attractive pay out. Investors should therefore pay attention to the bond market. There are a number of companies in which bond holders are willing to lend money at low interest rates, literally allowing the businesses to turn themselves into free cash machines, churning out much higher dividend yields to shareholders.

Five companies--Altria (NYSE:MO), AT&T (NYSE:T), Kinder Morgan Partners (NYSE:KMP), Kimberly Clark (KMP), and Verizon (NYSE:VZ)--have dividends paying out greater yields than their 10 year bonds. Each of their 10 year bonds are selling at a premium, indicating that bond holders are eager to own these companies' debt. Holders are willing to take the risk of holding this debt out a decade, at relatively small pay outs, signaling that bond investors believe the five companies have sound businesses. The stock dividends of all five yield more than their 10 year bond counterparts, yet afford the possibility of dividend and stock appreciation.

Stock investors should take their cue from the bond market and feel comfortable in buying the five companies.

1. Altria: This tobacco company's 10 year bonds sell at a hefty $30 premium. Bond holders have bid these bonds way up, driving yield down to 4.63%. You can get a 5.48% dividend with the stock with a potential for increased future dividends and share appreciation. I suggest taking the higher stock yield instead of paying up for the bond.
MO.HF / CUSIP: 02209SAJ2 coupon:

9.250% current yield:

4.630%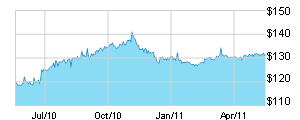 2. AT&T: This telecommunications company has a high 5.49% dividend. Its 10 year bond pays only 4.186%. Bond holders are paying a modest premium for the bond. The 5.49% dividend appeals to me far more than the 10 year bond yield. Why not take a high dividend rate with the potential of further dividend boosts and share price appreciation?
T.MA / CUSIP: 00206RAX0 coupon:

4.450%

Yield:

4.186%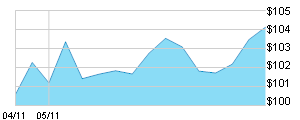 3. Kinder Morgan Partners: Bond holders have bid the 10 year up, currently selling at a $10 premium. Shares have a 6.2% distribution. KMP has a strong history of increasing its distributions. With the added advantage of tax deferral, this MLP offers a huge yield. The stock's advantage is pronounced: remember, the 10-year bond is taxed at ordinary rates, while KMP's distributions are not taxed until the stock is sold.

KMP.HG / CUSIP: 494550BC9 coupon:5.8% Yield: 4.63%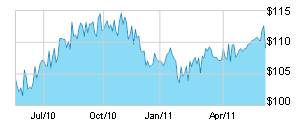 4. Kimberly-Clark: Bonds are trading at a slight premium. The dividend of 4.11% is much higher than the yield of 3.685%. KMB pays a dividend two and a half times greater than they paid 10 years ago, suggesting that dividend growth in the company is far from over. KMB likes to reward its shareholders.
KMB.AB / CUSIP: 494368BF9 coupon:

3.875%

Yield:

3.685%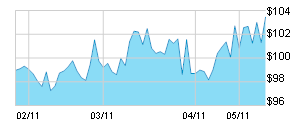 5.Verizon: Dividends at VZ are 5.25%, well over 100 bp when compared to the 10 year bond. Dividends are well below FCF, look safe, and have the possibility of increasing in the future.
VZ.SU / CUSIP: 92343VAX2 coupon:4.600% Yield:

4.162%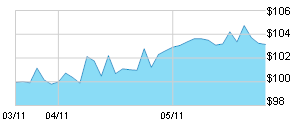 These five companies have dividends yielding more than their 10 year bonds. Most stocks cannot claim this. For instance, Microsoft (NASDAQ:MSFT) 10 year bonds yield 3.703%, higher than its stock's 2.61% dividend. You can get more bang for your buck elsewhere.
MSFT.GJ / CUSIP: 594918AL8 coupon:

4.000%

Yield:

3.703%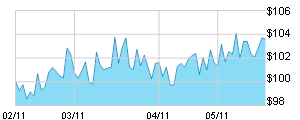 The Limited (LTD) 10 year bond pays out 6.077%, way above the common's 2% dividend. The company recently borrowed heavily in order to buy back its stock. The 10 year bond looks to be a better buy than the stock: heavy debt burdens may well limit LTD's ability to grow. I would have preferred LTD to use its borrowings to expand Victoria's Secret and Bath & Body Works more aggressively. Going deeply into debt to buy your own stock reminds me of people depending on margin to grow their portfolio.

LTD.AA / CUSIP: 532716AT4 coupon:

6.625%

Yield:

6.077%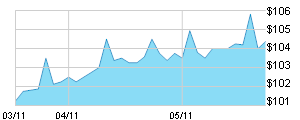 Similarly, such dividend stalwarts as Coca-Cola (NYSE:KO) and Colgate-Palmolive (NYSE:CL) don't offer dividend yields that are greater than their 10 year bonds. While both have a long history of raising their dividends, yields are not as compelling.
The bond market indicates that MO, T, KMP, KMB, and VZ are attractive longer term: the fundamentals of the companies appear solid. The yields on these bonds are lower than their common stock dividend returns. Each of these companies have consistently raised their dividends. MO, T, KMP, KMB, and VZ are worth consideration for current and future dividend yield. In contrast, MSFT, LTD, KO, and CL lack dividend yields greater than their 10 year bonds, failing this test.