Pacific Crest's Erik Olbeter said it best last week when he initiated coverage on shares of electric vehicle (EV) do-all Tesla Motors (NASDAQ:TSLA) at "outperform" with a $38 price target. While not quite as bullish as Morgan Stanley was last month in its analyst report on Tesla, Olbeter's probably more realistic. He highlights the two most important points that support a near- and, especially, a long-term bullish view on the company:
Tesla controls the "nascent market" of several EV components, particularly battery and powertrain systems. As I have focused on previously, the company keeps its bottom line healthier than it otherwise would be by providing know-how and hardware to other automakers such as Toyota (NYSE:TM). This proprietary advantage will also help Tesla produce better and more efficient EVs than some competitors.

Tesla has social swagger. Olbeter thinks EVs can become the "new green status symbol," namely in places like Northern California. I liken this to Tesla carbon copying Apple's (NASDAQ:AAPL) social cache in its stores and sales/marketing approach. Maybe more important, Tesla's Model S and Model X could introduce like Toyota's Prius did, capturing the hearts and minds of celebrities and "progressives" before penetrating the mainstream.
The general consensus among Tesla bulls and Olbeter is that financially, the next several quarters mean little. As long as Tesla maintains agreements to help build EVs like Toyota's electric-Rav 4 and keeps taking pre-orders for the Model S, it's all good. I agree.

Tesla CEO Elon Musk calmed fears on the company's last conference call. Not only is Tesla's Roadster selling out, but production for the Model S remains on track. Tesla continues to take pre-orders, plus the company has the ability to increase production if demand warrants. Most of all, Tesla's financial position can take the company through the Model S launch with no problem.

While a pure-play mutual fund or ETF for the EV industry does not exist -- and probably will not for a while -- it's encouraging to see that Tesla appears on the holdings list for the new Global X Auto ETF (VROM). Predictions abound about how the EV market will expand in the U.S. and abroad. An exact number on market share doesn't mean much to me. The market will grow. And as it does, you'll have more (and relatively less risky) investment opportunities in a space that never needs to dominate; it just has to be a relevant niche market.

In an April 1st, 2011 Seeking Alpha article, I offered options strategies for playing Tesla. If you wanted to own shares, but preferred to do so on a pullback from the Morgan Stanley-related hype, I suggested selling TSLA June $25 puts. At the time you would have collected a premium of about $2.25 for each put you sold. As it turns out, you presently sit on a winning trade. Those same puts closed at $0.54 on Friday. The downside -- you likely did not get your wish of being put Tesla stock; the shares only briefly breached the $25 level for a short time on a few days in mid-April. I doubt the opportunity will present itself again prior to June options expiration.

I also suggested a risk reversal that involved selling TSLA May $25 puts and collecting about $1.75 in premium and buying TSLA May $27 calls for roughly $2.85. The puts, of course, expired effectively worthless on Friday. The calls ended Friday's options expiration day at $1.00, but realize you would almost definitely have closed the position long before Friday to take profits and not get burnt by time decay. The chart on the TSLA May $27 calls, courtesy of MarketWatch's BIgCharts.com, shows the contract's price trajectory. Reserving the right to be wrong, I made a bad call there, catching the contracts near their high before a pullback in the underlying stock and time decay took hold.

Click to enlarge: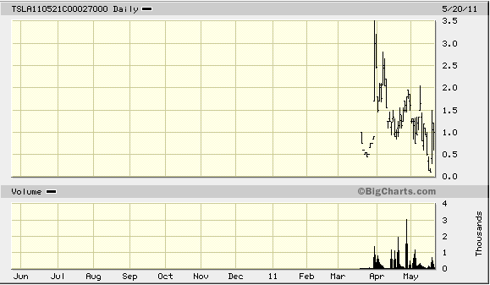 Click to enlarge

Lesson learned. Obviously, I did not anticipate the pullback as I should have. At least the puts cushioned the blow, which, of course is the reason for the structure of the risk reversal.

Fast forward a month and a half, I'm still bullish. I think selling puts remains a fantastic strategy using mid-$20 strike prices. You might need to be more aggressive (selling closer to at-the-money puts) to ensure you get shares. Patience will pay off, however, because investors should get restless, at least at some point, as they wait for the Model S to start rolling off of the assembly line. If Tesla shares do not dip enough so you get exercised on the puts, at least you have the premium income to show for it.

A no-brainer approach in addition to or in lieu of writing puts is dollar cost averaging, which allows you to put your investing on auto-pilot. Using this method of buying a fixed dollar amount of shares each month, you'll pick up more Tesla stock when the share price is lower and fewer when it's higher.

Disclosure: I have no positions in any stocks mentioned, but may initiate a long position in TSLA over the next 72 hours.