I dislike wordplay. Nor am I a fan of buzzwords. But, every so often you've just got to give in. "Synergy" is all the rage these days in business. And there's good reason for it. If a company can create synergies throughout its business, it tends to thrive, particularly in the rapidly changing areas of commerce and content delivery. Once you've got the goods -- programming, products, and services people want or at least could want -- you need to position yourself to deliver them via multiple dynamic platforms.
In this article, I argue that when investors evaluate a company, they should not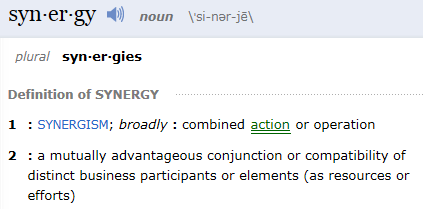 only assess the usual suspects, such as balance sheets and competition. Going forward, especially when looking at companies who produce and deliver all sorts of, ultimately digital, content, investors must consider if the company (a) currently creates sustainable synergies, (b) has a reasonable chance of creating synergies, or (c) doesn't appear concerned with or capable of a synergistic approach.
In a good chunk of the articles I write, I focus on Apple (NASDAQ:AAPL), Amazon.com (NASDAQ:AMZN), Netflix (NASDAQ:NFLX), and Sirius/XM (NASDAQ:SIRI). These companies have either achieved something close to perfection, set themselves on the path to perfection, flat out failed, or stand to benefit from what's going on around them with regards to creating synergy.
I have written about Apple and Amazon.com's ability to leverage their various business lines -- whether products, services, or platforms -- off of one another. In my articles about Netflix, I sometimes focus on the fact that they have what amounts to, relatively speaking, zero synergy.
Together, we could come up with many ways that Apple and Amazon create synergies within their own businesses as well as between their operations and the operations of other companies. Often, these other companies have no idea that they are being synergized. Or, more accurately, there's no specific or meaningful official agreement between Apple and these companies. Consider something I pointed out in a recent bearish article on NFLX:
I have yet to see anybody bring up the fact that programmers rarely, if ever, cross-promote to Netflix. They do, however, link to Apple, certainly because there's something in it for them. But that's not the only reason. An association with Apple does well for their images. It adds value to be associated with a premium brand, as opposed to one that gives away your blood, sweat, and tears for eight bucks a month.
You can't browse the internet for more than five minutes without coming across something that directs you to an Apple property. Available on iTunes. Now Streaming on Your iPad. Clearly other companies -- from tiny app developers to major multinational conglomerates -- have an interest in creating a synergy between what they do and Apple. I could break a five and give you a nickel for every time that synergy takes places vis-a-vis Netflix and still have money leftover for a low-fat, no-foam, soy latte.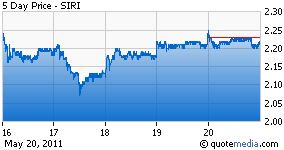 With Amazon, what I call "external synergy" also occurs, but the most dynamic example comes within the company's business lines that aggressively feed off of one another. In a previous article on the subject, I wrote:
Consider a likely trajectory: A college student starts purchasing textbooks through Amazon because they are cheaper than she can get them for at the school bookstore. She also realizes she can get a bookcase, beanbag, plastic chairs, and a stereo system to outfit her dorm room for less at Amazon than she can at Ikea or Best Buy (BBY). While she's at it, she notices she might as well save herself money and trips to the grocery store by loading up on Pop Tarts and frozen pizza delivered to her door by Amazon. Because she shops so much at Amazon and uses the same grocery items regularly, Prime and Subscribe & Save start to make sense. And while she's there, she ought to get on this cool new "cloud thing" that Amazon thought of. If only Bezos could find a way to sell beer, wine, and spirits, he'd be golden.
Apple's halo effect and retail strategy produce similar synergies. Clearly, companies can create external and internal synergies. The days of a standalone business might be extinct. It's really difficult to think of incredibly successful companies that do just one thing. It's also difficult to come up with companies that do more than one thing, but do not play these multiple revenue streams off of one another. This thinking makes up a large part of my bearish tendency toward Netflix. They're murdering their DVD delivery business to focus on streaming without, at the moment, any other components they can associate with one another.
In thinking about this new way of evaluating an investment -- asking whether or not a company "synergizies," externally and/or internally -- I considered the article I wrote on what Liberty Media's (LINTA) likely acquisition of Barnes & Noble (NYSE:BKS) might mean for Sirius/XM. In hindsight, I don't think I took my thesis far enough.
One of the wonderful things about writing articles on Apple, Amazon, Netflix, and particularly Sirius/XM, is that other writers produce excellent reading on them and readers offer incredibly insightful comments that help bring my thinking along. Fellow contributor Cameron Kaine mused on any Sirius/XM connections to the probable buyout. In his article, a commenter directed readers to a portion of Liberty Media's website that speaks to the notion of creating synergy in a rapidly-changing digital world:
We seek to take advantage of the benefits and minimize the risks associated with the digital transition in the industries in which we invest...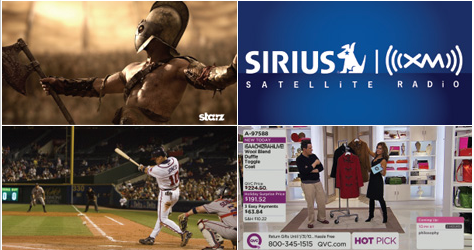 The pictures, which might someday work better as a Venn diagram and with Barnes & Noble in place of QVC or the Atlanta Braves, speak to potential synergies that could occur as a result of the buyout.
While my article on the subject focused on prime placement of new SatRad 2.0 products and a SatRad 2.0 marketing push in Barnes & Noble brick-and-mortar stores as well as at BN.com, I largely ignored the promise the bookseller's reader/tablet, the NOOK Color, could hold for Sirius/XM. Investors should be as giddy about the obvious connections between Liberty, Sirius, and the NOOK as they are about the forthcoming Amazon tablet or Apple's well-executed iTunes cloud. Observers have put the puzzle pieces together with relative ease on those two major developments. The trajectory of how Sirius/XM, Barnes & Noble, and other Liberty interests could work in concert looks even less daunting to figure out.
Consider language from a recent AP story on Liberty's reasoning for making the much-maligned buyout offer:

Click to enlarge
Barnes & Noble's Nook electronic reader now accounts for 28 percent of the market for those devices. And the Nook has the potential to go beyond books to deliver all types of digital products, including music, magazines, TV shows and movies. That makes it a competitor not just to Amazon.com's Kindle but also to Apple's iPad.

"This deal is all about the device," said Sherif Mityas, a partner in the retail practice of global management consulting firm A.T. Kearney. "As Apple proved, you need to have the content and the device. Malone has the content, and Barnes & Noble has the device. You're not buying the stores; you're buying the Nook."

Malone's empire, Liberty Media Corp., operates three publicly traded companies -- Liberty Interactive Inc., Liberty Starz Group and Liberty Capital Group -- through which it runs home-shopping network QVC and movie channel Starz. It also holds stakes in numerous other online, media and communications companies. Some believe that QVC could be used as a marketing vehicle for Barnes & Noble's Nook.
Insightful article, but I have two problems with it. First, I saw no direct mention of Sirius/XM. And, to that end, I cringe at the idea of QVC acting as a shill for the NOOK. The AP story went on to make a strong point -- Liberty could remake Barnes & Noble outlets in the image of Apple retail stores. But to say that in the same breath as aligning the strategy with a shopping channel that features former mid-level radio and TV personalities turned used car salesmen pitching everything from vacuum cleaners to cubic zirconia jewelry gives me pause. Simply put, QVC should not have a seat at the table.
Sirius/XM CEO Mel Karmazin, on the other hand, not only deserves a seat; Liberty will pull out his chair for him. And the Amazin' Karmazin will likely bring a box of doughnuts to the first meeting to show his appreciation. Karmazin will salivate at the chance to not only transform, but diversify his business.
I fully expect LIberty to feature Sirius/XM on the next iteration of the NOOK. It's nothing short of a no-brainer when you consider the direction modern-day content delivery is headed. This quote from Time Warner Cable (TWC) executive Melinda Witmer should serve as the mantra for the revolution:
I don't know what a TV is anymore. It's kind of an anachronistic term. -Melinda Witmer, Wall Street Journal, 3/25/2011
And I don't know what a radio is anymore. In fact, hardware no longer means much to me, at least not from a hard and fast standpoint. That is to say, just because you "do radio" does not mean you must deliver your content on a radio. Content creators need to provide their programming via the hardware and various platforms their audiences want to consume that content on or over. Adherence to the television, the radio, or any other piece of hardware spells death for those who stubbornly hang on to the old ways of doing things.
You definitely cannot characterize Sirius/XM as stubborn or old guard, but, on some points, I think you can logically ask for more from them. I touched on Sirius/XM's relatively weak marketing and promotional efforts in the above-referenced article on the probable Liberty deal. I have yet to mention something that should be a concern for current and future SIRI shareholders -- the company's reliance on sound auto sales.
While auto sales have been nothing short of brisk over the last several months, I am not a big fan of so much of Sirius/XM's fate being tied to the health of the car selling industry. There are so many variables beyond the obvious -- economic hiccups that lead to a downturn in vehicle sales -- that could hurt Sirius/XM here. Just think about the model of having Sirius/XM service as standard or an option on a new vehicle.
Plenty can go wrong at the dealership level with this sales process. It's up to individual sales managers and salespeople to live up to their end of the bargain. I know that when I have taken ownership of a new car, I found out about plenty of features on my own, weeks after having driven off of the lot. The salesperson dropped the ball by not upselling me properly or hard enough. This isolated argument aside, Sirius/XM should attempt to hedge its bet on a healthy auto industry.
It already does to some extent with an evolving internet radio version of its programming that should continue to improve with the introduction of SatRad 2.0. You can also secure Sirius/XM programming on mobile devices. Obviously, they're not dead to the world here. They're not tied to the radio as the only delivery method for their service, but it remains the default option. While it should always remain a core business, other platforms combined should get just as much attention. A Liberty-facilitated union with Barnes & Noble could accomplish this, creating synergies for all three companies.
The NOOK is ripe for a credible catalyst to take it to the next level. Flying under

Click to enlarge the radar, it has gobbled up considerable market share for readers. A mini-tablet of sorts, Liberty, as the AP story suggests, has to have big plans for the NOOK. The properties Liberty owns or has an interest in fit perfectly with the NOOK and a slate of freshened-up retail stores and vice-versa. Even QVC could have a place on the NOOK, even if having the network auction off SatRad 2.0 receivers is not such a good idea.
Of course, a NOOK tablet featuring a free month's subscription to all Sirius/XM programming, including Howard Stern (just thinking out loud) would have to execute a balancing act between "featuring" Sirius/XM and giving users exposure and access to other popular, competing services such as Pandora (NYSE:P).
These potential synergies work for all three companies. Depending upon the scale, they could benefit not only Liberty as a whole, Barnes & Noble, and Sirius/XM but Starz and other Liberty interests in isolation. In Atlanta, the NOOK could become The official tablet of the Atlanta Braves, who, by the way, you can hear on Sirus/XM.
It's all too obvious, which means that Barnes & Noble's special committee would be nuts to not recommend acceptance of the bailout. I would be stunned if Barnes & Noble did not move forward, accept the deal, and embrace any and all partnerships with Liberty's attractive entities. I would be equally as shocked if Karmazin wasn't consulted by John Malone and excited by his plans and their inherent potential. While they might not all come to fruition, the entire landscape, as it involves these companies, comes rife with possible internal and external synergies each player can explore independently and as part of the collective.
To this end, over the next several weeks, I will look closely at surrounding my growing long position in SIRI with similar positions in all three Liberty-related tickers (LINTA, LCAPA, LSTZA) as well as BKS. Assuming BKS remains its own ticker, it has SIRI replay written all over it as an investment. The beauty of, say, dollar-cost-averaging into these five names is that you build a gradual position, allowing for a monitoring of the situation before you're too heavily invested. Additionally, each holding has the potential to serve as a hedge against underpeformers.
In future articles, I will look closer at the companies mentioned in this article and others vis-a-vis current, potential, and missed synergistic opportunities. Going forward, when I consider an investment in a company, I will include synergy as one criterion of evaluation.
Disclosure: I am long SIRI. I may initiate long positions in LINTA, LCAPA, LSTZA, or BKS within the next 30 days. I am short NFLX via a long position in NFLX LEAPS put options. I may initiate long or short positions in AAPL or AMZN at any time.