Poet and philosopher George Santayana once said, "Those who cannot remember the past are condemned to repeat it." Let's take heed in these wise words and try to learn from our past. For those keeping score, the previous QE ended at the conclusion of Q1 2010 and a rude awakening followed:
The S&P 500 sagged from 1,219.80 (April 26, 2010) to 1,010.91 (July 1, 2010) or -17.1%.
The MSCI All World Index ETF fell from 45.31 (April 15, 2010) to 37.11 (July 1, 2010) or -18.1%.
The VIX index jumped from 15.23 (April 12, 2010) to 37.58 (July 1, 2010) or +147%.
For those who don't follow the VIX, it is regarded as a contrarian indicator (known as the "fear index") that measures the
implied volatility
of
S&P 500
index
options
. The VIX is quoted in terms of percentage points and translates, roughly, to the expected movement
in
the S&P 500 index over the next 30-day period, on an annualized basis. For example, if the VIX is at 15, this represents an expected annual change of 15%; thus one can infer that the index option markets expect the S&P 500 to move up or down [(1 + 15/100) x 1/12 months – 1] or 1.17% over the next 30-day period.
With markets in free fall last summer and a double dip in the cards, chairman of the Federal Reserve Ben Bernanke came to the rescue by providing a shot in the arm when he hinted on August 27, 2010 in Jackson Hole, Wyoming that the Fed would provide additional monetary easing (a.k.a. QE2). At that time, the S&P 500 was down more than 3% for the year. Since the QE2 announcement on August 27, 2010, the S&P 500 has rallied from 1,064.59 to 1,333.27 (May 20, 2011) or 25.2%.
The first QE had an even greater effect on boosting the S&P 500, as illustrated by our friends at CalculatedRisk.
[Click all to enlarge]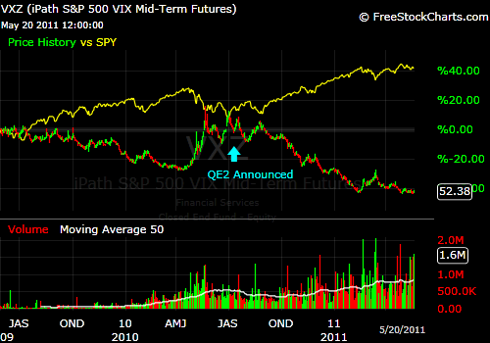 Click to enlarge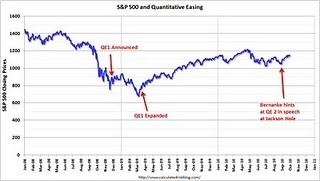 While history doesn't repeat itself, it does sometimes rhyme. With QE2 coming to an end next month in June, investors should consider protecting their profits from another decline similar to the one as when QE1 ended. Below are three ways to protect your profits:
Sell desired shares to reduce or eliminate market risk.
Purchase put options while volatility/premiums are relatively low.
Purchase VIX futures or ETFs/ETNs that track VIX futures.
Disclosure:
I hold a long position in
SPY
and may initiate a long position in
VXZ
over the next 72 hours.