Shorting the market is difficult, but you need to learn how to do it well if you want to be a successful investor. I recently wrote an article highlighting some key short selling techniques (Profiting From a Market Downturn: A Primer on Short Selling).
That said, the recent run in equities has weakened substantially, and I think the market is getting ripe for short selling. As such, I have been spending a fair amount of time recently looking for good short candidates.
In general, I like to pick weak sectors as a starting point when looking for individual stocks to short. The financial sector has consistently been one of the worst performing sectors in the S&P for the past few years. The S&P Select Financial SPDR (NYSEARCA:XLF) is down 11.31% over the past 52 weeks and down 7.03% year-to-date.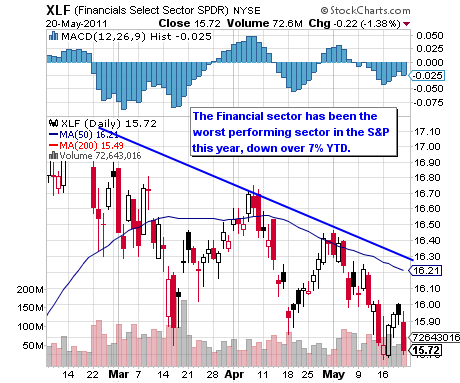 The prospects continue to look grim for the financial sector (specifically the regional banks). Debt levels are still near the peak of the crisis and unemployment will continue to be a drag on the economy. Until both of these situations improve (which is still years away, in my opinion), the financial sector will continue to struggle. Not to mention the uncertainty surrounding the end of QE2 in June.
Needless to say, financials are one of the main sectors that I am focusing on on the short side. It's extremely difficult to analyze the financials/fundamentals of the regional banks right now. These banks are still very much overlevered and their legacy portfolios are riddled with bad investments that are still marked well above fair value (i.e., what you see isn't exactly what you get). I think it's going to take five to 10 more years for these banks to work through their issues, and a sluggish economy (or possible recession) is only going to make matters worse.
Below are four regional bank stocks with decent short setups. One of the most profitable and low risk entry points for a short sale is when a stock tests a key resistance level multiple times and fails. I consider it low risk because it's very clear where you should get out if you are wrong (i.e., if it breaks through the aforementioned resistance). If you can short the stock very close to that level, your downside is extremely limited.
I would also consider the SPDR KBW Regional Banking Index (NYSEARCA:KRE) a possible short candidate around the $26.00 level.
Note: For each stock I also included a bear call spread for option income investors. I think bear call spreads are a great way to generate income (with limited risk) on good short candidates.
1. BB&T Corporation (NYSE:BBT) operates as the financial holding company for Branch Banking and Trust Company, which provides banking and trust services to small and mid-size businesses, public agencies, local governments, and individuals in the United States. It accepts various deposit products, including noninterest-bearing checking accounts, interest-bearing checking accounts, savings accounts, money rate savings accounts, certificates of deposit, and individual retirement accounts. The company''s loan portfolio includes commercial, financial, and agricultural loans; real estate construction and land development and mortgage loans; and consumer loans.
[Click all to enlarge]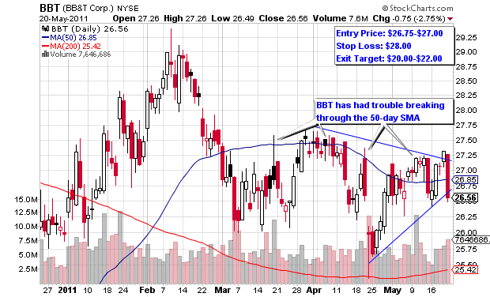 Click to enlarge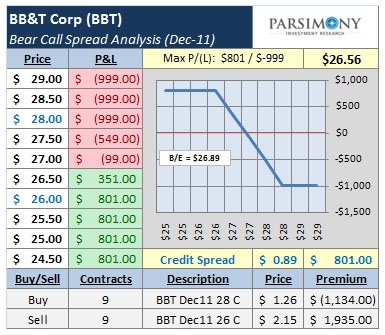 2. Comerica Incorporated (NYSE:CMA) provides financial products and services in the Midwest, Western, Texas, and Florida. The company's business bank segment comprises middle market, commercial real estate, national dealer services, international finance, global corporate, leasing, financial services, and technology and life sciences businesses. This segment offers commercial loans and lines of credit, deposits, cash management, capital market products, international trade finance, letters of credit, foreign exchange management services, and loan syndication services to medium-size businesses, multinational corporations, and governmental entities. Its retail bank segment offers small business banking and personal financial services, including consumer lending, consumer deposit gathering, and mortgage loan origination.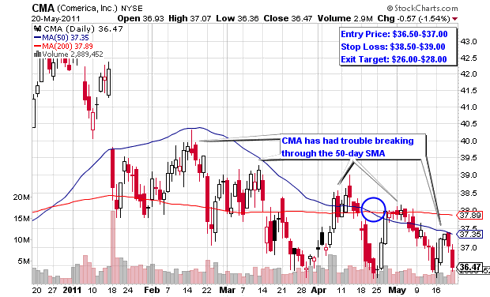 Click to enlarge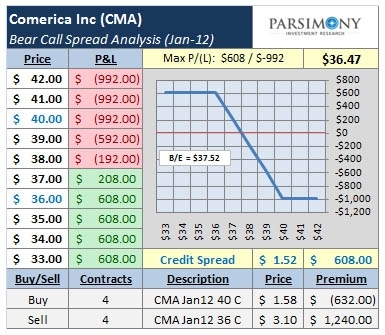 3. The PNC Financial Services Group, Inc. (NYSE:PNC) operates as a diversified financial services company. It offers retail banking, corporate and institutional banking, asset management, and residential mortgage banking services. Its retail banking products and services comprise deposit, lending, brokerage, trust, investment management, and cash management services. The company also offers corporate and institutional banking products and services, including lending products, such as secured and unsecured loans, letters of credit and equipment leases; treasury management services comprising cash and investment management, receivables management, disbursement, funds transfer, information reporting, and global trade services; and capital markets-related services, such as foreign exchange, derivatives, loan syndications, mergers and acquisitions advisory and related services for mid-sized corporations, government, not-for-profit entities, and large corporations; as well as offers commercial loan servicing, real estate advisory, and technology solutions for the commercial real estate finance industry.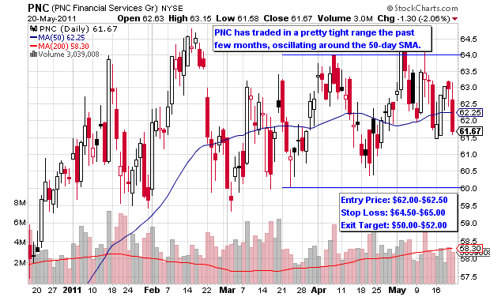 Click to enlarge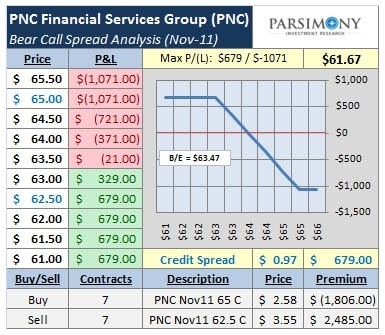 4. SunTrust Banks, Inc. (NYSE:STI) operates as the holding company for SunTrust Bank, which provides various financial services to consumer and corporate customers in the United States. The company's retail and commercial segment offers various financial products and services that include consumer deposits, home equity lines, consumer lines, indirect auto, student lending, bank card, and other consumer loans. Its diversified commercial banking segment provides commercial lending, financial risk management, capital raising, commercial card, and other treasury and payment solutions, as well as insurance premium financing and equipment and lease financing. The company's commercial real estate segment offers a range of financial solutions, such as construction, mini-perm, and permanent real estate financing; and tailored financing and equity investment solutions for community development and affordable housing projects.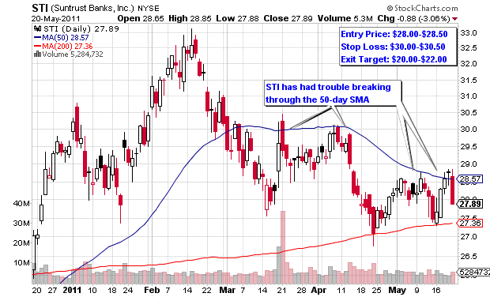 Click to enlarge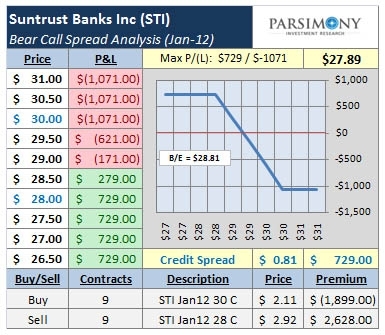 Disclosure: I have no positions in any stocks mentioned, and no plans to initiate any positions within the next 72 hours.