Staples (NASDAQ:SPLS) is the world's largest office products company. It pioneered the office products superstore concept by opening the first office products superstore in Brighton, Massachusetts in 1986 to serve the needs of small businesses, and currently serves customers of all sizes in 26 countries throughout North America, Europe, Australia, South America, and Asia. Next to having a leading presence via the traditional channels, it also ranks second worldwide in e-commerce sales.
Staples views the office products market as a large, diversified market for office supplies and services; business machines and related products; computers, technology and related products; and office furniture. Each sector of the office products market is approached through sales channels which are designed to be convenient to contract, catalog, online and retail store customers. Its businesses attract different customer groups with distinct purchasing behaviors.
The contract business targets mid-size businesses and organizations with between 20 and 500 office workers as well as Fortune 1000 companies. The catalog and online customers are generally small businesses and organizations with up to 20 office workers, which are targeted through catalogs and websites. The retail stores target small businesses, home offices and consumers.
The company's goal is to provide superior value to customers through a combination of low prices, a broad selection of office products, a wide range of technology and copy and print services, high quality and innovative Staples brand products, convenient store locations, easy-to-use websites, reliable and fast order delivery, and excellent customer service. Around 50% of sales are generated in office supplies and services, 30% in business machines and related products, 15% in computers and related products, and 5% in office furniture. The majority of the revenue comes from North America (78%) with around 22% of sales coming from international operations.
Staples announced Q1 2011 results on May 18. Let's take a look at some key statements in the announcement:
Total company sales for the first quarter of 2011 increased two percent to $6.2 billion compared to the first quarter of 2010. Net income for the first quarter of 2011 increased five percent year over year to $198 million, and diluted earnings per share, on a GAAP basis, increased eight percent to $0.28 from $0.26 in the first quarter of 2010.

The Company's results for the first quarter were weaker than expected. As a result, the company is adopting a more conservative sales and earnings outlook. Current expectations for 2011 assume very little improvement in the economy, continued investment in our growth initiatives and competitive pricing in the Contract market. These sales initiatives, combined with our ongoing focus on expense control, are expected to strengthen our results over time.

For the full year 2011, we expect sales to increase in the low single-digits compared to 2010 and we expect to achieve diluted earnings per share on a U.S. GAAP basis in the range of $1.35 to $1.45. The company expects to generate more than $1 billion of free cash flow after spending approximately $400 million in capital expenditures for investment.
After the announcement, the stock lost around 20% and is currently trading around $16. Even if Staples comes in at the lower end of the estimate, it would still grow earnings year over year at 10%. The good news is that the market reaction provides investors the opportunity to buy a great business for a very attractive price.
Let's take a closer look at Staples, why it is a great business, and the attractiveness of its stock by comparing its current price with an estimate of replacement and intrinsic value.
Graph 1 gives an overview of key financial information. Operating Margin, ROE and ROIC have all come down after the recession, have stabilized and are improving. However, there is still a significant gap between current and pre-recession levels. When calculating the intrinsic value, this will need to be taken into consideration. More on that later on in this article.
To get to an estimate of intrinsic value, we will first take a look at book value and make an estimate of replacement value. Graph 2 shows the trend of this over the last 10 years. Book value has grown from $2.94 a share to $10 YTD (a CAGR of ~13%). I estimate current replacement value to be more than $20 a share, at least 20% higher than the current stock price.
Taking the historical equity growth rate and applying it to the current stockholders' equity gives $8220 million, and with an historical ROE of around 15%, that would give a per-share value of $1.70. This is indeed higher than management's 2011 estimates of $1.35 to $1.45 a share -- an indication that performance indeed is not matching up against historical averages. This does not take away that growing earnings with 10% is not a bad performance -- at least, not a performance that justifies a forward P/E of 11.
Graph 2: Book Value and Replacement Value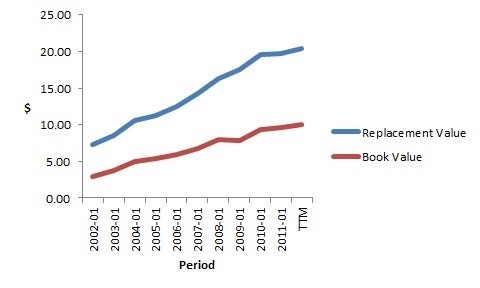 Secondly, we'll take a look at Staples' Earnings Power Value to get to an estimate of intrinsic value. The following data will be used to calculate the current earnings power based on the financials provided in the latest quarterly filing:
EBIT Margin of 5.5%. This is lower than the pre-recession margin of 8% (as indicated earlier in the article).

SG&A and Depreciation adjustment.

Tax rate of 34%.

Discount rate of 12%.
This gives an earnings power value of $19.50 a share (excluding future growth). Graph 1 indicates that Staples in the last 10 years has grown revenue year-over-year, including during the recession periods. This justifies including a future growth factor in the intrinsic value. We'll assume a revenue growth of 5%, a return on capital of 13% and a cost of capital of 11%. This would put the intrinsic value close to $22 a share.
Graph 3: Book Value, Replacement Value and Intrinsic Value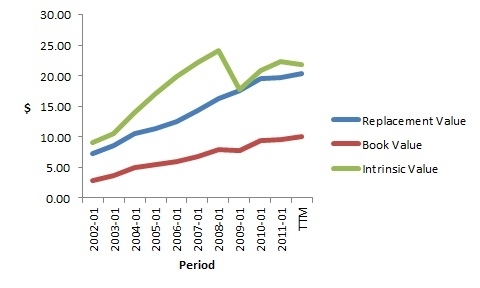 Graph 3 shows that the intrinsic value in the last three years is close to replacement value. This is mainly due to the lower margins the company is realizing after the recession. Normally when the intrinsic value is close to the replacement value, it is a sign that the company has no real competitive advantage. If this remains the case, then the stock has around 20% upside. I am inclined to give Staples the benefit of the doubt. If management is able to get margins and growth closer to the levels realized in 2006 and 2007, then it would increase the intrinsic value to around $25-27 a share. That would give a potential upside of close to 40%.
With a current price of $16.37, you buy a company that has grown revenue over the last 10 years with a CAGR of 8%, stockholder equity with a CAGR of 13%, that has been able to generate a higher return on capital than its cost of capital, is almost debt free, and has paid a dividend since 2004. Compared to replacement value as well as an estimate of intrinsic value, you can buy a great, market-leading company trading with an attractive discount to intrinsic value.
Disclosure:
I have no positions in any stocks mentioned, but may initiate a long position in
SPLS
over the next 72 hours.