Last week was quite the anomaly when it came to stocks and commodities. The Dow Jones Industrial Average managed to close above 12,512 and the broader S&P 500 held slightly above the support level of 1,333.
After the S&P 500 Index rallied 5% from its mid-April lows into May, we seem to have entered a period of volatility and instability, as the first-quarter earnings season winds down and worries about European sovereign debt and Fed policy are the recurring excuses.
Many technical analysts concur that a major support level on the S&P 500 is at 1,328. The two most respected technical chart readers that I know of share that same opinion, so today's closing number better be 1,328 or higher. If not, we may see more serious pullback.
The stock market is in a seasonally shaky period of time and has been anything but "hot" over the past few weeks. Throughout this range-bound period, the SPX has found support at its 80-day moving average, which is currently situated at 1,320.
The 1,320 S&P support line marked a low in mid-April, and once again earlier this week. In addition, the March 2009 "double-low" in the 1,333 area has proven to be supportive on various occasions during the past couple of weeks. Yet as this new week dawns, I see the S&P 500 down almost 1.4% at 1:30 pm EST.
Disturbing for the bulls is the series of lower highs put in during this month, as a trendline drawn through various peaks rests in the 1,340 area. This just happens to be the site of the February peak that preceded a month-long, 6%-plus correction earlier this year. Will lightning strike twice in this regard?
The bears, meanwhile, are fighting a series of higher lows in place since mid-March. In order for this pattern to continue, the SPX must hold support in the 1,320 area. If we see a fourth straight week of declines, a failure at 1,320 could set the stage for a quick move down to the March calendar-year lows in the 1,250 area. If that happens, it could be a "sweet spot" for investors waiting for an "end-of-spring" price reductions on their favorite stocks and an advantageous place to start accumulating for the next leg up.
This morning, we were told that stocks were plunging lower over fears that the European debt crisis is worsening. Standard & Poor's lowered Greece's debt ratings last Friday and issued warnings on the financial condition of both Italy and Spain.
Gold has rallied back above $1,500 and silver tested its support above $33 and closed Friday above $35. As of this moment, gold is higher at almost $1,515 an ounce and silver has corrected below $35 at $34.89.
We recently learned that the demand for gold during the first quarter of 2011 in China was stronger than the combined total demand of the developed West, as illustrated by the chart below, which was released earlier this month by the World Gold Council. Bloomberg reported more of the details concerning why China's gold imports may continue to increase.
If you combine the gold demand of the U.S., France, Germany, Italy, Switzerland, the U.K. and other European countries, their total demand is still less than China's. That's despite triple-digit increases in demand from France, Germany and Switzerland. China's seemingly insatiable appetite for gold isn't likely to change anytime soon. In fact, it seems logical that Chinese demand is more likely to increase in the months ahead if inflation pressures also increase.
[Click to enlarge]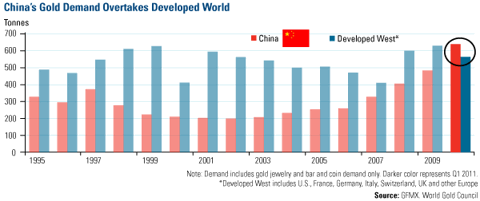 Click to enlarge
Silver short-term is another story. It may rally a bit more, but reliable sources tell me that it may test support at $33.18 and if it breaches that level, the next support is $26.95.
Oil & natural gas prices did well on Friday, partly due to futures and options expirations. Yet as the week begins, oil prices have fallen back by 3% due mainly to a rally in the dollar. Major energy producers like Chevron (NYSE:CVX) and ConocoPhillips (NYSE:COP) are seeing share price consolidation as the May 23 trading week begins.
The leveraged trading factor for oil is still a looming one, and as we head towards the Memorial Day weekend in the U.S. it would surprise no one to see oil and gasoline prices spike up only to head back down in the first week of June.
That may partly be why Anadarko Petroleum (NYSE:APC) bounced up convincingly last week. It rose 4.1 percent, the most since Feb. 17, to $74.58. The company, holder of a 25 percent stake in the Macondo well that caused the biggest offshore U.S. oil spill, rose after operator BP Plc (NYSE:BP) settled spill-cost claims with its other partner in the project.
The technology sector looks undervalued and ready to move significantly higher after the current correction takes its course. Apple (NASDAQ:AAPL) has a forward P/E ratio of only 12 and is sitting on $66 billion in cash and cash equivalents. Many of the major tech companies also sell at historically low earnings multiples and have lots of cash in their coffers.
Brocade Communications (NASDAQ:BRCD), which I have written about before, gained 6.5 percent last Friday, the most intraday since Sept. 22, to $6.67. The biggest maker of switches for data-storage networks reported fiscal second-quarter earnings of 13 cents a share excluding some items, beating the 10-cent average analyst estimate. I still believe BRCD is a potential takeover candidate.
Another "hot" part of the tech sector (server networks that help web sites load faster) is represented by Akami Technologies (NASDAQ:AKAM). Friday its shares gained 4.7 percent, the most since Sept. 2, to $34.20.
SunTrust Robinson Humphrey reiterated its "buy" rating on the company, saying Akamai will remain a leader in its market. The shares had fallen 20 percent since April 27, creating an "opportunity" for investors, Robinson Humphrey said in an unlinked report.
Insiders at AKAM have been big buyers and beneficiaries of the wild price swings in the stock price. Chief scientist Leighton Thomson has been one of them. He bought shares back at the $16 level. In the following two years, shares of Akamai soared to more than $54 per share.
In recent weeks, the shares have fallen to 52-week lows of $31.58, as investors reacted to earnings growth that was lower than expected.
Last week, Thomson started buying once again at bargain prices. He snapped up 50,000 shares at $32.66 for a total investment of $1,500,000. Unfortunately, the news broke after the market close and that's one of the big reasons Akamai shares were strong Friday despite a down market.
On the topic of big tech stocks which have been about as "hot" as an iceberg: Is it rational for cash-rich companies like Microsoft (NASDAQ:MSFT), Cisco Systems (NASDAQ:CSCO) or Intel (NASDAQ:INTC) to be selling for less than 10 times forward earnings? INTC, MSFT and CSCO also pay a pleasing, adequate dividend and MSFT sells for less than nine times next year's projected earnings and has total cash on its balance sheet of $49 billion.
Speciality Restaurants are also "on fire." Red Robin Gourmet Burgers Inc. (NASDAQ:RRGB) certainly caught my attention when shares rallied 24% in one day after the restaurant chain reported first-quarter earnings that exceeded expectations. RRGB hit a 52-week high and is selling at a dizzying 25 times forward earnings. Is this restaurant chain really worth that price? The same question was asked about Chiptole Mexican Grill (NYSE:CMG) back when its shares were worth less than 50% of today's price.
Mortgage REITs like Annaly Capital (NYSE:NLY), Hatteras Financial (NYSE:HTS), American Capital Agency (NASDAQ:AGNC) and Chimera Investment Corp (NYSE:CIM) have climbed with gusto, even though they pay suspiciously high dividends (12% to as high as 19% at current levels). How mortgage REITs basically create their money-flows is by buying mortgages and mortgage-backed securities, which the Federal Reserve has been buying and supporting. Then to goose their income stream, these Mortgage REITs leverage their investments by borrowing repurchase agreements against them. The difference between the short-term rate they are paying and the interest they collect from the mortgages is the interest rate spread. The larger the spread, the more money they can reel in.
This leverage game is founded on a concept that has worked as long as the Fed has been supporting the MBS market. That concept is, " The more leverage they use, the more money they can earn" and the more dividends they can pay out.
To add to the consternation, it appears consumers in the U.S. aren't spending and purchasing like many had anticipated. Retailers like Aeropostale (NYSE:ARO) and Gap (NYSE:GPS) were decimated Friday on disappointing earnings guidance. The whole sector has cooled down as much as expectations for a strong economic recovery.
Precious metal stocks from Silver Wheaton (NYSE:SLW) to Goldcorp (NYSE:GG) to Newmont Mining (NYSE:NEM) are off their recent lows but still way down from their 52-week highs and technically ready to test support. One bright star in the precious metals sector looks like Freeport McMoRan (NYSE:FCX), which has rallied off its May 17 low of $46.06 on good volume. FCX is paying a plus 2% dividend and trades at less than eight times forward earnings. It has nearly $7 billion of operating cash flow (trailing 12 months) and leveraged free cash flow (TTM) of $4 billion.
As Jim Cramer recently reported on CNBC, FCX's stock price may have been helped by rumors that the Chinese government may be done raising interest rates because of recent negative news on its industrial production.
Whether you're involved in the stock market or the commodity markets, the next two weeks will be quite telling and may open the door to some attractive buying levels in the sectors that are rotating into the latest leadership positions.
Disclosure: I am long APC, AKAM, CIM, CSCO, MSFT, INTC, FCX, SLW, GG, COP.
Additional disclosure: I'm planning on purchasing NLY and HTS at lower buy limit prices.