Established in 2004 Silver Wheaton (SLW) has been a top performing silver stock. It has rewarded early investors with a tenfold return on their money in only seven years. What's different about Silver Wheaton is that they are not a silver mining company; they buy silver "streams" from operating mines at low fixed costs and sell it at the market prices.
Streaming strategy
Silver Wheaton purchases by-products of silver production from mines that it does not own or operate, for an upfront cash payment. By making an upfront payment they achieve a win-win situation for both parties, as SLW gain access to an inexpensive silver supply, and the operating mining company receives cash it can use to develop capital intensive mining operations. This strategy is referred to as silver streaming, and it allows Silver Wheaton to minimize risk by keeping its fixed operating costs low, with no ongoing capital expenditures and no ongoing exploration costs.
Silver Wheaton's purchase agreement of future silver production is pre-determined at around $4 per ounce, and since Sliver Wheaton is 100% unhedged, any rise in the silver prices goes directly to SLW's bottom line.
Financials
By using a streaming strategy and keeping costs low, the company has built a strong balance sheet with little debt and an incredible 69% profit margin.
Mines and Properties
Silver Wheaton has positioned itself as the largest silver streaming company in the world. At present they have 14 long-term silver purchase agreements and two long-term precious metals purchase agreements with 13 mining partners around the globe. SLW's agreements cover 16 operating mines and three development stage projects where they will buy streams of silver, typically at a cost of $3.9 per ounce. The chart shows the locations of SLW's lease agreements around the globe.
The chart below shows proven and probable reserves attributable to Silver Wheaton, and its potential value at different silver price points. An increase in silver prices will quickly increase the value of its reserves.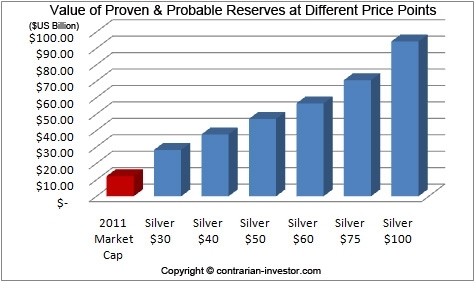 Production
Silver Wheaton is set out to produce around 28 million ounces of silver in 2011 and the company is already projected to double its 2010 revenues. The company generated $423 million in sales in 2010 and is anticipated to generate over $800 million in sales with silver prices at current levels. The chart shows SLW's 2011 forecasted silver sales at different silver price points.
Silver Wheaton anticipates that it will produce approximately 43 million ounces of silver by 2015. With current silver prices the company will triple its 2010 revenues, and any additional rise in silver will contribute to ever higher earnings. If the favorable long term trend in silver holds, SLW has positioned itself to be out of the great stocks in the decade to come. With silver at $50, SLW will increase its revenues over 5 times, and with silver prices at $100, which may be possible in the mania phase of the bull market, SLW will increase its revenues by more than 10 times. The chart shows SLW's 2015 forecasted earnings at different silver price points.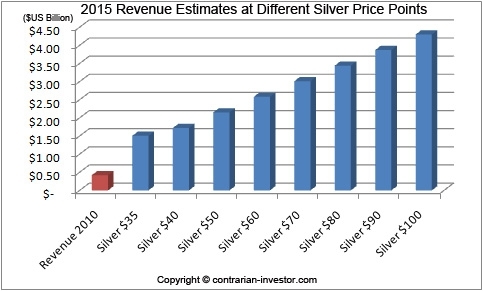 Risk
Silver Wheaton currently has a $428 million cash position, a solid credit line and a positive cash flow. With high liquidity and little fixed costs, the company is quite equipped to handle any unforeseen circumstances. They also have operations in well diversified geographic regions in 16 locations on three different continents. Because Silver Wheaton is a silver streaming company they do not bear the same risk as traditional mining companies, and they are immune against tax increases on operating mines.
Management
Randy Smallwood, the President and Chief Executive Officer and is one of the brains behind Silver Wheaton's profitable streaming strategy. He joined in 2007, primarily focusing on growing the company through acquisitions of silver stream opportunities. In January 2010 he was promoted to President, and in April 2011 he was appointed as the Chief Executive Officer. In previous experience, Mr. Smallwood was among other things responsible for the merger between Wheaton River/Goldcorp (GG) in 2005. He was an instrumental player in the team that built Wheaton River/Goldcorp into one of the biggest, and most lucrative gold mining company in the world.
Conclusion
Silver Wheaton is a financially sound company run by talented people and it should be part of any silver investor's portfolio. What makes this company so attractive is that they are not a traditional producer, but a streaming company, buying silver at low fixed costs and selling it at market prices. SLW is a leveraged bet on higher silver prices, and with low fixed costs any rise in silver prices goes directly to SLW's bottom line.