There are two ways to earn money on investments: dividends and capital appreciation. Even with a few dividend reductions in recent years, dividends are a more reliable way of growing portfolio values, especially if dividends are reinvested. Diebold (NYSE:DBD), Dover (NYSE:DOV), General Parts (NYSE:GPC) and RPM International (NYSE:RPM), all Dividend Aristocrats with long record of increasing annual dividends, are presented for consideration (with stock prices, dividends and yields).
DBD__$32.78__$1.12__3.4%
DOV__$63.49__$1.10__1.7%
GPC__$54.42__$1.80__3.3%
RPM__$23.26__$0.84__3.6%
Diebold (DBD) has the longest track record of raising annual dividends at 58 years. DBD is a leader in the ATM machine business along with security systems and services around the world. EPS has been bumpy above $2 over the last 10 years while the stock had been doing well until it dropped in half in 2008 when it was hurt by the recession.
Last week, India's largest bank signed an agreement for another ATM expansion as DBD expands its brand in the region. Pending orders in China and Brazil make the company optimistic about the remainder of the year. Company guidance for 2011 is revenue growth of 3-8% and EPS of $2.00-$2.20. Growth is expected to come from restructuring operations in Europe, growth markets around the world and in the security business.
Diebold --- 10 years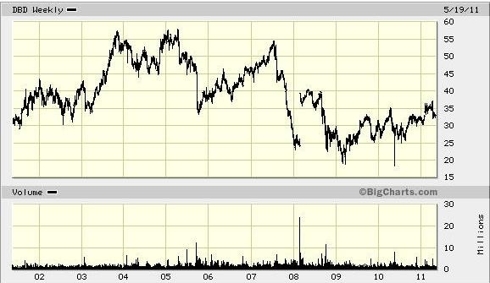 Click to enlarge
(Click to enlarge)
Dover (DOV) has been increasing dividends for 56 consecutive years. It has the best record of long term growth and the stock has doubled in the last 10 years. DOV is a global manufacturer providing innovative components and equipment, specialty systems and support services in industrial products, engineered systems, fluid management and electronic technologies markets.
DOV expects 2011 revenue growth of 12-14% (organic revenue growth of 9-11% and 3% growth from acquisitions) and diluted EPS from continuing operations to be $4.30-$4.45.
Dover --- 10 years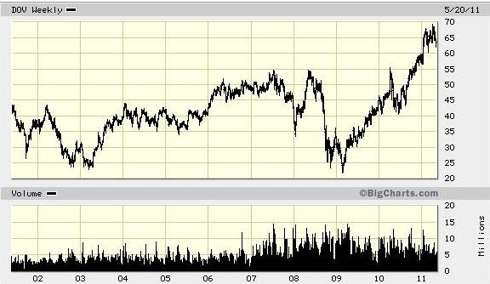 Click to enlarge
(Click to enlarge)
General Parts (GPC) has been increasing dividends for 55 consecutive years and the stock has almost doubled in the last 10 years. GPC distributes automotive replacement parts, industrial replacement parts, office products and electrical/electronic materials across the United States, Canada and Mexico.
After EPS increased 27% in Q1, GPC is optimistic that business will show continued progress in 2011. Analysts forecast EPS will rise 14% to $3.41 in 2011 and increase to $3.73 next year.
General Parts --- 10 years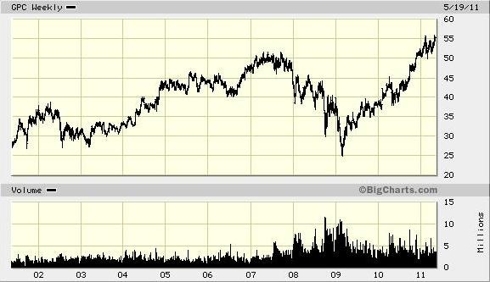 Click to enlarge
(Click to enlarge)
RPM (RPM) has been increasing dividends for 38 consecutive years. The stock is up significantly over the last 10 years, but it started from a depressed period when the company faced asbestos liability claims (which are behind them). A more realistic measure for projecting would be the last 5 years when gains were more modest. RPM owns subsidiaries that are world leaders in specialty coatings, sealants, building materials and related services. Last week it increased its minority ownership interest in Kemrock Industries, a fully integrated fiberglass manufacturer with more than $200 million in sales in India, from approximately 14.9% to 15.1%.
RPM was hurt by the recession but is recovering. After a strong fiscal Q3 performance (in a seasonally weak period), the Q4 outlook for fiscal 2011 was increased. Revised guidance given for FY 2011 was for sales growth of 7-8% to $3.35 billion and diluted EPS of $1.40-$1.45. Analysts are projecting EPS of $1.68 next year.
RPM --- 10 years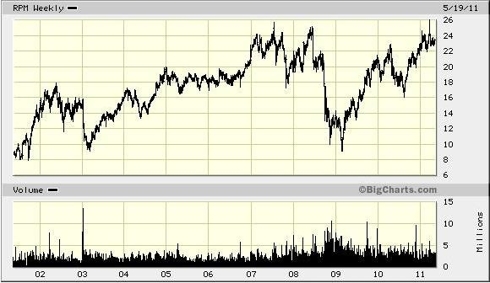 Click to enlarge
(Click to enlarge)
In the last two years, stocks have had one of their best runs in history. As a result, more attention is being given to capital gains. However demonstrated records of growing dividends remain important for successful investing. 3 of the above have long records of increasing dividends and offer yields above 3%. The yield on DOV is below 2%, but it has the most consistent record of long term EPS growth. Valuations for these stocks are moderate with P/E's around 15X. Studies show that investment gains come from 1/3 dividends and 2/3 price appreciation. But capital gains and losses vary greatly from one year to the next while these dividends should continue to grow year after year.
Disclosure: I have no positions in any stocks mentioned, and no plans to initiate any positions within the next 72 hours.