The emerging market growth story is beautiful in its simplicity. Younger people with increasing amounts of income in industrializing countries should drive demand for more products, services, infrastructure and housing.
Of course, the emergers are not without their concerns. They face more vexing inflation than developed economies. They're more dependent on the natural resources they can or cannot export. And political stability for emerging countries may be a bit of an oxymoron.
The last six months have been somewhat troubling for the emerging world. The iShares MSCI Emerging Market Fund (NYSEARCA:EEM) is flat while developed world proxies like the iShares Global 100 (NYSEARCA:IOO) and the S&P 500 SPDR Trust (NYSEARCA:SPY) have appreciated 6% and 11%, respectively. Those are rather dramatic differences.
Is the S&P 500 getting ahead of itself, then? Even at current prices, the S&P's anticipated earnings of $100 suggests a Forward P/E of 13. Current economic and geopolitical risks notwithstanding, large-caps with a P/E of 13 are hardly overvalued. What's more, a large majority of S&P 500 corporations have strong footholds in the very emerging markets where consumers will be ramping up their spending.
So what gives? Why are foreign companies in the MSCI Emerging Market Index collectively struggling to stay above a long-term trendline? Note: iShares MSCI Emerging (EEM) is a mere 0.2% above a 200-day MA. It hasn't been below the 200-day in nine months!
Click to enlarge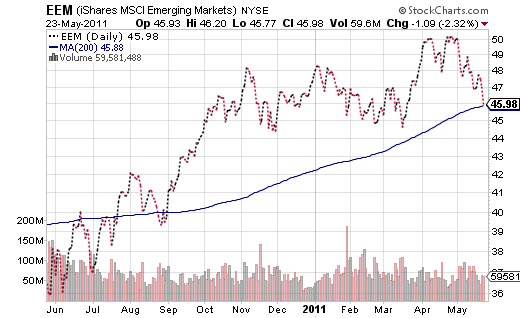 Some of the writing may have already been on the "Wall." In my May 11 commentary, "3 ETF Signs Warn Investors of a Highly Probable Correction," I pointed to the iShares BRIC Fund (NYSEARCA:BKF) having already broken down. When the largest portion of the emerging market pie - Brazil, India, Russia and China - struggles mightily, how surprised should we be that the broader MSCI Emerging Market Index follows suit?
I discount the possibility that the U.S., with or without a self-sustaining economy post QE2, can single-handedly keep the developing world from correcting; the idea of decoupling has always been mythical. Either emerging equities will make an abrupt turnaround, or they will take U.S. stocks on a "give-us-reason-to-keep-believing" pullback. (I anticipate the latter.)
How troubling is the current data? The Emerging Market "Cross-Under" Club has expanded since I last wrote about it. Here are the prickly particulars:
Popular EM ETFs: 50-Day Trendlines Crossing Below 200-Day Trendlines
50-Day MA
200-Day MA
WisdomTree India (NYSEARCA:EPI)
24.1
24.9
iShares MSCI Peru (NYSEARCA:EPU)
42.9
44.4
iShares MSCI Turkey (NYSEARCA:TUR)
65.8
66.3
SPDR S&P Emerging Small Cap (NYSEARCA:EWX)
54.4
54.5
Powershares India (NYSEARCA:PIN)
23.3
23.7
Guggenheim China Small Cap (NYSEARCA:HAO)
29.5
29.6
Market Vectors Vietnam (NYSEARCA:VNM)
23.5
24.8
GlobalX Columbia (NYSEARCA:GXG)
20.6
20.9
iShares S&P Nifty Fifty (NASDAQ:INDY)
28.9
29.2
GlobalX China Consumer (NYSEARCA:CHIQ)
17.9
18.4
Guggenheim Frontier (NYSEARCA:FRN)
22.4
22.8
Guggenheim China Real Estate (NYSEARCA:TAO)
19.6
19.6
Market Vectors Egypt (NYSEARCA:EGPT)
15.6
18.1
EGShares India Small Cap (NYSEARCA:SCIN)
19.5
21.1
Disclosure: Gary Gordon, MS, CFP is the president of Pacific Park Financial, Inc., a Registered Investment Adviser with the SEC. Gary Gordon, Pacific Park Financial, Inc, and/or its clients may hold positions in the ETFs, mutual funds, and/or any investment asset mentioned above. The commentary does not constitute individualized investment advice. The opinions offered herein are not personalized recommendations to buy, sell or hold securities. At times, issuers of exchange-traded products compensate Pacific Park Financial, Inc. or its subsidiaries for advertising at the ETF Expert web site. ETF Expert content is created independently of any advertising relationships.