I think that athenahealth (NASDAQ:ATHN) is one of the most interesting opportunities in the medical-tech sector. The company has a unique business model that helps solve a big problem for medical offices and hospitals that need accuracy in managing, monitoring and reporting data to get reimbursements from both private insurers and the government. A combination of strong growth, superb fundamentals and constructive technical action makes me interested in this company at current levels.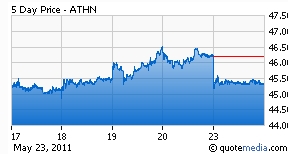 Athenahealth operates in a complex and fragmented industry, served by software systems that do not offer the core competencies of collaboration, flexibility, and interoperability that are essential for any big-scale business. In the healthcare industry, IT means static and outdated software -- hence, most healthcare is "off-line". Athenahealth offers a unique "cloud-based service" that performs better than legacy software, costs less to adopt, and pays for itself in less than 3 years.
A disproportionate amount of communication still takes place on paper instead of automated communications. The combination of outdated, inflexible systems and paper workflows creates significant costs for medical practices as a result of administrative work, duplication, and errors. By addressing these problems, medical practitioners can free their staff to focus on the practice of medicine. I think this is a huge coming trend, the upgrade of IT medical systems.
Athena's business model is unique because rather than charging an one-time, expensive fee for "off-line" software or implementing a subscription fee based access, Athenahealth charges a percentage of a practice's total revenue, a business practice that no competitor is currently implementing. That means that the company is truly aligned with the doctors' interests and focuses on wringing out every dollar of compensation, so doctors can get more patients and procedures.
The company started in 1997 with only one offering called athenaCollector. Nowadays, it has 4 different platforms that allow the company to cross-sell to its existing client base. I learned from the 10-K filling that the management conducts a survey of clients to identify client concerns and track progress against client satisfaction objectives. That filling mentions that in the most recent survey for athenaCollector, 88% of the respondents reported that they would recommend Athena's services to a trusted friend or colleague.
Athena generates high growth while expanding profitability. The company has a 49% 3 year EPS growth rate and a 15% ROE, combined with a high ratio of free cash flow per share to reported EPS in FY10. I find it attractive that Athena has a great record of quarterly EPS growth of 183%, 65% and 100% in the past 3 reported quarterly earnings. That, combined with top line, accelerated growth of above 25% in the past 3 quarters tells me that the company is doing great.
That was noticed by institutional investors. Athena's stock is owned by 366 funds, the highest number in company history. For 2010, revenue was up 30% at $246 million, with EPS climbing 25% to 64 cents. Analysts reason that such growth could be tough to maintain even though they project 2011 revenue to climb 25%, with EPS up 27%.
Some investors are concerned and say the stock is overvalued. They believe that customer acquisition costs remain high, are unlikely to change and that integration of clinical data into cloud software favors stronger vendors. While I think that customer acquisition costs are higher than in the past, looking at Athena's cash flow statement, the company increased its marketing expense in 2010 and plans to keep building out the sales team in 2011, which I think will pay to higher future growth.
The management explained in recent presentations that given the scope of the market opportunity, they have increased capex each year on growth, innovation, and infrastructure. Despite increased spending in these areas, higher revenue and lower operating expenses as a percentage of revenue typically lead to greater operating income.
In conclusion, I think that Athena trading at 61x P/E ratio does not represent a value opportunity, but is one of the tech stories I find most compelling. With 45 quarters of consecutive revenue growth, 11 consecutive years of annual revenue growth in excess of 30%, strong balance sheet fundamentals (125M in total cash as of March 31, 2011 plus only 8.4M of debt) and growing institutional interest, the stock could break both 2007 and 2009 highs.