It is a truly strange market out there right now. Turbulence is starting to increase which will likely continue as withdrawal of QE2 comes closer and the problems in the European sovereign debt arena come to a head. I am amazed at how bifurcated the market has become. On one hand you have solid companies producing consistent increases in earnings, revenues and cash flow selling at low multiples. On the other hand, you have numerous story stocks that are masters at hyperbole, selling at ridiculous multiples, and in the same industry. Nothing illustrates this more to me than the difference in valuations between Apple (NASDAQ:
AAPL
) and Salesforce (NYSE:
CRM
); two Cramer favorites.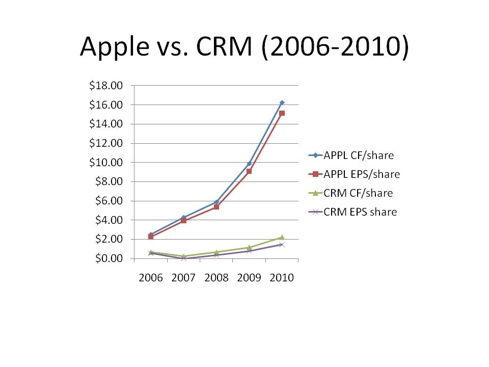 Both CRM and AAPL have grown revenues north of 30% on average annually over the past five years. They have also both grown earnings at better than an average annual rate of 60% plus over that same time period. You would expect given similar growth rates and prospects; valuations would be in the same ball park. You would be wrong. If you look at the chart below comparing Apple's and Salesforce's cash flow and EPS (normalized for the difference in their stock prices by multiplying CRM's numbers by 2.29), you can see the market is placing a hugely higher multiple on CRM's results.
This also follows through to other valuation measures. CRM sells for almost 12 times trailing revenues, Apple goes for around 3.5 sales. CRM's PEG is 3.7, AAPL is going for a .66 PEG. AAPL has exceeded earnings estimates by a much larger amount that Salesforce over the previous four quarters. It also has over $31/share of cash per share on its books to a negligible amount for CRM. Although Apple is regarded as a very good marketing machine, it has nothing on Salesforce when it comes to spinning its results. It seems every earnings report, CRM beats by a penny or two. Their CEO then goes on Cramer or another outlet to put the best possible gloss on what are just okay results. Over the past five years, CRM has been spun as a "software as a service provider" to being in the vanguard of "Cloud Computing" to the latest spin just announced on Cramer; now Salesforce is the "Facebook" for business.
Consider that AAPL sells for around 12 times this year's projected earnings after stripping out cash, earnings estimates have increased significantly over the past 90 days for both 2011 and 2012's results, and it will grow revenues by over 55% this fiscal year. Salesforce is going for 115 times this year's projected earnings, earnings estimates for 2011 have come down over the past ninety days, and it will grow revenues by less than half Apple's projected growth rate. So which stock would you rather own?
Disclosure: I am long AAPL.