A restaurant focused on the concept of wings, beer, and sports seems like nothing special, but Buffalo Wild Wings (NASDAQ:BWLD) certainly has carved out a solid presence in this arena. With each restaurant boasting an extensive multi-media system (projection screens, 50 televisions, etc.), a full bar and open layout, "B-Dubs", as it is commonly known, has become the place of choice for many social chicken-wing lovers. Thanks in part to its widespread appeal, the firm has experienced tremendous growth during the past number of years as revenue has more than doubled since 2006. Management also expects to open more than 100 new restaurants in 2011. But how long can this growth continue?

First of all, management is looking at a saturation point of roughly 1,400 restaurants in the U.S., targeting a mix of 40% company-owned and 60% franchised. At the end of last year, the firm owned or franchised 732 restaurants in 44 states. Given the traction this establishment has gained, it's probably hard to argue that the Buffalo-Wild-Wings concept is not transferable across most of the nation. At least, along a similar scale as it has been thus far in its founding state of Ohio. (In 1982, Buffalo Wild Wings built its first location near the Ohio State University.) Further, first-quarter same-store-sales of company-owned stores and franchised stores are now experiencing accelerated growth from last year, with the metrics increasing 3.6% and 1.6%, respectively, providing additional market support for more restaurants down the road.

Buffalo Wild Wings' growth opportunity can be sized up in a number of ways, but a population-per-restaurant-per-state ratio may be the most revealing of this franchise's potential. For example, if "B-Dubs" achieves a similar population-per-restaurant per state ratio as that of Ohio, the saturation point could be north of 2,000 units in the U.S. That's roughly 50% greater than management's forecast. And this doesn't include expected growth in Canada (which could reach 50 units in five years). Even a pretty hefty haircut on the 2,000-plus number, to account for more competitive regions (New York) and areas where demographics may not support such a ratio (Florida), growth well in excess of management's expectations seems achievable in the long haul.
Click to enlarge: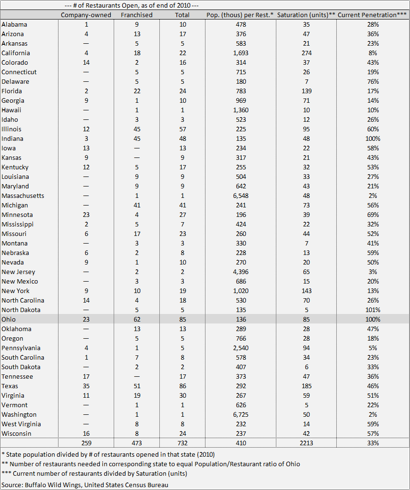 Right now, Buffalo Wild Wings' earnings and stock price are benefiting significantly from a decline in chicken wing prices (about 20%-25% of cost of sales). This is despite traffic concerns regarding the potential for an abbreviated or canceled NFL season.
In the firm's first quarter, "B-Dubs" paid 36% less for chicken wings than it did in the first quarter a year ago ($1.22/lbs vs. $1.91/lbs). Declining costs drove restaurant cost of sales down an impressive 2.7 percentage points on restaurant sales that expanded nearly 20% from the first quarter of last year.
Click to enlarge: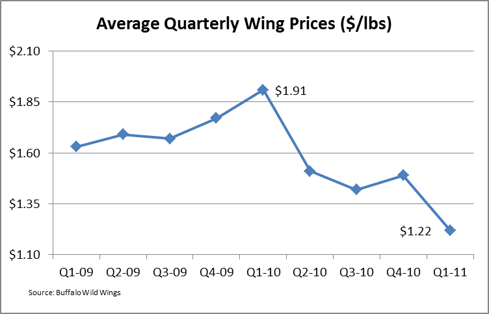 Chicken wing prices are certainly volatile, and investors can probably expect them to bounce back from first-quarter levels through the course of the year due to seasonal trends. However, should Buffalo Wild Wings' stock take a hit from this expected rebound in wing prices or from additional concerns about the temporary impact the NFL lockout may have on traffic and performance this year, long-term investors could be presented with a nice entry point to capitalize on the growth potential of this franchise. Buffalo Wild Wings should be on every small-cap growth investor's watch list.

Disclosure: I have no positions in any stocks mentioned, and no plans to initiate any positions within the next 72 hours.