Apollo Global Management (NYSE:APO) is one of the best private equity institutions in the world. It is a leading alternative asset management firm with $68 billion in assets under management (AUM). Apollo is primarily focused on private equity and credit investing. The N.Y.-based investment firm also has a growing real estate business and is expanding, with 485 employees worldwide, including 171 investment professionals.
Apollo's stock offers an attractive exposure to strong secular growth trends, such as the growing interest in big institutions to allocate money in private equity funds; some 17% of global pension assets are allocated to alternative investments versus just 7% a decade ago. Also, there are further improvements in capital market dynamics for private equity and credit investing (LP diversification, appetite for superior returns, increased funding pressures). Moreover, I consider the "zero-rates for an extended period" scenario favorable for private equity investing (improved M&A and underwriting plus low high yield rates).
A solid track record of investment performance with significant realization opportunities ahead makes me interested in Apollo shares. The fact I find most compelling is not Apollo's weighting towards performance fees, but the under-appreciating of more than $1 billion of accrued carried interest ($3.00+ per share) that should convert to cash as gains are realized. Nearly half of this relates to fairly liquid investments in publicly-traded equities and debt securities.

According to Apollo's 10-K, results have been impressive. Since its founding, the firm has delivered a 26% net IRR within its private equity business. This places Apollo at the high end of the industry and of its publicly-traded peers.

Taken from Apollo's 10-K and other company data, from 2006 to 2010 and on a firm-wide basis, Apollo brought in nearly $23 billion of client assets. This implies a 32% growth per year rate, off of the firm's initial fee-earning AUM base of $17.4 billion. The robust trends here were supported in large part by the closing of private equity fund VII and expansion of the capital Markets business in 2008. Relative to its peers, Apollo's 32% annual growth rate was faster than its peers (Blackstone (NYSE:BX) +24%, KKR (NYSE:KKR) +16%).
Click to enlarge: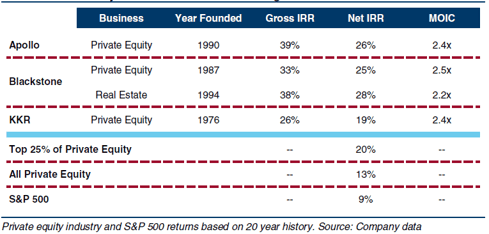 In addition to better returns, Apollo funds provide solid downside protection: No Apollo private equity fund has returned less than 8% to date. Apollo follows a contrarian, value-oriented investment style in its funds. In keeping with its emphasis on distressed opportunities, the company was among the most aggressive within the industry in deploying capital in recent years (over $7 billion in 2009-2010). As risk asset prices improved and the economy recovered, Apollo's funds have benefited, with all of its private equity and a majority of its credit funds eligible to generate incentive fees.

Apollo Global Management operates a focused business model centered around its leading alternative asset management franchises. The company operates primarily within the private equity and credit asset classes but has been expanding into other areas such as real estate investing.
Revenue generation is a function of recurring management fees earned for investing client funds, transaction-based advisory fees as investments are made and realized with client funds and incentive fees/carried interest gains earned for generating investment gains on behalf of clients. The company's expense base is predominantly variable, a function of performance-based compensation, albeit with high incremental margins.
Post-crisis
According to past results and its asset base, Apollo Global navigated through the current crisis exceptionally well. As the economy has begun to recover, fundamentals for assets held in Apollo's portfolio have improved. Portfolio companies are seeing a rebound in revenues and earnings growth and balance sheets are healthier. The outcome is higher equity valuations and tighter credit spreads, leading in turn to strong revenues and earnings for Apollo as carried interest gains accrue. I expect further improvement in macroeconomic and market conditions to continue to support results going forward.
In total, Apollo currently has $1 billion of accrued but unrealized carried interest—this translates to over $3.00 per share of earnings that should convert to cash as gains are realized. This means a potential high dividend yield or share buybacks.
In 2010, approximately 75% of the company's revenues were derived from carried interest income earned for exceeding minimum return thresholds in the funds which the firm manages for its clients. I believe Apollo is well positioned to outpace healthy industry growth, given its stronger investment track record (26% net IRR since inception, versus 13% for private equity overall).
If Apollo delivers 8-10% organic AUM growth over the next few years from continued successful fundraising efforts (most notably within the credit-related funds or an expansion to Asian and European clients), and convert those $3.00 share gains into a reasonable $1.1 dividend per share (6% of current price), the stock could go to $22. This would assume a fair value dividend yield of approximately 5%, a yield comparable to what KKR and Blackstone offer. I expect Apollo to follow a dividend distribution policy substantially similar to its primary public peers, Blackstone and KKR.
At year-end 2010, Apollo's fee-earning assets under management stood at $47 billion, more than double 2007 levels. This should bode well for continued growth in overall revenues (both fee- and market-based). I expect healthy growth here to continue as Apollo continues to successfully gather client assets.
Overall Conclusion

Given the strong improvement in portfolio returns seen over recent years and a sharp rebound in incentive fee accruals, I believe that the next leg of performance for the alternative investment managers is to be driven by the ability to begin converting these gains into cash. Ultimately, I expect the majority of cash from these realizations to be returned to shareholders in the form of distributions/dividends-- the most important catalyst for the sector going forward. It is also important to detail that high yield spreads currently stand just under 7% (an all-time low). This bodes well for the ability of private equity fund managers to finance new investments at highly attractive terms.

Disclosure: I have no positions in any stocks mentioned, but may initiate a long position in APO over the next 72 hours.