We are maintaining our long-term Neutral recommendation on Cincinnati Bell Inc. (NYSE:CBB) supported by the Zacks # 3 (Hold) Rank.
First quarter 2011 earnings surpassed the Zacks Consensus Estimate but were below the year-ago earnings. The company's Data Center Colocation and IT Services and Hardware segments are doing well while Wireline and Wireless segments are the underperformers.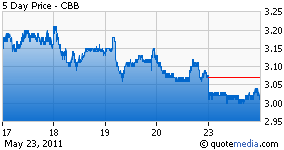 In the wireline business, the company's Fioptics products are gaining popularity since their introduction in 2009, covering 83,000 homes at the end of first quarter and an expected reach of about 150,000 by the end of 2011. However, access lines continued to decline in the recently concluded quarter, though at a lower pace compared with the previous years. We expect the similar trend to continue in the future.
Cincinnati Bell expects to generate solid revenue and EBITDA growth going forward as evidenced by the strong growth in last year and first quarter of this year. For fiscal 2011, Cincinnati Bell expects revenue and adjusted EBITDA of approximately $1.4 billion and $530 million, respectively. We believe healthy results and recent acquisitions lay a strong foundation for the company's growth in 2011.
The company focuses on its goal of becoming the preferred collocation provider to Fortune 1000. In this regard, the companyshifted its debt maturities to 2017 and beyond to utilize strong cash flow for profitable data center collocation opportunities. Cincinnati Bell successfully achieved its first step by acquiring CyrusOne earlier in 2010.
Further, we believe Cincinnati Bell has stable long-term prospects driven by its 3G wireless service coupled with handset offerings that will drive data revenue growth ahead.
Although management remains optimistic about opportunities for its data center services business and the expansion of its Fioptics products, we remain cautious that long-term maturities may impact the company's ongoing expansion. The company is highly leveraged with total debt of $2.52 billion as of March 31.
Additionally, Cincinnati Bell continues to experience erosion in local access lines as Tier-1 competitors such as AT&T Inc. (NYSE:T) and Verizon Communications (NYSE:VZ) shifted their technology to wireless services. Also, the integration of CyrusOne might be challenging and time consuming.
Given the pros and cons, we have a neutral stance at present.