As I attempt to cover the electric vehicle (EV) industry, Seeking Alpha's policy on penny stocks sometimes gets in the way. It's not that I disagree with the rules -- in fact, I fully endorse them being anti-pump and dump myself -- but in the EV world several relevant companies find themselves in pennyland. Working with Seeking Alpha's editorial team, I feel like I have done a good job maintaining balance.

At the end of the day, penny stocks can ameliorate issues with these types of policies by executing themselves out of penny stock status. On the surface, Green Automotive Company (OTCPK:GACR) looks like one of the first examples in the EV space to do just that.

(Chart courtesy of Schwab's StreetSmart Edge; Click to enlarge)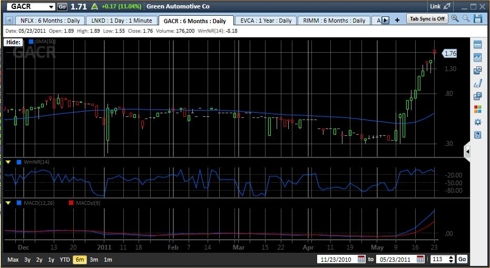 Click to enlarge

When I see a chart like that, I get incredibly skeptical, particularly when recent news from the company does not appear to support such a large increase in its stock price. If I am long, I think long and hard about taking at least some profits. If I am not long, I worry about getting in at the potentially unsustainable top.

GACR's move up began on virtually no news of earth-shattering significance. About a week before GACR's share price started to climb, the company issued a press release noting that Roush Industries was conducting vehicle tests (including crash tests) on its all-electric SUV. Then, as the run-up in GACR began, the following press releases started hitting the wires:
While I believe the jury is still out on the validity of what follows, as it relates to Green Automotive, I think it would be reckless of investors to not at least consider these potential issues as part of their due diligence process.

You can read a bit about Green Automotive President Fred G. Luke's history here, here, here, here, here, and here. Looking into this information equates to considering the history of Sino Clean Energy (SCEI) CFO Wendy Fu. I raised the red flags on Fu and SCEI; others followed with their own deeper due diligence. I attempted to contact Luke, both through Green Automotive's Addison, Texas, headquarters and the company's IR/PR firm, but did not receive a call back.

In light of what has happened recently with several Chinese stocks, it pays to read each and every SEC filing that traces the history of shells and reverse mergers. You can access GACR's SEC and OTC Markets paper trail here. Once again, I do not have enough information to draw many hard conclusions from these filings, but, taken together, I think they merit your close review before deciding for or against an investment in GACR, particularly at these lofty levels.

One thing does stick out to me as questionable and worth mentioning as I review

Click to enlarge the history of GACR's SEC filings, dating back to its previous incarnations, GANAS Corp., Ultimate Sports Entertainment, Inc., and Royal Acceptance Corporation. Click to enlarge the image to the right, which comes from Green Automotive's latest annual report.

Ultimate Sports Entertainment eventually became a private company with its sights set on building a massive sports and entertainment complex in Las Vegas. That plan, which reinvents itself every so often in Vegas, never actually got off of the ground from what I gather. Even so, you can still visit the visionary website with a 2005 copyright. On the "Contact Us" page you will see an out-of-service phone number and an email address for "President & CEO" Matt Rose. Rose was part of the failed attempt in 2008 to merge with American Southwest Music Distribution. You can track the trajectory of that four-month story here. It took place just after Ultimate Sports became GANSAS in February 2008. GANSAS later became Green Automotive. American Southwest Music Distribution's stock last traded in 2009.

Interestingly, Rose's name appears on what looks to be a phantom website related to Green Automotive, Green Automotive International. I refer to the site as "phantom" because in the GACR press releases and SEC/OTC filings I have reviewed I see no mention of this international entity, a Singapore office, or Matt Rose, who, coincidentally, serves as the point of contact for this apparent Singapore extenstion of GACR. If Matt Rose has an email address @ the Asian outpost of Green Automotive, once would think the company would have introduced him and the existence of this office to shareholders and the SEC at some point. Of course, I am making the assumption that the two Matt Roses are the same person. I reserve the right to be wrong on this assumption.

I am in the process of inquiring about this and several other issues, most of which I bring up on this article, but the company has yet to respond. While I do not know if there is anything below board to this discovery, it is, as I see it, odd at the very least. Any time there's even the hint of a good ol' boys network at play, especially with a stock that has risen like GACR has on the Pink Sheets, I raise a red flag until somebody can convince me that there's no need for concern.


(Click to enlarge)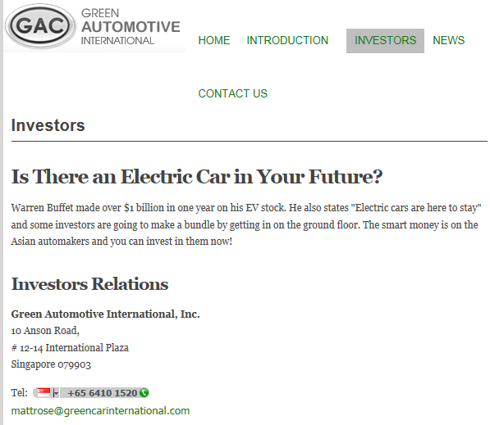 Click to enlarge

And a look at the above-referenced annual report shows no mention of a

Singapore operation where you would expect to see it. That might lead you to believe that Green Automotive International is a separate company. I guess it could be, but the website appears to copy the same or similar content as Green Automotive's U.S. website. And when you follow the link from the upper righthand corner of the international site for a stock quote, you get sent to Google Finance's quote for GACR.PK. As you can see below, Green Automotive states that it might open an office in China; for the record, Singapore is roughly 3,000 miles from Beijing, for example.

(Click to enlarge)


Click to enlarge

In the company's latest filing -- a notice that it cannot deliver its latest quarterly report on time -- Green Automotive lists the following reason for the delay: "Recent de-centralization of operations caused delay in combining accounting materials." I would assume this has something to do with the aforementioned April 2011 Addison lease expiration. I am unsure if the "de-centralization" has anything to do with Singapore. I can verify that the Port of Long Beach does exist. The company expects to file its quarterly report on May 27, 2011.

Without Luke and GACR's side of the story, and with limited information to go on, I cannot come to a conclusion regarding the relavency of or bearing Luke or GACR's past may or may not have on the company's present and future. However, I can, as a prospective investor, come to a personal conclusion after reading the publicly-available information I have culled together that something could be amiss here. Simply put, I don't feel comfortable making an investment even if I want to believe, theoretically, in Green Automotive's potential and the prolific space it operates in.

I would like to make it perfectly clear that I am not claiming that Green Automotive is a fraud. As I gave SCEI the benefit of the doubt, I offer the same to Green Automotive. I presented facts and questions in my analysis of SCEI. I do pretty much the exact same thing here with Green Automotive. In fact, I would love to see the company make it. The EV industry will benefit beyond anybody's wildest dreams by having a successful, U.S.-based automaker bring EVs to market outside of the major automakers and Tesla (NASDAQ:TSLA).

I want Green Automotive to succeed. I want the stock price to increase. I want Green Automotive's eventual success to make this July 2010 PR from the company look like more than an ill-advised pipe dream. But I also feel that I have a responsibility to help investors undertake the necessary research before they decide to invest in a stock like GACR. In search of a less cheesy phrase, I am leading a horse to water, but not telling him whether or not he should drink. The quality of the water remains up in the air.

At the end of the day, when a stock like GACR rises about 470 percent in a span of roughly two weeks on what looks to be little more than air, investors looking for a big play take note. Certainly, GACR has entered more than a few watch lists over the last ten days or so. How could the stock rise this much on such little volume and no major news? That's another question you need to ask yourself. While I have theories, I have do not have the answers. But I do have evidence of retail investors taking a leap of faith without doing adequate due diligence. Consider the following message board comments posted at Yahoo! Finance and InvestorsHUB in relation to GACR:



Click to enlarge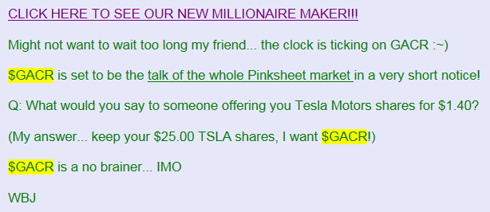 Click to enlarge


Click to enlarge



(Click all images to enlarge)

Over the last several weeks, as both a prospective investor and a writer, I have been intrigued by the share price increase in GACR. I decided to conduct due diligence on the company. In the course of that due diligence, I have come to the conclusion that before taking a flyer on GACR, prospective investors should be made aware of the publicly-available information that is out there. After reviewing that information, they can draw their own conclusions and make a truly informed investment decision.

For all I know, Luke's past, the press releases, the SEC filings, and the Rose/Singapore question mean nothing in relation to what Green Automotive is actually doing today. At the same time, they could signal the types of red flags that make investing in GACR today nothing short of a risky proposition. As was the case with SCEI, I am merely raising the red flags that I think other writers and investors should take a deeper look into. Ideally, I would like the company to address and provide convincing closure to the questions I ask.

And what I ask stems from nothing other than hard facts and news reports that prompt legitimate questions that need answers before buying shares of a stock. In this article, I bring together publicly-accessible news reports, which I do not necessarily endorse; company press releases and official filings; and the existence of an apparent Singapore entity that GACR hardly publicized, if it has even been publicized at all.

Because I understand the implications of making accusations, I prefer to leave it here with my investigation. I am simply bringing publicly-available information to light in association with the recent ascent of GACR. Frankly, I am not sure what to think about all of this. But one thing is certain, as much as I love and root for the EV space, I will not touch GACR with somebody else's ten-foot pole, let alone my own, until they adequately address the concerns my research raised.

Disclosure: I have no positions in any stocks mentioned, but may initiate a long position in TSLA over the next 72 hours.

Additional disclosure: I have no position in GACR.PK nor will I initiate a position, long or short, at any time over the next six months.