Oilfield equipment maker and solutions provider FMC Technologies (NYSE:FTI) is enjoying an enviable run these days, driven by strong secular growth in the über high-tech and high-profile subsea equipment market. However, results from EnergyPoint Research's independent customer satisfaction surveys suggest the company's current stature in the marketplace holds as much risk as it does opportunity.
Sluggish Scores
To wit, despite the company's sizeable market share, its customer satisfaction marks as provided by respondents to EnergyPoint's independent surveys remain relatively lackluster. In fact, the company's total satisfaction scores have actually fallen as of late, both versus its peers and the broader industry.
Moreover, its rankings in its bread-and-butter category of subsea equipment are generally middle-of-the-pack when compared to its peers, and are actually below average when compared to the full set of categories measured in our surveys. Possibly most worrisome, since 2009 the company ranks 31st out of 37 major oilfield equipment suppliers in the closely watched "Willingness to Recommend" metric of our surveys.
[Click all to enlarge]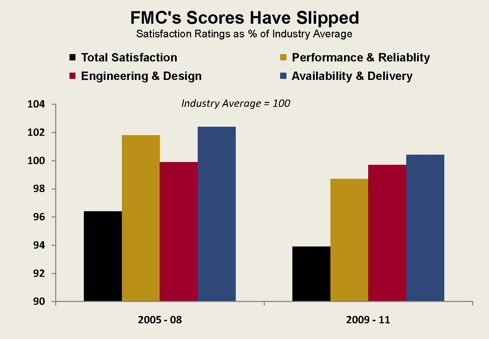 Challenges in the Space
So why, for all intents and purposes, is FMC treading water in our surveys? As we have written previously, no provider of subsea equipment -- with the possible exception of Dril-Quip (NYSE:DRQ) -- appears to have figured out how to give customers what they want, and how they want it, on a regular basis.
Some of FMC's customer satisfaction issues are clearly attributable to the considerable demands and high levels of scrutiny clients place on the particular kinds of products and systems in which the company traffics. The boundless push to introduce new and more advanced technologies and solutions for subsea applications, while remaining within customers' budget expectations -- along with ever more difficult operating environments and regulatory challenges -- also makes for a business with a lot of moving parts.
Additionally, competitors such as Aker Solutions (OTCPK:AKKVF), Cameron International (NYSE:CAM), Dril-Quip and GE Oil & Gas (NYSE:GE) are on the move, chasing the same limited number of opportunities as FMC and, in the process, creating additional pressures to push the envelope in ways that can potentially undermine customer experiences.
Trend Suggests Some Risk
Combined with FMC's seemingly strong bias toward growth and market share, the above factors in our opinion explain part of the company's inability to rank higher with survey respondents. But it's the company's lack of progress in terms of its customer satisfaction scores, both in absolute and relative terms, that's the real story.
Since 2005, the company's customer satisfaction scores in our surveys, across a range of measured attributes, have generally remained stagnant. And some of its ratings have even drifted lower, including when it comes to ability of its products to meet specifications and expectations. Survey respondents' comments suggest inconsistency to be one of the culprits. Delays in the delivery of finished products and systems have also served to frustrate.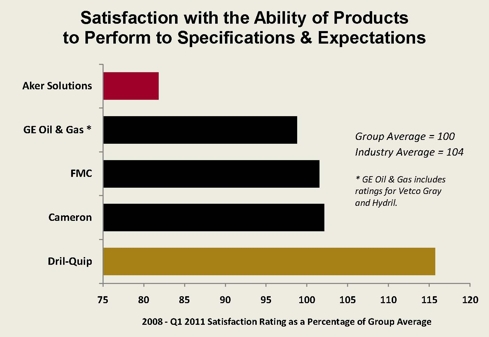 In the end, while FMC unquestionably remains a formidable competitor in its space, it's also the case that markets abhor a vacuum. To the extent the company is unable to improve customer experiences and/or perceptions going forward, the door remains open for others to potentially fill the void.
Disclosure: I have no positions in any stocks mentioned, and no plans to initiate any positions within the next 72 hours.