On April 2, I posted an article on Campbell Soup (NYSE:CPB) where I concluded that despite its merits, better stock investment opportunities likely resided elsewhere. But over the last couple of months in what has certainly been an eventful market environment, my view on the stock has switched to the positive. While my long-term perspective remains unchanged, the company now has increasing merit as a shorter-term trade. As a result, today I initiated a position in Campbell Soup. Five key reasons motivated this decision.
1. Recent Upside Breakout for the Stock Price
Campbell Soup's stock price recently posted a decisive upside breakout. In my article from April 2, I indicated that an upside technical reversal from its downward sloping price trend would be required before taking a fresh look at the stock. First, the stock quietly climbed through its 20-day and 50-day moving averages in early May. Then starting on May 12, and continuing on May 13, Campbell Soup broke out decisively to the upside, slicing though its downward sloping resistance line as well as its 200-day moving average. After consolidating this sharp increase over the next five trading days, the stock made a hard charge back lower on May 24, to test what is now support at its 200-day moving average. It responded extremely well, bouncing off the 200-day and ending the day +1.5% above this support level. Thus, the stock is now behaving well technically and has a variety of well-defined support levels not far below the current price.(Click charts to enlarge)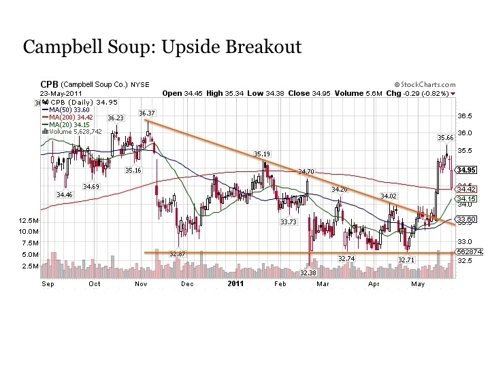 Click to enlarge
2. Defensive Company Selling Inferior Goods
In economics, an inferior good is a good for which demand increases as the level of income or real GDP in an economy decreases. Put more simply, if some of the recently troubling readings continue and the economy starts to fade back toward recession, or if the situation in Europe takes a turn for the worse and we find ourselves beginning to contemplate another global financial crisis, products such as Campbell Soup are likely to benefit from demand as consumer retrench. As a result, Campbell Soup remains among the most defensive stocks available in the market and is attractive during times of turbulence.
3. Agriculture Commodity Prices Have Been Moderating
Longer-term, commodity prices across the board including agriculture prices are likely to go meaningfully higher from where they are today. But as discussed in my recent article "Peak in Agriculture Prices an Early Warning Signal for Stocks," we are now in an environment where agriculture prices are in the midst of a short-term decline. This is positive for Campbell Soup, as lower input costs for the grains and vegetables going into its products sets up the potential for better than anticipated earnings and margin performance in the coming quarters.
Click to enlarge
4. Still Attractive Value in a Market Where Defensives are Overbought
In my recent post "Defensive Stocks and Sector ETFs: Caution and Opportunities as QE2 Draws to a Close," I highlighted the fact that defensive sectors including consumer staples, health care and utilities have become overbought as investors anticipate the end of QE2 on June 30. A stock-by-stock trip through each of these three segment finds most of the individual stocks that constitute these sectors are trading well above levels of just a few months ago. However, Campbell Soup is one of the few stocks that appear to be at the early stages of a price reversal and offers the potential for solid upside. The stock also trades at 14.8x earnings, which is a 15% discount to its historical average multiple at over 17x earnings.
5. Solid Performance Track Record During Times of Crisis
Campbell Soup is among a select group of stocks that held up relatively well during the financial crisis in late 2008 to early 2009 and posted gains during the "QE Pause" period after QE1 from April 2010 to August 2010. During the peak of the financial crisis from September 2008, to November 2008, Campbell Soup was one of the rare stocks that actually held essentially flat when the rest of the market was losing over -50% of its value. And even when the broader market decline finally caught up to Campbell Soup stock by the end of 2008 and into early 2009, the overall peak to trough decline was still a fraction of the decline experienced by the overall market. As for last summer, Campbell Soup posted a steady rise and gained +5% in an environment where the broader stock market as measured by the S&P 500 (NYSEARCA:SPY) was down nearly -14%.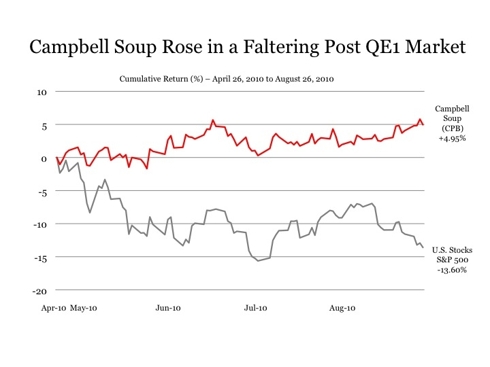 Click to enlarge
It is worth reiterating that while Campbell Soup currently sets up well for a short-term investing opportunity over the next few months, the company still faces long-term operating challenges that are likely to persist. As a result, a position in Campbell Soup should be viewed in the context of the environment that is in the process of unfolding with the end of QE2 quickly approaching on June 30. Any extension of the holding period in this position should be reevaluated along the way as events unfold in the economy and markets.
Disclosure: I am long CPB.
Disclaimer: This post is for information purposes only. There are risks involved with investing including loss of principal. Gerring Wealth Management (GWM) makes no explicit or implicit guarantee with respect to performance or the outcome of any investment or projections made by GWM. There is no guarantee that the goals of the strategies discussed by GWM will be met.