In 2003, after a fire in a night-club in Providence Rhode Island, I wondered about fire retardants and whether companies that made fire-retardant products would benefit from the need to make all kinds of products safer. The metal antimony showed up in all my searches, so next I searched for antimony and found that US Antimony was the only company in the US dedicated to the mining and production of antimony.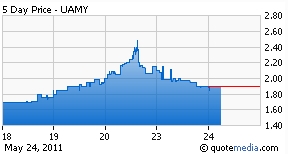 I liked the monopolistic aspect and bought the stock at 50 cents back then. Over the years, I bought more, but NOTHING happened. Here is a stock chart. Go out 10 years and you see nearly no movement. The idea was valid, but the problem was that the US was importing almost all of its antimony needs from China, a country that produces close to 97% of the world's needs. At the time I bought UAMY, antimony was trading at 50 cents a pound.
What happened next was that China woke up and as for the need for all other metals, the need for antimony and its own production rocketed. There was also tremendous military need for antimony, so they started to stockpile the metal, and specifically announced that they would stockpile not only antimony but other rare earths. Further, because antimony is somewhat toxic, and as China moved to a more environmentally minded approach, they ordered a shutdown of illegal mines. The price of antimony, like those of other rare earths, rocketed to around $8 a pound.
Suddenly, US Antimony could not produce enough metal for US needs and antimony production. Specifically. from the earnings report: "USAC antimony remains in a sold out condition and is expediting the mill completion to process raw material from the Company's Los Juarez property as well as others." Byproducts of the mining of antimony are gold and silver. Back in the day, these were almost throwaway byproducts because the quantities were small and the price of silver and gold hardly worth the cost of extraction, but these metals also increased in value.
What is antimony used for? From readily available information we find that antimony oxide is primarily used to form a synergistic flame retardant system for plastics, rubber, fiberglass, textile goods, paints, coatings, and paper. It is also used as a color fastener in paints, as a catalyst for the production of polyester resins for fibers and films, as a phosphorescent agent in fluorescent light bulbs, and as an opacifier for porcelains. The company also offers various grades of sodium antimonite, which is principally used as a fining agent for glass in cathode ray tubes used in television picture tubes, as well as a flame retardant; and antimony metal for use in bearings, storage batteries, and ordnance.
Earlier this year, it became clear that China was serious about limiting exports. As reported:
The China Non-Ferrous Metals Industry Association (CNIA) says related ministries are formulating policies to control the output of 10 non-ferrous metals (copper, aluminum, plumbum, zinc, nickel, stannum, antimony, magnesium, sponge titanium and hydrargyrum) in 2011-15 to within 41 million tons. The smelting volume for crude copper will be held under 5 million tons, plumbum under 5.5 million tons and zinc to 6.7 million tons.
Not only are they controlling the export of antimony, in May 2011, in a statement jointly released by three ministries said that China encourages firms to IMPORT molybdenum and antimony ores. The company finally started to produce significant earnings. The first quarter was a corporate record and the stock finally responded, moving from being stuck for years at 50 cents to more than $2, giving it a market cap of just over 100 million. Moreover, the CEO John Lawrence started to talk, and in a rare interview with the Wall Street transcript noted that:
China controls 92% of all of the production and the raw material. Our smelter here in Montana is the last smelter that produces antimony in the United States. So we're seeing a terrific growth in production, price and demand. The price has gone to new record highs of more than $8 per pound. To be a viable supplier of antimony, you must be vertically integrated with your own raw material supply, mill, smelter and marketing capability. To do this we have acquired two mines in Mexico, built an additional smelter, and we are now completing a flotation mill. This will create a very significant increase in the supply of our raw material and represents the future of our company.
In UAMY.OB, we have the only company dedicated to the production of antimony rapidly expanding its capabilities at a time of great need. This is not some pipe-dream mine or exploration company that might have reserves. The company has been in operation since 1969.
In SEC filings, the company stated:
Part of the USAC Mexican property including San Miguel I and II and part of San Juan III was originally drilled by Penoles in 1970 when antimony metal prices were high. They did not proceed with the property due to the complex metallurgy of antimony. Subsequently, the Mexican Government did additional work and reported a reserve of 1,000,000 metric tons (mt) grading 1.8% antimony and 8.1 ounces of silver per metric ton (opmt) in Consejo de Recursos Minerales (Publicacion M-4e). However, the Securities and Exchange Commission does not recognize this report, and the Company claims no reserves.
Again, from the interview with Lawrence:
In the past, with lower precious metal prices, no one recovered silver and gold. We produce silver and gold out of the antimony that we process. And per se, our current silver/gold production, we've spent no money in terms of current production. However, one of our two properties in Mexico, Los Juarez, has as much value in silver and gold as it does antimony. Just to cover my skirts, we are claiming no mine reserves by definition of the SEC.
With US Antimony, you are buying a monopoly in antimony production that is far ahead of any of the competition that will surely arise. You get gold and silver as a byproduct and in the latest earnings report, a corporate record for the quarter. US Antimony reported a pretax profit of $69,789 on sales of $2,838,039 during the first quarter of 2011 compared to a loss of $84,117 on sales of $1,414,826 during the same quarter in 2010. The sales revenues for Q1 2011 have set a new corporate record.
During Q1 2011, the sale of antimony products was $2,445,533 compared to $1,003,080 during the same period in 2010, an increase of 144%. The gross profit on antimony for Q1 2011 was $348,899 compared to $102,002 during the same period in 2010, an increase of 242%. Silver and gold production is included in the antimony revenue as a byproduct. During Q1 2011, the silver and gold production was $332,657 compared to $40,017 during the same quarter in 2010, an increase of 731%.
There is icing on this cake. It turns out that the company has another division that mines a product called zeolite. Zeolite is used for soil amendment and fertilization, water filtration, sewage treatment, nuclear waste and other environmental cleanup, odor control, gas separation, and animal nutrition. Embedded in this sentence is "Nuclear Waste"; zeolite is a mineral that acts like a sponge for nuclear waste.
In March 2010 the company announced:
That Bear River Zeolite Co., Inc ("BRZ"), a wholly owned subsidiary, was issued a purchase order by West Valley Environmental Services, LLC, a contractor to the Department of Energy, to supply a minimum of 1,500 metric tons of BRZ zeolite for remediation of radioactive isotopes from the former Western New York Nuclear Service Center (WNYNSC).
Between 1966 and 1972, WNYNSC reprocessed 705 tons of spent nuclear fuel and generated 660,430 gallons of "high level nuclear waste" that has in part leaked into the environment. The BRZ zeolite will be placed in a three to four foot wide trench that will be an "engineered barrier" to the migration of radioactive isotopes in the groundwater.
Radioactive ground water? A quality product endorsed by the Department of Energy to clean up nuclear waste? Has the nuclear disaster in Japan awakened a need to be better prepared to prevent the spread of nuclear waste? OK, this is speculative but nice to see that our government is taking this somewhat seriously, and perhaps there might be other enduring sources of zeolite sales as the nuclear threat remains.
Disclosure: I am long UAMY.
Additional disclosure: I have owned it for nearly 8 years.