I like to start my day reading the Financial Times with my first several cups of coffee. It's a well written paper and you get a very different worldwide prospective from across the pond. This morning, I learned that O'Bama is Irish and that Krispy Kreme Doughnut (KKD) has expansion plans in Europe. The article said KKD was trying to become a midday coffee destination and would be looking for ways to increase their coffee and hot chocolate sales. While researching the company, I found Robert P Stiller, Founder and Chairman of Green Mountain Coffee Roasters (NASDAQ:GMCR) recently bought 3.5 million shares, which is over a 5% interest in KKD. I'm not that bright, but I can connect a few dots on this one. Let's see what everyone else thinks of the stock by looking at the price momentum on Barchart.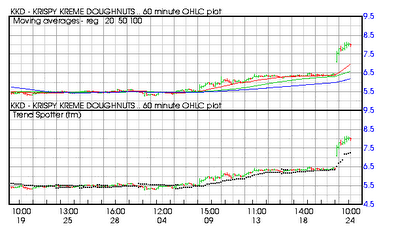 Krispy Kreme Doughnuts Inc. (KKD)
is a leading branded specialty retailer of premium quality doughnuts which are made throughout the day in their stores. The principal business is the high volume production and sale of varieties of premium quality doughnuts, including their signature Hot Original Glazed. The company has established Krispy Kreme as a leading consumer brand with a loyal customer base through their long standing commitment to quality and consistency. The company has been changing it's business plan from capital intensive company owned stores to franchise locations that pay royalties and buy product mixes and other products from the company. They are also selling donuts in grocery and convenience stores
Factors to Consider:
Technical Factors:
100% Barchart short term technical buy signals
Trend Spotter buy signals
Above its 20, 50 and 100 day moving average
12 new highs and up 46.10% in just the last month
Relative Strength Index is 84.90% and rising
Trades around 8.05% with a 50 day moving average of 5.93
Fundamental Factors:
Wall Street brokerage analysts have done a complete 180 turnaround on their opinion of this stock with 2 strong buy, 1 buy, 4 hold and no negative recommendations released
Sales are projected to increase by 6.20% this year and another 7.10% next year
Earnings estimates are the real story with earnings expected to increase by 64.70% this year, another 39.30% next year and continue with an annual increase of 50.00% a year for the next 5 years
General Investor Sentiment:
I want you to take special notice of a divergence of the opinion of the professional and individual investor
On Motley Fool almost 1,000 readers express an opinion on this stock
CAPS members are mixed with a vote of 387 to 384 that the stock will beat the market
The more experienced All Stars are equally split 99 to 99
This is not a real vote of confidence
Summary: Someone is way wrong about this stock. The price jumped up abnormally fast, brokerage analyst have done a 180, short interest has dropped, which means a lot of professionals have covered their shorts, but the individual investor is not convinced. If you buy
Krispy Kreme Doughnuts (KKD)
I would advise you to protect yourself with a tight stop loss.
Disclosure:
I have no positions in any stocks mentioned, and no plans to initiate any positions within the next 72 hours.