Somaxon Pharmaceuticals (NASDAQ:SOMX) is burning the midnight oil to get its message out about the safety and efficacy of Silenor, its recently launched drug to treat insomnia.
Silenor is the first and only FDA-approved product for sleep maintenance insomnia that is not associated with risk of abuse or physical dependence. CEO Richard Pascoe says in an exclusive interview with BioTuesdays.com.
It promotes sleep into hours seven and eight, has no next-day residual effects and is not a controlled substance like several competing sleep aids.
The drug, which is approved for use in adults and the elderly, does not have side effects that should concern physicians or patients, he claims, adding that:
we believe Silenor's product profile makes it the ideal first-line therapy for people who struggle to stay asleep during the night.
As its first marketed product, laying the foundation for Silenor's long-term commercial success is Somaxon's overriding goal this year. And the company made huge strides in the first quarter, as the number of new Silenor patients jumped by 50% over the previous quarter, on the back of some 20,000 prescriptions written for Silenor in the quarter.
"We have been growing the product at a very healthy clip week-over-week since it was launched in September of 2010, and we expect that growth to continue," he adds.
On the reimbursement front, Somaxon recently secured Silenor's inclusion in formularies at Medco Health, RxSolutions, Express Scripts, several Medicare Part D plans and the U.S. Department of Defense. The drug will be covered in a Tier 2 unrestricted position at Medco, which is the preferred position relative to other branded insomnia products on the formulary. And it will be covered in a Tier 3 unrestricted position at RxSolutions and Express Scripts.
"We have decreased patient co-pays through managed care so that over 110 million lives are now covered in contracted formularies," Mr. Pascoe points out. "We have been pushing very hard on the managed care front over the past several months to ensure that patients who need the drug have access to it."
In a report earlier this month, Roth Capital Partners analyst Scott Henry said the formulary wins should add:
tailwinds to the current prescription trends, starting in the second quarter and becoming more pronounced as the year continues.
He initiated coverage of Somaxon in April, with a "buy" recommendation and a 12-month price target of $5, calling the company a "sleeper in the insomnia market." The stock closed at $2.61 on Friday.
Mr. Henry's market share target for Silenor is 2.5% of the insomnia market, matching recent niche insomnia treatment launches and corresponds to peak revenue of about $200 million in 2015. "We believe that matching these targets will generate significant upside for Somaxon shares," he writes. For this year, he is forecasting revenue of $17 million, climbing to $46 million in 2012.
Somaxon launched Silenor with a sales force contracted from Publicis Touchpoint Solutions with co-promotion by Procter & Gamble (NYSE:PG). In the first quarter, Somaxon deployed an additional 35 sales reps in high-value territories, bringing its total to 145, and, combined with 105 reps from P&G, the total sales force promoting the drug is now 250.
Mr. Pascoe says P&G's sales reps are responsible for calling on 17,000 primary care physicians and 25,000 pharmacies, while Somaxon is focused on 23,000 health care professionals, including specialists such as psychiatrists, neurologists and sleep, pain and addiction specialists.
Somaxon's commercial strategy includes targeting the sales force to reach high-value physicians and targeting consumers and physicians that it can't reach personally through online advertising with WebMD, Medscape and the Epocrates "DocAlert" program
And to tie it all together, making sure there are no obstacles for access to the drug," Mr. Pascoe adds.

Multi-faceted outreach strategy has engaged over 500K consumers.
In 2010, about 500,000 physicians in the U.S. wrote a total of 71 million sleep aid prescriptions, creating a $2 billion market. About 50,000 of those doctors drove the market and wrote over half of those prescriptions, he says, and he also adds, "our goal as a commercial organization is to get to those doctors."
The strategy seems to be working.
"When we look at physicians who have written one or more Silenor prescriptions since launch, we had an initial 4% market share among those physicians as of February, which is higher than our national market share by quite a stretch," he acknowledges.

This speaks to the strategy that we don't need to call on 500,000 physicians to be successful; we can call on 40,000 or 50,000 of them and be successful as long as we're penetrating that niche market at a disproportionately higher share than our national average. So we're going after the doctors that really drive market share and write prescriptions in a prolific way. That's the centerpiece of our commercial strategy in the field.
It is widely believed that one of the reasons people wake up in the middle of the night or wake up too early is that their histamine levels rise abnormally and they have difficulty falling back to sleep. Silenor effectively reduces histamine levels and maintains those levels throughout the night so patients achieve sleep into the seventh and eighth hours of the night, without residual effects that make the patients feel drugged, he says.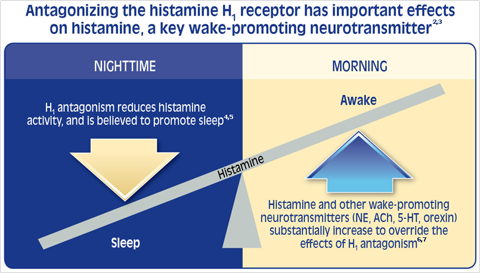 Estimates put the number of insomniacs in the U.S. at 70 million. But only 20% of them are on prescription therapy, "so there is still a large segment of the market that relies on over-the-counter and alcohol solutions," he adds.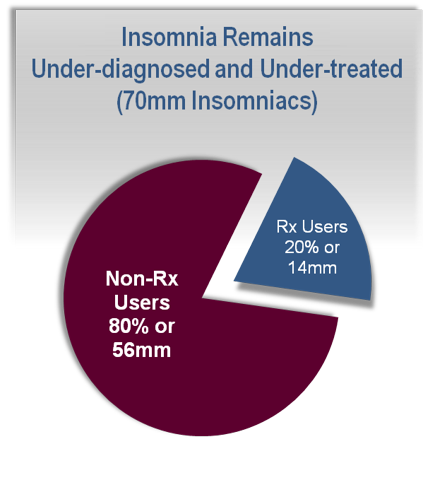 Insomnia is a large and growing accessible market.
Somaxon's market research has found that patients are reluctant to go to their doctor and talk about their insomnia issues. And they're reluctant to take prescription medicines because of concerns about addiction.

So we think we can address the needs of both prescription and non-prescription patients with Silenor, because we bring the efficacy patients need along with attractive safety.
Last month, Somaxon implemented an eVoucher co-pay assistance program, under which co-pay amounts of $85 or less for patients having access to commercial health insurance are automatically reduced to $15 at the time of payment at about 33,000 participating pharmacies.
"This program is intended to support Somaxon's goal of making Silenor available and affordable to anyone whose physician determines they may benefit from the drug's unique safety and efficacy profile," he says, adding that the company's existing Sleep Saver co-pay assistance program will continue to be available to patients that are unable to take advantage of the eVoucher program.
Silenor is Somaxon's toehold as it transforms into a specialty pharmaceutical company. Mr. Pascoe says an important objective this year is to add a marketed product and/or a product in late-stage development to the Company's product portfolio.
"Anything we bring into the organization will have to complement our commercial activities with Silenor," he says, adding that Somaxon is clearly focused on the central nervous system as a therapeutic category and also could be interested in pain and pain management. "At the end of the day, there are a lot of synergies that can be created between products in CNS or pain and what we see in the insomnia category."
Somaxon had $43.3 million of cash at the end of the first quarter and is forecasting operating cash expenditures in the range of $74 million to $79 million for all of 2011. Roth Capital's Mr. Henry views an acquisition "as a positive if it can reduce the current burn during the Silenor launch mode."
Mr. Pascoe also notes that the company is looking at the possibility of licensing Silenor outside of the U.S. this year. The insomnia market in Europe is not especially attractive, because there is a heavy reliance on over-the-counter remedies, he says. However, he states:
Asia is an attractive target for us, because the market leader on the branded side in Japan is Takeda Pharmaceutical's Rozerem. We think our drug can compete favorably in that market.
Four generic drug makers – Actavis Elizabeth, Mylan (NYSE:MYL), Par Pharmaceutical (NYSE:PRX) and Zydus Pharmaceuticals – have already filed patent challenges against the 3 mg and 6 mg versions of Silenor. "We intend to vigorously enforce our intellectual property rights related to Silenor," Mr. Pascoe says.
Silenor is protected by nine patents listed in the FDA's Orange Book, including three method of use and six formulation patents, with four pending applications. The latest patent, which was issued last March and relates to the drug's efficacy and safety when taken without food, extends the life of the product until 2027
"One of the reasons we partnered with P&G is that we think, down the road, there is the potential to go over-the-counter with Silenor," he says. "Our intent today is to preserve the brand for as long as we can. However, there will come a day in the future where this product will go off-patent, so we think there's a real opportunity to take the product over-the-counter, given its safety and tolerability profile."
Disclosure: I have no positions in any stocks mentioned, and no plans to initiate any positions within the next 72 hours.