Hong Kong's new commodity exchange started trading U.S. dollar-denominated gold futures on May 19.
Originally slated to start operating at the end of 2009, the Hong Kong Mercantile Exchange (HKMEx) was authorized on April 27 2011, by the Securities and Futures Commission to operate as an automated trading services provider.
As The Chicago Tribune reported, shareholders in the exchange include Industrial & Commercial Bank of China Ltd., the country's biggest state-owned commercial lender, Cosco Group, a state-owned shipping company, and EN+ Group, a mining and energy group controlled by Russian tycoon Oleg Deripaska.
The Hong Kong Mercantile Exchange believes that it will benefit from its proximity to mainland China to drive trading volume. Its first day of trading recorded a turnover of U.S. $187,7 million, with 3,929 contracts.
As HKMEx president Albert Helmig commented:
"With our strategic location in Hong Kong, HKMEx is ideally positioned to facilitate trading in commodities between China and the rest of the world."
HKMEx's electronic trading system and technology infrastructure is among the most advanced of any exchange in the Asia-Pacific region. The exchange's technology infrastructure is built around two data centers located far away from each other, offering a "hot-hot" trading system designed to minimize downtime even in the event of hardware failure.
The exchange is backed by several top-tier technology partners such as Cisco Systems (NASDAQ:CSCO), Hewlett Packard (NYSE:HPQ) and Bloomberg:
Click to enlarge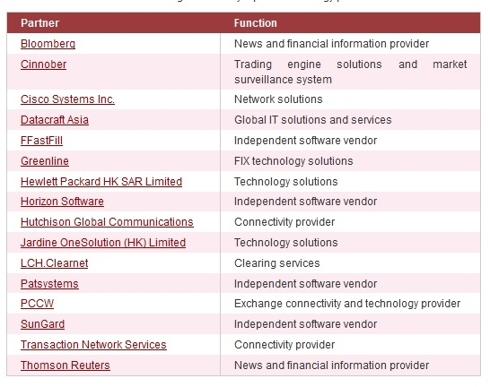 Click to enlarge
Equinix (NASDAQ:EQIX) announced that HKMEx is hosting its production core systems in its Hong Kong HK1 data center.
The Equinix Hong Kong facility is home to a comprehensive ecosystem of financial firms worldwide that use the carrier neutrality and resulting network density of Equinix's data center to optimize the speed of their transactions in this key gateway to China's financial system.
A quick look at Equinix's Asian presence outlines the importance of the financial vertical in the region (slide from the 2010 analysts meeting):
Click to enlarge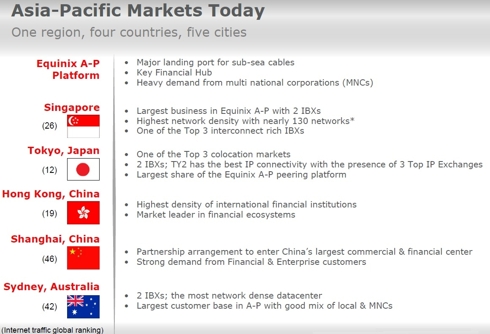 Click to enlarge
This latest win strengthens the key role of the Equinix financial ecosystem in the region, as David Wilkinson, senior director of business development at Equinix, commented:
The addition of HKMEx to Platform Equinix is significant, as it expands the community of partners and end users, attracting new participants to the electronic trading ecosystem."
Equinix just opened its phase VI expansion of the existing HK1 facility, adding about 500 cabinets. The new $63 million HK2 data center is due to open in Q3, and it will provide total capacity for more than 1,450 cabinet equivalents. The first phase of the expansion will cost about $20 million and will offer an initial 450 cabinet equivalents.
Disclosure: I am long EQIX.