iPhone sales have accounted for nearly half of Apple's (NASDAQ:AAPL) revenue over the past few years, and it's enormously important to the company and its investors. Thus a big part of being able to forecast Apple's fiscal 2011-2012 revenue and earnings largely depends on one's ability to grasp where iPhone sales are likely headed in the future.
To get an idea of just how important the iPhone is to Apple's financial well-being, Apple produces about $660 million in revenue for every 1 million devices sold world-wide. The iPhone also carries extraordinarily favorable gross margins and excellent average selling prices. The iPhone has been out for nearly 5 years now, and Apple still maintains a $660 ASP on the device.
One can see how Wall Street analysts consistently miss on their earnings forecasts. Missing iPhone sales by even 1 million units can wreak havoc one's estimates. In Q2 2011, for example, Apple reported unit sales of 18.65 million iPhones which was more than 2 million units -- or $1.32 billion -- above the Street's expectations.
When Apple is selling that many devices, it's easy to miss expectations by one or even two million units. Bill Shope at Goldman Sachs, for example, recently missed iPhone sales expectations by a whopping 5.3 million units or by 40%. For representing one of the world's most prestigious investment firms, that has got to be pretty embarrassing. Yet, Bill Shope is not alone in this ineptitude. At least 20 major Wall Street analysts missed iPhone expectations by 2.7 million or more units (17% miss) in Q2.
Determining how many iPhones Apple will sell in its upcoming fiscal Q3, fiscal Q4 and in fiscal 2012 requires considerable historical, seasonal, and sequential growth analysis. Making forecasts more than a few quarters out presents with a lot of difficulties given the fact that it's highly unpredictable as to when the global smart-phone market might slow down.
Additionally, unlike past years, there's considerable amount of uncertainty as to when Apple will begin selling the next generation iPhone. There seems to be a general consensus that the iPhone has been delayed from its customary upgrade cycle in June to sometime in September.
However, as I pointed out last week, there is also considerable evidence to suggest that Apple might in fact release the iPhone at the end of June despite widespread rumors, industry checks and news reporting that overwhelming suggest an iPhone delay. If the iPhone is in fact delayed until September, Apple's fiscal Q4 will likely take a $4.5 billion revenue hit to the benefit of fiscal Q1 2012. The stock will also probably struggle for the rest of 2011 as a result of the delay.
To handle this uncertainty, I've decided to provide two separate estimates for Apple's fiscal Q4. One set of estimates will be based on a scenario where the iPhone is not delayed and released in June, and the other based on an iPhone delay until September. Yet, before analyzing fiscal Q4, lets take a look at what to expect for the current quarter.
Fiscal Q3 2011 iPhone Sales Estimates
With the single exception coming in 2009, Apple's fiscal Q3 is seasonally Apple's weakest quarter when it comes to iPhone sales. Much of that weakness is attributed to potential future customers postponing their iPhone purchases ahead of the customary and much anticipated upgrade cycle in June.
In 2010, for example, Apple experienced a 4.0% sequential decline between its fiscal Q2 and fiscal Q3. Yet, given the fact that many expect the iPhone to be delayed until September, there should be a smaller than usual seasonal impact as many customers might be less inclined to postpone purchasing an iPhone if they believe a new version will not be released until the fall.
However, I still expect a modest sequential decline in iPhone sales as a result of channel stuffing in fiscal Q2. As Peter Oppenheimer (Apple's CFO) pointed out in the Q2 conference call, Apple increased its channel inventory by 1.7 million units last quarter, and has finally reached supply-demand balance for the iPhone 4.
As a result of this increase in channel inventory, I expect iPhone sales to decline from 18.65 million units in fiscal Q2 to 16.5 million units in fiscal Q3 -- a little over 2 million units. There are several other reasons why I think iPhone unit sales will decline on the quarter, but channel stuffing is the key component to predicting unit sales this quarter.
In terms of earnings, I expect Apple to report approximately $10.676 billion in iPhone revenue in Q3 based on an average selling price of $647.00 -- a $12.00 sequential decline -- which is more or less directly in line with the historical sequential and seasonal trend.
Fiscal Q4 2011 iPhone Sales Estimates
Given the significant uncertainty as to when Apple plans on selling its next generation iPhone, fiscal Q4 will be one of the most difficult quarters to predict in recent history. If the iPhone is delayed until September, unit sales will come in several million units below estimates based on a June launch. As a result, it's financially prudent in this case to provide two entirely separate estimates for Apple's fiscal Q4 -- one based on a June iPhone launch scenario and another on a September launch.
In order to get an idea of just how big of an impact the iPhone delay would have on Apple's revenue and earnings in fiscal Q4, I'll first offer iPhone estimates that assume a June launch. I'll then compare those estimates to what investors should expect based on an iPhone delay. Obviously, Apple's fiscal Q1 will also be affected, and two separate set of estimates will have to be considered for Q1 as well. So let's begin with estimates assuming a June launch.
Fiscal Q4 2011 Estimates based on June iPhone Launch
Assuming Apple reports 16.5 million units in fiscal Q3 as I predict, then based on last year's 67.92% sequential growth rate between Q3 2010 (8.398 million iPhones) and Q4 2010 (14.102 million units), Apple would report unit sales of 27.7 million iPhone in fiscal Q4. However, unless Apple unveils a revolutionary new design that goes beyond just evolutionary updates to the iPhone 4, I think the sequential growth rate will be significantly smaller than what we saw in 2010.
For example, based on 2009's 41.5% sequential rise between Q3 and Q4, Apple would sell 23.35 million iPhones in fiscal Q4. The reason I think this will be the more likely scenario is simple. People are far less likely to upgrade to a higher model if the improvements are merely evolutionary and non-cosmetic. It would make sense to base estimates off of what we saw in terms of the sequential rise in sales between the iPhone 3G and iPhone 3GS. Now this all assumes that Apple will launch an iPhone 4S and not the iPhone 5 -- a far safer and conservative assumption based on the evidence.
Thus, based on these and other factors, I expect iPhone sales to come in at about 23 million unit in a fiscal Q4 that assumes a June launch for the device. iPhone revenue on the quarter should come in at about $14.904 billion -- a $4.3 billion rise sequentially -- based on a $648 average selling price which is more or less consistent with the seasonal and sequential trend.
click to enlarge images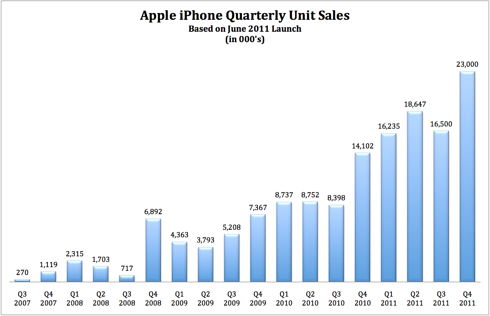 Click to enlarge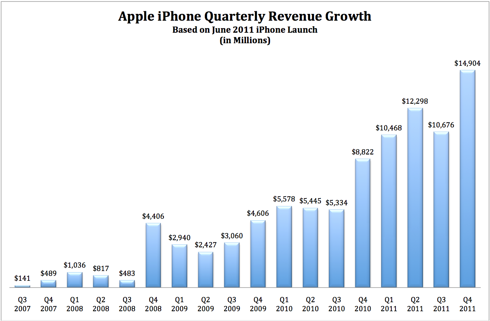 Click to enlarge
Fiscal Q4 2011 Estimates based on September iPhone Launch
Now let's take a look at what Apple would report in fiscal Q4 if the iPhone ends up being delayed until fiscal Q1. A lot of interesting factors come into play if this happens to be the case. First, we have no clue as to what to expect in terms of a seasonality in Q4. Since the advent of the iPhone, Apple has never reported a fiscal Q4 without the release of a new iPhone. So in a sense, it's somewhat difficult to tell exactly how well the iPhone would sell during the summer months without factoring in the upgrade cycle.
In the past, even before the iPhone was introduced, Apple's fiscal Q4 tended to be one of Apple's strongest quarters of the year. This largely had to do with the significant increase in Macintosh sales as a result of the back to school shopping season. There's definitely an increase in store traffic during the summer months, which should result in some sort of an impact on iPhone sales.
However, given the fact that there would be a lot more certainty as to when the new iPhone would be announced if June passes with no new iPhone, we would likely see a lot of customers postponing their purchases until Q1 when the new iPhone is finally introduced. This would probably result in a 500,000 unit sequential decline between Q3 and Q4 -- and the decline could be even bigger if supply contracts considerably ahead of the September launch.
However, if the launch is in early September and Apple gets a full month of iPhone 4S / iPhone 5 sales in Q4, iPhone sales could come in as high as 18 million units. It all depends on when the device is announced and when it begins to go on sale.
Yet, I'm tentatively expecting iPhone sales to come in at about 16 million units in a Q4 that assumes a September launch for the device. iPhone revenue on the quarter should come in at about $10.368 billion based off of a $648 average selling price.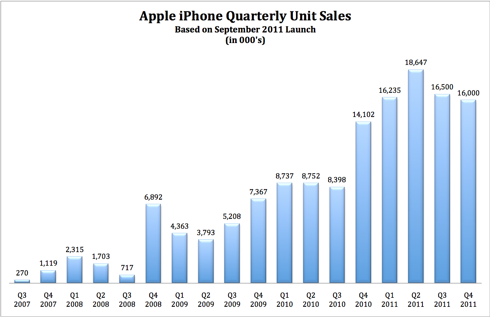 Click to enlarge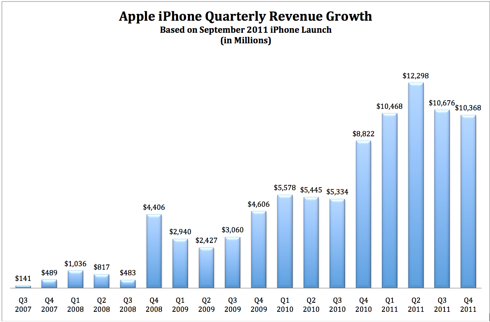 Click to enlarge
As this analysis demonstrates, Apple's fiscal Q4 revenue would take a whopping $4.54 billion hit if the iPhone is delayed until Q1. That's quite a significant impact to Apple's top-line. My fiscal Q4 2011 revenue estimates would drop from $32.33 billion to $27.8 billion on the quarter. Yet, this revenue loss would obviously be to the benefit of fiscal Q1, Q2 and possibly Q3 2012 as customers defer their purchases until 2012. I'll follow up with my fiscal 2012 iPhone sales estimates in a few days.
Disclosure: I am long AAPL.