Many of you may be confused about the action in Aruba Networks (NASDAQ:ARUN) Friday, selling off as much as 17% after their earnings report. I am a little bewildered at the reaction to earnings and I came to the conclusion, it's a sell off based on a technical pattern.
To say the least, their earnings report was impressive. On a non-GAAP basis, the company reported $0.16 per share compared to analyst estimates of $0.15 per share and revenue of $105.8 mil vs the $98.1 mil estimate. Year over year, that is a 100% increase in EPS and 53% increase in revenue. In addition, the company added over 1,200 new customers during the quarter.
"During the quarter, we added a record number of new customers, bringing our total to over 14,000." commented CEO, Dominic Orr.
Many of the new customers came from international markets as Mr. Galvin commented, "International sales grew 52% year-over-year, representing 41% of total revenue, an increase from 36% of total revenue in Q2 '11." To me this means the company is growing a more stable customer base as it spans different geographies and is not reliant on a single market such as the U.S.
So why the big sell off?
There were a lot of questions regarding margins by analysts during the conference call. Meaning, they are concerned the company cannot maintain its current margins which could be under pressure from exposure to international markets. (Margins improved fractionally year-over-year during the quarter but decreased from the prior quarter.) They also had concerns over a new tax rate the company would face in 2012.
Lastly, the major concern I got from the call was that guidance was too conservative. This is an odd conclusion given that they guided higher than analyst estimates. The company expects fourth quarter EPS of $0.16 to $0.17 vs est. $0.16 and revenue of $107 mil to $109 mil vs est. of $105.5. The key take away is that even though their guidance is strong, the company's growth is set to decelerate if the guidance is accurate. Estimates represent a 38% to 41% increase in revenue and a 60% to 70% increase in EPS on a year-over-year basis. Deceleration in growth is not what analysts like to see in growth stocks.
Here is my take. The stock has had a tremendous run-up over the past year, approximately 123%. Although you cannot see the after hours trading from last Thursday, the stock traded up to $35 dollars and then sold off aggressively. Looking at the technical picture, the chart has formed a bearish head and shoulders pattern. The after hours trading formed the right shoulder of the pattern.
click to enlarge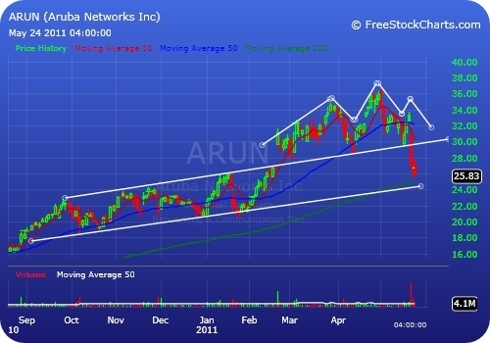 On Friday, the stock broke the neck line (a little faster than I anticipated) and is returning to the original upward sloping channel that was previously formed. I will be watching the stock to see if it finds support at the 200-day MA. I still like the company and they seem to have pricing power against its much larger rival Cisco (NASDAQ:CSCO). It will be interesting to see how it plays out.
Happy Trading.
Disclosure: I am long ARUN.