Co-written by Brandon Ogle
Last night, on CNBC's The Kudlow Report, your co-author was asked what he thought about the AIG "re-IPO" (see here). The response was simple. "I would rather spend $9 billion on the over valued LinkedIn and own the whole thing that get a fraction of a government run firm".
Well, we would say today that owning a piece of the overpriced social media bubble is better than bailing out the government with your own money. But would we really want to own LinkedIn (NYSE:LNKD)?
After seeing the wild opening day for LinkedIn, just nine days after Skype was picked up by Microsoft (NASDAQ:MSFT) for $8.5 billion, we have to ask if there is a second bubble being formed. Sure, most of the money involved in the social media firms are in private equity, but that didn't stop a few from putting out an IPO.
Business oriented Social Networking site LinkedIn made its open market debut on the NYSE Thursday, May, 19 and quickly soared from its initial value at $45 a share to its opening value of $83. The stock hurriedly ran up to a range of $120 a share where it then made its high finally retracing back to the $90 range.
click to enlarge images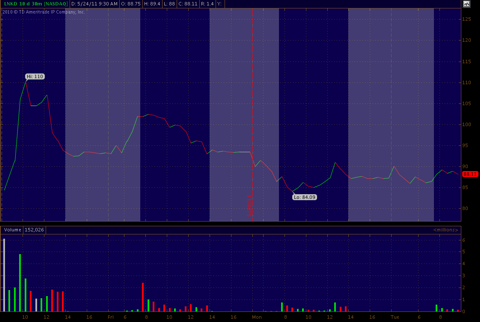 With no profits coming in and most of its consumer base in the United States, many believed a 4 billion dollar perceived valuation was too high, they surely didn't expect it to end the day at more than double that with a value of 9 billion. With no track record as a public firm, the market is merely trading on scarcity for social media plays. We draw a parallel between LinkedIn and the 90's dot.com bubble.
"Those who cannot remember the past are condemned to repeat it." George Santayana
A brief look to past internet based business productivity companies, yields an immediate resemblance of last weeks occurrence. Although these things aren't always played out with identical precision, chart patterns give us indication to how past behavior will recur. Following the LNKD IPO fiasco, we quickly were reminded of the not so distant past when Akamai Technologies (NASDAQ:AKAM), then a 14 month old startup specializing in reducing online congestion for communication networks, made its public market debut.
The LinkedIn IPO bore a shocking likeness to that day back on October 29, 1999 when, as previously mentioned, Akamai Technologies made preparations for its public debut. Like LinkedIn, Akamai's initially low proposed price of $16-17 per share was raised to a value of $26 pre-market. At the end of the day, traders had ran the price up to a close of $145.19 a share, turning a blind eye to the fact that the company had yet to make any profits. This resulted in the valuation of Akamai to more than quintuple in a single day.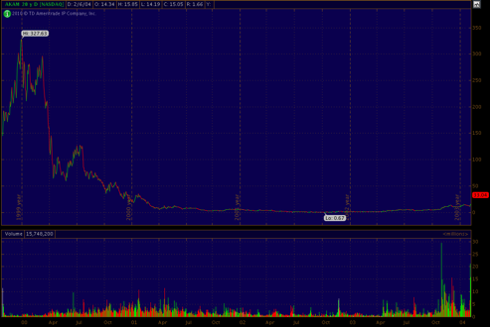 Click to enlarge
Immediately you notice that the charts of AKAM and LNKD have an obvious similarity, granted they are in a different time frame due to the limited history of LNKD. Regardless, this striking similarity leaves you to wonder if history is repeating itself. This time around we don't have nearly the same frequency of tech IPOs unveiling themselves, but does that make the risk any different? Like AKAM it, it isn't hard to believe that soon the greed and madness of the crowd will recede, investors will see the insane valuations of social networking and the companies will feel the pain. The amount of overpriced stocks doesn't make a difference. A bubble is still a bubble.
AKAM eventually made its all time low on October 7, 2002 when it was traded at just 67 cents a share. Needless to say, those who held on to their shares got burned. Since then, Akamai has recovered to a more attractive price, however its volatility has remained. What does this mean for LNKD? Who cares and why bother? Wait for solid numbers, and a track record of making a profit, before you put any money down.
Akamai is still around and has become profitable in recent years. The point here is that, like Akamai in the dot.com frenzy, LinkedIn is going public at what could be the height of the Facebook/Twitter valuation wars. Just look at the amount paid by Microsoft for Skype. Will LinkedIn be around in 10 years? I don't see why it couldn't, but valuing a firm with little revenues at 9 billion is too close to the second bubble Silicon Valley residents have been praying for since the last dot.com rapture.
Seeking the same ecstasy of stuffing your pockets with money (as recently experienced by those behind the scenes of the LinkedIn IPO), more tech companies are jumping at the chance to go public, giving further indication of a bubble. This includes the search engine Yandex (NASDAQ:YNDX), marketing itself as "Russia's answer to Google", who went public yesterday at a valuation of about $8 billion. From Russia with love, or never say never again?
Disclosure: I have no positions in any stocks mentioned, and no plans to initiate any positions within the next 72 hours.