As the U.S. remains focused on creating new jobs, Minneapolis-based Medtronic, Inc. (NYSE:MDT) spent more than $260M during its last fiscal quarter on a 2,000-job-cutting-initiative to compensate for slowed growth. The company reported on Tuesday that its FY Q4 2011 net earnings were just $776M, down 23% from the same quarter last year. Medtronic went on to issue guidance for FY 2012 below analysts' estimates.
CFO Gary Ellis from Tuesday's conference call:
FY11 was one of the more challenging years in the industry's recent history. We experienced a significant slowdown in our markets early in our fiscal year, driven by the continued macroeconomic downturn, decreased utilization, and increased payer push-back, which affected us, our customers, and the industry. We estimate our markets are currently growing in the low single digits versus 6-7% a little over a year ago. In addition, our now resolved FDA warning letters delayed the launch of several key new products, which increased pricing pressure and delayed our ability to gain market share. Due to these numerous headwinds, our revenue came in nearly $1B below original expectations.
In one of the many highlights of the call, Ellis provided investors with updates on Ardian, a company with an innovative hypertension therapy which was acquired by Medtronic earlier this year. Ellis noted that he felt the technology "represents one of the most important product advances in med-tech in several years" and adding that Medtronic intends to "maximize its potential".
The company's incoming CEO, Omar Ishrak, who was brought in to replace the retiring Bill Hawkins, was not on the call as he does not officially begin his employment with the company until next month.
CEO Bill Hawkins on Ishrak:
We continue to expand our leadership in chronic disease management by advancing our pipeline of differentiated products, reinforcing our commitment to quality throughout the organization, and leveraging our size and scale to deliver market-leading performance. As we restructure our business for growth and fully launch a number of innovative medical devices, I am confident that Medtronic, under incoming chairman and chief executive officer Omar Ishrak's leadership, is well positioned to deliver sustainable growth in fiscal year 2012 and beyond.
MDT 5 Day Chart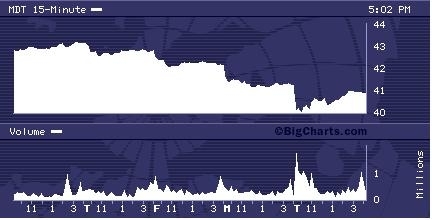 Shares of Medtronic were down as much as 3.27% in early trading on Tuesday. The company remains well positioned as one of the largest medical device makers in the world. However, some investors are clearly concerned about its long-term growth prospects in an uncertain global economy, as well as Ishrak's ability to deliver the goods.
In spite of much of the above, I believe the company will be just fine without Hawkins and should continue to execute on its strategies to bring high quality and innovative technologies to market, and that its current focus on cost cutting and increasing global market share will ultimately lead to higher valuations. As such, I will continue to look for opportunities to add to my position.

Disclosure: I am long MDT.