Ship Finance International (NYSE:
SFL
)
announced
its first quarter earnings today, March 23, 2011. Here are some highlights from this report:
The quarterly dividend was increased to $0.39 per share.
Net income for the quarter was $32.1 million including an accrued profit share of $2.3 million. This gives the company a first quarter EPS of $0.41.
Ship Finance acquired a 2007-built jack-up drilling rig in February 2011.
The company took delivery of two 2010-built container vessels in March and April 2011 respectively.
The company contracted for the construction of four tanker vessels to be delivered in 2013. These vessels have already been chartered out for seven years after delivery.
Ship Finance International raised the quarterly dividend to $0.39 per share. With this latest dividend increase, the company has now paid dividends for 29 consecutive quarters and has increased its dividend every quarter for the last five.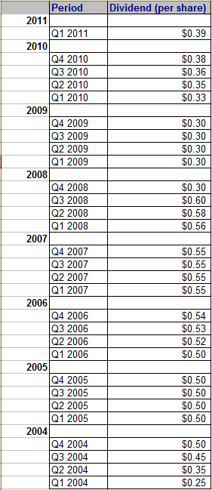 This latest dividend increase gives the company a forward dividend of $1.56, giving the company a 7.88% yield at the current stock price of $19.79 per share at the time of writing. This yield assumes that Ship Finance will maintain a $0.39 quarterly dividend in each of the quarters of 2011.
Ship Finance International is continuing with its strategy to keep its fleet relatively new. The company has recently agreed to sell four ships, two VLCC tankers and two OBO vessels. All of these ships were built in the early 1990s which makes them among the oldest ships in Ship Finance's fleet. In the first quarter, Ship Finance sold the two VLCC tankers Ticen Sun and Front Ace for $31.4 million. Ship Finance received $14.4 million in cash from this deal which represents a book gain of $300,000.
The other two ship sales are not included in the first quarter statements but will be included in the second quarter earnings. Ship Finance has sold the two OBO vessels Front Leader and Front Breaker in the second quarter for $37.1 million. Ship Finance will receive approximately $17.3 million in cash from this sale. This will give the company a second quarter book gain of $5.7 million.
Ship Finance will be receiving $31.7 million in cash from the sale of these four old ships. The company intends to use this cash to finance "new projects." The earnings release does not specifically state what these new projects are but I suspect that the company intends to use this money to support the expansion and modernization of its fleet. This conclusion is supported by the company's purchases of newbuild and slightly used ships during the first quarter.
Ship Finance also received $2,250 thousand in revenue from their profit sharing agreement with Frontline Ltd (NYSE:
FRO
). For the past few years, the oil tanker market has been suffering due primarily to oversupply of tonnage and ships. This has caused rates to fall. The tanker market/industry was still suffering from these low rates during the first quarter. Despite this however, spot rates were up somewhat from the fourth quarter of 2010. Ship Finance receives 20% of the time charter equivalent earnings above a base rate under the terms of the profit sharing agreement. Ship Finance now has several vessels earning more than the base spot price and this agreement should continue to add to Ship Finance's top line. Ship Finance is somewhat insulated should spot prices decline further, though. Ship Finance's ships are leased out with fixed-rate and the additional profit sharing kicker (vessels leased to companies other than Frontline do not have the profit share). Ship Finance collects the fixed rate regardless of the spot price. Even if the tanker spot price falls below the base rate, Ship Finance will still collect the fixed rate. The spot price is showing a positive trend though and management expects the profit share to contribute positively towards earnings going forward.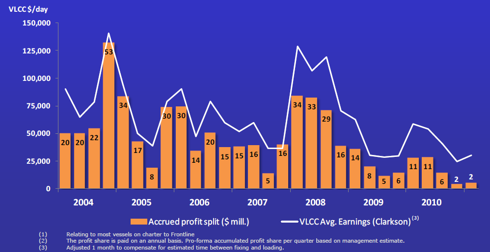 Ship Finance's revenues, net income, and operating cash flow fell substantially from the same quarter last year.

(All figures in thousands)
The first quarter was an exceptional quarter last year as that one quarter made up 86.0% of Ship Finance's total cash flow from operations for the entire year. The Q1 2011 operating cash flow was $70,140 thousand. This is 45.6% of the company's total $153,771 thousand from the full year 2010. The company would finish the year with operating cash flows of $280,560 thousand assuming that Ship Finance earns the same OCF during every quarter in 2011. This would be an effective OCF growth rate of 82.5%. While Ship Finance's management does expect revenues in Q2 2011 to be higher than in Q1, I am still very hesitant to predict a growth rate that high.
Ship Finance had first quarter net earnings of $32,101 thousand. This is down from $56,953 thousand in the first quarter of 2010. There are a few differences between the two quarters to note though. The first quarter of 2010 included a book gain of $27,809 thousand due to sale of assets. This compares to a $278 thousand gain from sale of assets in the first quarter of 2011. I prefer to back these out when analyzing a company's income because selling assets is not recurring revenue (for a business such as this). Ship Finance also accrued $11,315 thousand in profit-sharing revenue in Q1 2010 versus $2,250 thousand in accrued profit-sharing revenue in Q1 2011. Ship Finance actually had more income from operating charter revenues in Q1 2011 than in Q1 2010 ($24,508 thousand versus $17,959 thousand respectively) but substantially less finance charter revenues ($71,809 thousand versus $130,678 thousand). As I mentioned however, the first quarter of 2010 was an exceptional quarter. The company did perform better than it did in the fourth quarter of 2010 but marginally on a net income basis. The first quarter of 2011 did substantially beat the fourth quarter of 2010 on a cash flow basis.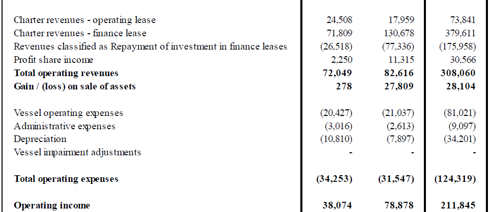 Ship Finance had first quarter EPS of $0.41. This works out to $1.64 per share annually giving the stock a forward P/E of 12.07. This would be less than the company earned in 2010 (2010 EPS was $2.10 basic and $2.09 diluted) but a much greater amount would be generated by recurring items than by special items such as gains on asset sales. Wall Street and institutional investors tend to focus on net income rather than cash flows. If net income does fall but operating cash flows increase then investors may find the stock looking cheap relative to its cash generation ability.
Zack's
predicts current year earnings of $2.33 per share. That gives the stock a forward P/E of 8.49 (for 2011). The PEG ratio is negative because analysts are predicting that the EPS will fall to $2.23 in 2012. That $2.23 estimate is still more than the company managed to earn in 2010. These estimates give Ship Finance an EPS growth rate of 11.0% in 2011 and -4.29% in 2012. The PEG can be calculated from that and works out to be 0.77 for 2011 and -1.98 for 2012 assuming that the P/E ratio remains constant. Honestly, this is a poor assumption to make.
Zack's estimate appears to be somewhat optimistic. I do not see any way for Ship Finance to earn $2.33 per share in 2011 barring asset sales or a sufficiently large spot price in the tanker market to increase the profit sharing revenue. In the same vein, $1.64 per share is probably too low. Most likely, Ship Finance's full year EPS will come in somewhere between these two extremes. The company looks positioned to increase its operating cash flow throughout the year. Should that happen, Ship Finance could increase its dividend along with it.
Disclosure: I have no positions in any stocks mentioned, and no plans to initiate any positions within the next 72 hours.