Spirit Airlines, expected to eventually trade under the ticker SAVE, seems to have what it takes to be a long-term survivor in the airline industry. The firm boasts ultra low-cost operations and has shown resiliency despite rising jet fuel costs and a recent labor strike. The carrier is far from immune from the structural pitfalls of the airline industry, which include severe pricing pressure, labor unions (about 50% of the workforce in Spirit's case), and volatile jet-fuel prices. But Spirit Airlines has the correct business strategy (an ultra low-cost focus) and capital structure (no debt following its eventual IPO and recapitalization) to best weather any cyclical troughs or temporary exogenous shocks that may be thrown at the industry.

We have expanded our domestic industry cost analysis since our last edition ("Southwest Is The Most Efficient Airline, But Cost Advantage is Narrowing") to include Spirit and peer Allegiant (NASDAQ:ALGT).
Click to enlarge: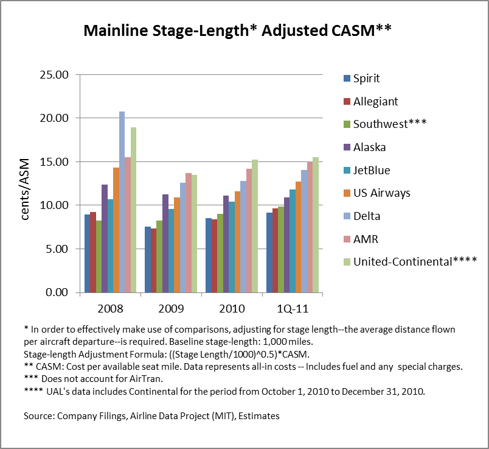 On an apples-to-apples basis, Spirit's all-in, stage-length adjusted CASM ranks the best among airlines included in this study. There are two main drivers behind its ultra low-cost structure: 1) the operation of an all-Airbus fleet of 35 relatively new A320-family planes, which translates into lower maintenance costs and common flight crews (reduced training expenses, etc.); 2) the A320s have high-density seating configurations (178 passenger seats versus JetBlue's 150), which allows the carrier to scale fixed costs more effectively.

Jet fuel prices are by far Spirit's largest cost item, representing over 30% of operating costs in 2010 and almost 40% in the first-quarter of 2011 (it has hedges in place for only 5% of its expected fuel needs for the remainder of this year). Though the high representation of jet-fuel prices in its cost structure is well above the industry average, this is more a function of Spirit's lower labor costs (21% of operating costs in the first quarter of 2011) relative to other participants, than any operational issues. The firm's historical profit performance and corresponding jet-fuel prices paid per period are shown below: (Click to enlarge)





The firm's unbundling pricing strategy (charging separate for advance seating and baggage) followed by corresponding fare price reductions is relatively unique in the industry--most airlines do not follow up willingly with a fare price cut. Such a strategy has driven non-ticket sales to over one third of total revenue in the firm's first quarter of 2011. It further supports the view that intense pricing competition remains in the airline business, despite capacity rationalization and consolidation. Lower prices should also stimulate demand and spur continued growth in its target markets of the Caribbean and Latin America, out of its home base in Fort Lauderdale, Florida. The airline has firm commitments for 33 new A320 aircraft through 2015. That figure represents a near-doubling of the company's fleet, to facilitate expected expansion plans. Its current route network is shown below: (Click to enlarge)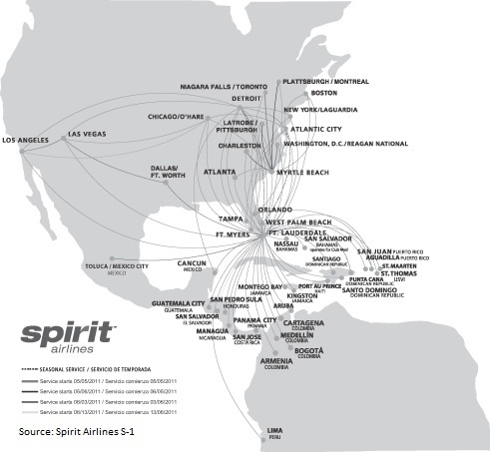 There are certainly many things to like about Spirit: Its ultra low-cost structure, debt-free capital structure, and growth appeal. However, the name is still largely a play on the trajectory of jet-fuel prices and the direction of the economy (leisure travel) coupled with additional expansion risk related to the near-doubling of its fleet within five years. And with a current fleet that boasts an average age of just four years, cost pressures will intensify once Spirit's aircraft-buying spree subsides beyond the middle of this decade. Though Spirit at some point may present a compelling trading opportunity, long-term investors can probably find a better place to put their money than the airline industry ("Why Airline Stocks Are Not Long-Term Investments").

Disclosure: I am short AMR.