Internet Initiative Japan (NASDAQ:IIJI) is a leading internet connectivity and IT services company in Japan. It trades under relative obscurity in both the U.S., where it has traded as an ADR since 1999, and in Tokyo, despite its listing on the Topix-1, Japan's "big board." Nevertheless, IIJ is a solid company, and is very well-positioned to take advantage of opportunities in the cloud and in modernizing Japan's IT systems. Furthermore, it has a strong balance sheet, remained profitable during the financial crisis, and is forecasting solid growth in the coming year to five-year period. Its networks were largely unaffected by the March earthquake and tsunami, and accordingly, the financial impact of the disaster was limited as of the two week-plus post-disaster period reflected in its fiscal Q4.
Click to enlarge: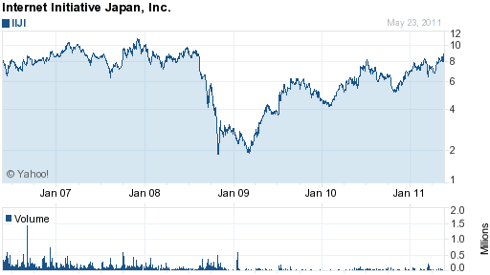 Readers should know that I have held a varying number of IIJ shares since 2006. Notably, in early 2010, I began to engage the company's board of directors, including its founding Chairman and CEO, Koichi Suzuki. The result of around a half year of back-and-forth (see related articles here) is that the company has hiked its dividend four times in the past year; from ¥2,000/share --> ¥3,000/share, a 50% aggregate increase.
While I didn't get the buyback(s) and simultaneous stock splits I pushed for, suffice it to say the dividend increases are welcome. I suspect the company will continue to increase its dividend again, as it has a strong balance sheet, good operating cash flows, and is growing its profits. In addition, I imagine that I will once again push for the simultaneous stock splits; IIJ trades at over $3,000/share in Tokyo; under $9/share in the U.S. I will also push for opportunistic buybacks, such as the smallish one the company completed at the trough of the financial crisis – and one it should have done during the aftermath of the March 11 triple-disaster.

Concerning IIJ being well-positioned in cloud computing in Japan, it turns out that the company has been a pioneer in getting Japan connected to the web since day-one, and continues to build networks for leading companies and the government. Furthermore, in recent years, the company is providing cutting edge mobile high-speed connectivity and network access (including specifically for the Apple (NASDAQ:AAPL) iPad), media streaming, and full-service outsourcing, which includes data warehousing and cloud computing.
IIJ does face competition, including from the likes of giants NTT (NYSE:NTT) and KDDI (OTC:KDDIF), but IIJ has done quite well for itself via longstanding relationships with corporate and government clients. The fact that it is a fraction of the size of said giants has allowed it to be far more flexible and a vanguard of new technologies. In fact, NTT and an affiliate own approximately 30% of IIJ, and IIJ and NTT are clients of one another. The large stake held by NTT is not ideal, but such cross-shareholdings are still fairly common in Japan. Note that IIJ purchased AT&T Japan last year, effectively acquiring 1,600 corporate customers. It has said it plans to integrate and cross-sell, something which has already positively impacted IIJ's revenues and profits. IIJ also has a green initiative in its mobile data stations housed in eco-friendly containers.

Following are comments the company made at the end of its fiscal year in March about its prospects regarding cloud computing – don't mind the rigid translation as clearly the company wrote the message first in Japanese and provided an English copy:
[We] anticipate a paradigm shift in our market brought by cloud computing. We expect to take this business chance aiming for our business to dramatically scale-up to the level such as doubled in the coming five years, with our every effort.

The usage of cloud computing in Japan which is expected to increase within 3 to 5 years will be a great business opportunity for us. We have 15 years of experience providing outsourcing services, pioneering technological skills to develop network services with our own operated network – facilities throughout Japan and strong relationships with over 6,500 blue chip customers.
IIJ expects fiscal 2011 (ending March 2012) cloud computing-related revenue to be ¥3 billion ($37M), up from ¥0.6 billion ($7M) in 2010. Within five years, IIJ apparently expects such revenues to be around ¥6 billion ($73M). This will make up a small percent of overall revenues, ¥82.4 billion ($1B) in 2010 and ¥100 billion ($1.22B) forecast in 2011, but represents rapid-growth with real potential to drive future earnings.
I think the five-year outlook may prove conservative given long-delayed IT investments across corporate and public-sector Japan. Note that for fiscal 2011, IIJ says it does not expect to see another decrease in systems integration revenue like in 2010, when there was a year-over-year ¥5 billion scale down of one contract. A closer look at IIJ will show that systems integration, or SI as IIJ calls it, has been what has held back faster revenue and profit growth. Keep in mind that IIJ has no illusions concerning the slow-growth Japanese economy, one which has seen companies and other entities delay capital spending. But the company has benefited from recurring revenues amongst its several thousand customers, and has reportedly been adding smaller-sized customers, not to mention the big win of AT&T Japan.

IIJ's fiscal 2011 outlook consists of a 21.3% increase in revenues to ¥100 billion ($1.22B), 52.1% increase in operating income to ¥6.3 billion ($77M) and a 6.1% increase in net income to ¥3.4 billion ($41.5M). Growth rates over the past year were similar (double-digits; net income was up much more sharply following the recessionary 2008-2009 period). Despite sustained high growth, IIJ's P/E multiple remains relatively attractive in the high-teens, a peak ratio has been around 30; trough in the low-teens.
More important to me, as a "value" investor, is the company's 22% of assets in cash and equivalents and a similar amount in "other" and long-term investments, most of which are in securities. Long-term debt, in the form of capital leases, is minimal and manageable. Short-term notes payable can be out-sized since IIJ on occassion uses bank financing such as in its ~$100M acquisition of AT&T Japan. Its cost of debt financing is miniscule.

Of course, no investment is without risks. I have identified several potential ones, including currency, natural disasters, continued delayed capital spending in Japan and persistent "low" margins. But I don't believe any of them can meaningfully, and over the long term, stop IIJ from achieving ever more top and bottom-line growth.
IIJ today is not as cheap per share as it was when I most recently bought at $2 and $5 (in early '09 and '10). But in light of such things as its AT&T Japan acqusition, its side ATM business which is turning profitable, the four dividend hikes, its strong balance sheet, the huge upside it is poised to experience when its systems integration dvision's contribution is back at pre-crash levels, its founder CEO/Chairman who owns 6% of the company, and of course its high-growth opportunities in the cloud, I think its current valuation is attractive.

I intend to remain a shareholder for the foreseeable future and thus won't get into technical trading factors in this article. While it's nice to see a higher share price, I'm in the for the long haul, and I look to buy on pullbacks, pending available capital. Truth be told, I would love to own 3% or more of this company's shares outstanding (which affords favorable legal standing as a shareholder in Japan) and pursue more friendly activism with management and the board. Perhaps someone reading this article shares a similar interest or knows someone who might be interested.

Disclosure: I am long IIJI.