Natural gas has remained an incredibly depressed market due to massive oversupply and abundant domestic production. The problem for natural gas producers is that it is simply too cheap to drill for natural gas domestically. With the cheapest producers profitability down to even $3 and in some cases less, there is little incentive for natural gas producers to shutter production even though prices remain almost 75% lower than they were at the peak in 2008. The Commitment of Traders data posted below reflects this situation.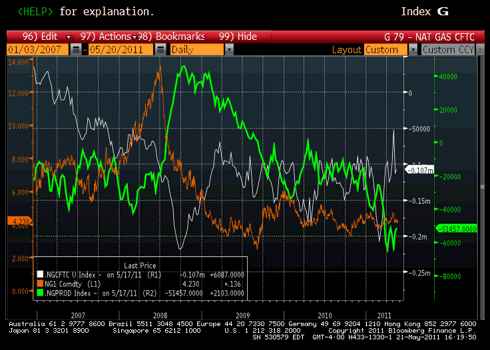 (Click to enlarge)
The chart shows the price of natural gas in amber, the net producer position in green and the net managed money position in white. Note that both the producer and managed money position are negative, so the lower on the chart they are, the more short contracts these groups hold.
As can be seen, producer short remain among the highest in the last four years, even though prices remain very depressed. We believe the preponderance of producer shorts indicates that producers are highly willing to hedge at current prices, and are giving up on the hopes of a further rally to lock in higher prices.
Also interesting is that managed money net positions are actually on the high side of the range they have been in over the last two years since the bubble burst. This indicates that renewed managed money shorting could push natural gas prices significantly lower.
With cost of production of natural gas very low, and with new fields being found every day, the outlook for the natural gas market is at best neutral and at worst highly bearish. With that in mind, we have formed our trade recommendation.
Trade Recommendation
We recommend selling call options on natural gas between the 4.6-5 level over the next two months. The July 4.65 calls could be sold for 0.065, or $650 per contract. Such a position would be profitable as long as natural gas is below 4.65 on June 25th, or 10% above current levels.
A similar trade could be executed by selling the June 11 calls on UNG. While we normally do not recommend using the UNG to express views on natural gas, if views are bearish, then shorting the UNG should actually be a relatively attractive option given the bearish disposition to the ETF.
Disclosure: Short natural gas calls.
Additional disclosure: All information included herein is the opinion of the firm and should not be considered investment advice. Past performance is not necessarily indicative of future results.