PORTFOLIO REVIEW
In my post on May 11, I suggested two new portfolios.
Alternative A, which contained stocks which appeared less risky on the basis of their out performance ratios, and which appeared to have continued upside potential, and

Alternative B, which I considered slightly more risky in that many of the stocks were at the upper end of their out performance ratios, and consequently might soon suffer a reversal of trend.
In the period, a number of negative events have surfaced, or re-surfaced, and the market now looks fragile which is normally negative for this style of portfolio construction. Nevertheless, against expectations, Alternative B has matched the SPY returns in the period, while Alternative A has lost relative performance since formation.
The relative performance of the two portfolios is (click to enlarge images):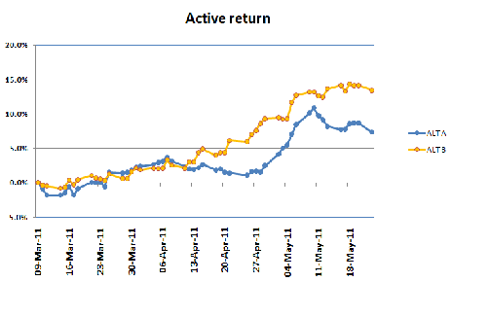 I worked through the S&P by sectors and found two that have continued to outperform, Food Products and Specialty Retail. Other sectors that show good performance in the period, but weakness in the last few days are Health Care providers and Specialty Chemicals.
The relative performance is: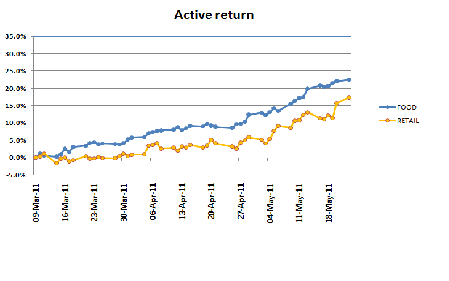 The portfolios that give these results are:
| | |
| --- | --- |
| Food Products | Specialty Retailers |
| | |
| RAH | |
| | |
| | |
| | |
| | |
| SLE | |
| | |
| WNI | |
| | |
| CPO | |
As with many stocks in the Alternative B portfolio, the surprising feature of many of the above stocks is that out performance comes from a high-risk base, even though the general market is in a correction of some sort.
It is also the case that many of the above stocks have been favourably mentioned in SA articles in the past few months. It appears that they have sound underlying businesses, strong earnings upgrades and, in some cases, new followings on Wall Street.
FURTHER CONSIDERATIONS
To re-iterate, my methodology is to generate portfolios that exhibit as near to linear increases in alpha over time. Ideally, these portfolios are comprised of stocks with consistent earnings profiles and an expectation that these favourable trends may continue into the future.
To establish whether a price trend may be sustainable, I choose to fit a valuation profile over the actual price. I prefer not to base valuations on single point estimates such as PE ratios. Rather, I use the Edwards Bell Ohlson model, which can take into account changes in earnings estimates, discount rates, ROE and dividends over time.
As an example, I show valuations against actual price for WTW (Weight Watchers) from July 2008 to the present.
This analysis provides rich food for thought, as it were.
Clearly, WTW has reacted to a very substantial earnings upgrade (as has been noted in SA), in a way not seen before (April 09 for example). On the basis of earnings projections, there appears to be a risk that the current price momentum is not reflective of earnings expectations, and this reinforces our concern that the stock is at the upper level of its historic risk profile.
It will be interesting to see whether future earnings estimates are upgraded, and what it is that has provided the catalyst for these upgrades. In the meantime, WTW generates both outperformance and nervousness.
In contrast, I include a similar analysis for CAT.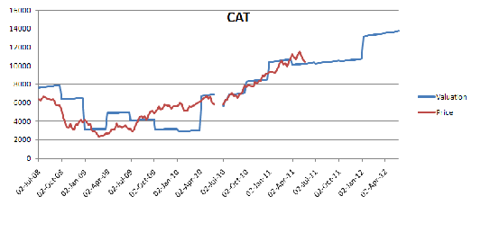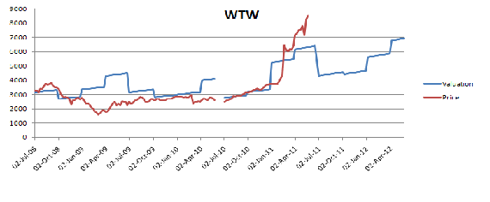 There are many discussion points in this example, especially in lagging earnings estimate and valuations prior to April 2010, but in my view, this example shows that the CAT share price has a closer alignment to earnings upgrades and valuation than WTW.
Currently, CAT is marked down in my methodology due to its recent volatility. Nevertheless, it would be a candidate in my preferred Alternative A portfolio (the one that isn't performing at the moment).

Disclosure: I have no positions in any stocks mentioned, and no plans to initiate any positions within the next 72 hours.
Disclaimer: The content in this document is provided as general information only and should not be taken as investment advice. The contents in this explanatory paper shall not be construed as a recommendation to buy or sell any security or financial product, or to participate in any particular trading or investment strategy. The ideas expressed on this site are solely the opinions of the author. The author may or may not have a position in any security referenced herein. Any action that you take as a result of information or analysis on this site is ultimately your responsibility.