I took a look at two of Cramer's favorite retailing stocks, Lululemon and Deckers Outdoor. Both are specialty retailers that have grown very rapidly over the past five years.
Lululemon (NASDAQ:LULU) - Lululemon Athletica Inc. engages in the design, manufacture, and distribution of athletic apparel and accessories for women, men, and female youth in Canada, the United States, and Australia. The company's apparel products include fitness pants, shorts, tops, and jackets for healthy lifestyle activities, such as yoga, running, and general fitness.
Deckers Outdoors (NASDAQ:DECK) -Deckers Outdoor Corporation engages in the design, production, marketing, and brand management of footwear and accessories for outdoor activities and everyday casual lifestyle use. It offers casual open and closed-toe outdoor footwear, as well as additional outdoor performance footwear, including multi-sport shoes, light hiking shoes, amphibious footwear, and rugged outdoor travel shoes; and sheepskin footwear, sustainable footwear, and sandals under various styles for men, women, and kids.
Both LULU and DECK have grown earnings north of 30% on average annually over the past five years. They have similar operating and profit margins. You would expect given similar historical growth rates, the market would value the companies similarly. Interestingly, the market values the companies completely differently. If you look at the chart below comparing LULU's and DECK's P/E based on 2011 projected earnings, price to sales, and forward PEG; you will see how the stock metrics diverge for the two retailers. Especially interesting to me is that DECK's forward PEG of .73 is more than 2 ½ times less than LULU's forward PEG of 1.89.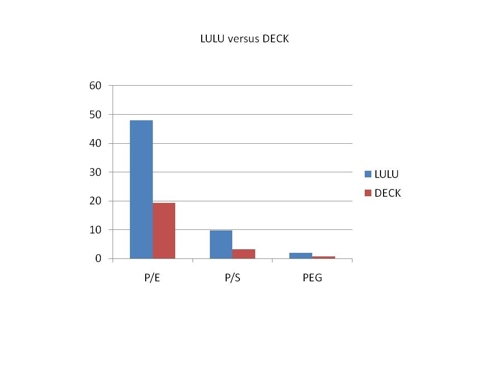 Click to enlarge
(Click to enlarge)
Both stocks have consistently crushed earnings estimates in each of the last four quarters and have pristine balance sheets with no debt. Decker's does have more than $6 more a share in net cash than Lululemon. I am not a fan of retailers right now due to high gas prices, slow growth in personal incomes and rising input costs. However, on a relative valuation basis Decker's is a much safer play right now. I also like the fact they rose right through the gas price spike of late 2007 through the first half of 2008 until Lehman and the resulting financial crisis killed all equities. LULU took a 50% plus hit during the span of that gas spike. Decker's product line and customer base is also much more diversified. For aggressive investors, a pair involving shorting LULU and going long DECK might be worth a look. I am considering selling 10% out of the money puts on DECK to pick up a premium and/or get the stock at a considerably lower price. Be careful out there.
Disclosure: I have no positions in any stocks mentioned, and no plans to initiate any positions within the next 72 hours.