Guess Inc. (GES) has been growing revenue and earnings for seven years straight because its costumer base suffered proportionally less than others during the recession and has been the first to resume buying. By establishing a strong brand and targeting wealthier costumers, Guess has sidestepped two major industry hurdles. First, the wealthy did less badly during the recession. Second, Guess' brand recognition allows the company to sell merchandise for higher prices, which means that higher input costs have a lesser impact on margins than for low-cost producers. Guess was built out of entrepreneurial northern Italy by the Marciano brothers, who have led the company to success for decades.
The two Marciano brothers, Maurice and Paul, own over 30% of the outstanding shares. Maurice is a director and chairman of the board, and Paul is a director, the CEO, and the vice chairman of the board. In 2007, they agreed on this arrangement after both being co-chairman and co-CEO from 1999 until 2007. While the new structure allows each of them to focus on a role, it doesn't leave a whole lot of power on the table for other executives, directors or shareholders. While neither brother is on the board committees on governance, audits, or compensation, they both have significant say over who becomes directors through their substantial share holdings. They are given great pay packages that include, among other things, paid use of a company jet for personal use, life insurance, and company transactions with their other companies. For instance, the corporate headquarters is rented from one of the Marciano trusts, and the company uses jets owned by one of these trusts. Executive compensation at Guess isn't based on a peer group, which is, on balance, a good thing. The pay breakdown for major executives last year was 25% stock options, 40% incentive-based compensation, and less than 25% base salary. Despite the incentive-based compensation being subjective, it is limited to the lesser of a percentage of earnings or a percentage of base salary. Thus, the executive pay for the Marciano brothers isn't limitless, but it is very generous. The reason for this starts with the $400 million backlog in Guess' wholesale business.
The wholesale segment encompasses the North American and Asian wholesale businesses. Guess tries to ensure that its merchandise is displayed how it wants it, and the costumer base is relatively diverse, with Macy's (M) as the largest costumer at 3.4% or revenue. The retail business in North America has struggled recently, and same-store sales declines last quarter knocked 14% off the stock price. This business has margins that are about 80% of the company's average. While it is a core business, it isn't doing fantastically. The European segment sprouted out of Italy and includes wholesale and retail business in Europe. The company hopes to expand into France, Germany, the U.K. and Spain, which is good considering the margins in this segment are 40% above the company average. The real cash cow for Guess is the licensing segment. Guess has licensed the Guess brand to other companies that make accessories, jewelry and other products. The only capital Guess puts on the line for this segment is the cost of ensuring quality, thus the margins are phenomenal. Licensing accounts for 5% of revenue, but 25% of earnings.
The brand recognition that Guess has established helps profitability tremendously. Here's a look at Guess' profitability and growth vs. the industry averages: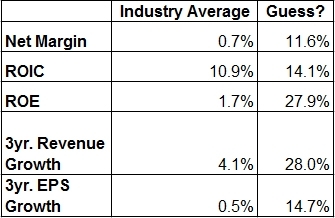 Guess is working hard to expand into areas with high relative profitability. The company is further expanding into fashion-conscious Europe and also into Asia. Right now 90% of Guess' Asia operations are through licensees, with the main operations in South Korea and China. Having 45% of its business outside the U.S. and Canada, Guess actively hedges against currency risk, but is helped by a weak dollar. No review of growth would be complete without a look at how it is being financed.
Guess has over $500 million in cash and less than $20 million in debt. This is in the context of an industry that has seven times as much debt as equity. While a major claim to this cash comes in the form of $150 million p.a. rent on uncapitalized leases, Guess has good opportunities to use this capital. In the past Guess has used cash to buy back shares, and at current prices this would be shareholder-friendly. They have also instituted one-time special dividends. To foster future growth, Guess could continue to buy out some of its major licensees, as it has done in the past in Europe. Put together, the recent results represent a good buying opportunity.
As I write on May 25th, Guess seems to have bottomed out. Shares touched off support at $38, and are now back up to $39. The last two times shares have traded in such a small range, there have been subsequent jumps of 400% up and 70% down. Guess is at the bottom range of a symmetrical triangle formation that has held for the better part of a year. This continuation pattern was preceded by a 300% run-up. Together, these two long-term trends point to a big breakout to the upside in the coming weeks, potentially catalyzed by fiscal 2011 results coming out this afternoon.
Looking forward, analysts rate Guess a buy and expect average growth of 14% p.a. due to Guess' continue appeal to the upper-middle class. As Guess expands globally and further leverages the brand through licenses, they are able to pay an ever-larger dividend. Currently at just shy of 2%, Guess' dividend has grown by over 20% annually since it was instated in 2007. Not only does Guess pay a growing dividend, it is only trading at 11.4x the next 12 month's earnings. Guess can satisfy growth and value investors with a mix of industry-beating growth and a low valuation.
Disclosure: I am long GES.