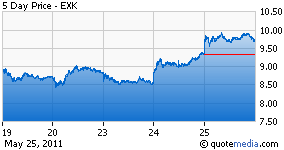 Endeavour Silver (NYSE:EXK) is a Canadian-based silver producer listed on the New York Stock Exchange reporting in U.S. dollars.
Endeavour's business model is to acquire underutilized operating mines in historical silver districts and invest the necessary capital to expand mine operations. Next nearby land holdings are purchased and consolidated while the mine achieves operating efficiencies.
First quarter 2011 production rose 17% to 900,133 ounces and gold production rose 33% to 5,008 ounces. Cash costs, net of gold, dropped to $4.94 per ounce on the back of higher throughputs, gold production and precious metal prices.
Revenues jumped to $35.4 million, up 94% from $18.25 million a year ago.
Net income fell to $485,000 from $6.72 million a year ago due to an almost ten-fold increase in income taxes and a $13 million dollar loss on mark-to-market derivatives due to a change in reporting from Canadian GAAP to IFRS. Backing out the mark-to-market loss, net income would have more than doubled to $14.5 million.
Under IFRS, a warrant that is issued with an exercise price in a currency other than the functional currency is labeled a liability rather than equity and marked-to-market quarterly explaining the derivative loss.
The Guanacevi district had historical production of 450 million ounces of silver over its history. Endeavour's properties hold a total of 12 million ounces proven and probable resources (P&P) and 31.7 million Measured, Indicated, and Inferred (MII) reserves.
First quarter production totaled 663,302 ounces of silver and 1,750 ounces of gold. Construction to expand Guanacevi is proceeding on time and on budget.
Historical production at Guanajuato is estimated at 1.2 billion ounces of silver and 5 million ounces of gold over the course of its history. The last 43-101 resource calculation indicated 1.4 million P&P and 14.9 MII ounces of silver.
Production at Guanajuato in the first quarter totaled 236,931 ounces of silver and 3,258 ounces of gold.
Second quarter production at Guanajuato will be flat but begin rising in the second half of 2011 as the new mine and plant expansion is completed.
Endeavour Silver had a solid first quarter but unfortunately has been caught up in the recent sell off, with the stock selling off hard.
While the company is moving forward on a number of fronts with its operating mines and exploration there are a significant amount of outstanding warrants and options which would dilute stockholders by more than 10% if they were all exercised.
Unlike most mid-tier and large silver producers that have started the year with production, legal and sovereign problems, Endeavour is moving forward with mine construction on target and budget and no production issues.
The strategy of acquiring underperforming mines with significant historical production and being able to extract value is a testament to the management team at Endeavour. Production has risen in each of the last six years and total cash costs are falling.
At the moment, Endeavour is the top stock in the silver mining sector with management executing its business plan and mine expansions on tap for later year.
Investors looking for a silver mining stock without issues should add Endeavour to their portfolios as a core long-term holding.
Disclosure: I have no positions in any stocks mentioned, but may initiate a long position in EXK over the next 72 hours.
Additional disclosure: Sources - Q1 press release, management discussion and analysis, conference call, and presentation.