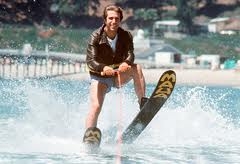 One of the best pop culture idioms of the last 30 years would definitely be "jumped the shark" which, of course, references the 1977 season premiere of "Happy Days". The episode's climax featured the Fonz performing a water ski jump over a shark. The series pretty much went downhill from there. Although, I think the series went downhill when Al Molinaro replaced Pat Morita as the proprietor of Mel's Drive In, but that's one man's opinion. That being said, markets and a lot of conditions that affect them have jumped the shark.

The whole "OH GOD INFLATION'S COMIN' AND IT'S GONNA BE LIKE GERMANY IN THE 20'S…..AIEEEEEE!!!" argument has made the leap. Inflation's happened and it sucks. But it's far from Weimar Republic style (which was really Germany just hitting the reset button). A gallon of gas used to be $2.50. Now it's $4.00. That's a 60% bump. OK mysterious cabal that manipulates prices…you've made your point. Take your 60% profit and go buy an island where you can hunt humans. The potential for deflation is way scarier.

The "HOLY CRAP! INTEREST RATES ARE GOING TO GO UP! THE HORROR! THE HORROR!" schtick has lost its luster. This time last year, the 10 year Treasury was yielding around 3.30%. Today it's around 3.12%. I'm no math whiz but that's lower. The five year is at 1.78% which is absolutely useless. It was at 2.09%. That's almost 15% lower. OK before you start yelling "Nuh uh…nuh uh..QE2...QE2!!" ..granted that's played a big part. But what else helps rates go up? Velocity of which there is none or, at least not much. People have to want it and banks have to want to give it out. There's more of that then there has been but not enough to make 90 day LIBOR go from 26 basis points to 25%. Now THAT'S a buttload of velocity.

The "THE STOCK MARKET'S RIGGED SO YOU CAN'T WIN AND IT'S PROBABLY OBAMA'S FAULT! "victim mentality is old. Stop it and embrace a new day in America. There are other forces out there who stuff on a larger scale and if you try to fight the tape they control, they will mop the floor with you. So don't. Do what you know other than an index fund. Don't try to beat Goldman's algorithmic black box. You can make money in the market. You just have to work at it which is why they call it "work".

Right now, a handful of sectors have jumped the shark: energy, precious metals, softs, Jim Rogers. AKA…"the Inflation Trade". Investors are doing a crazy new dance called "the Rotation". It involves grooving into consumer staples, healthcare, utilities, anything that pays you to participate (also known as a dividend).

Some of the big pharma names are OK: Lilly (NYSE:LLY) for deep value, Abbott Labs (NYSE:ABT) for dependability. Some of the herd has already bid Kraft (KFT) up a bit. Maybe take a look at Unilever (NYSE:UL) or an outlier like B&G Foods (NYSE:BGS). If you're snooping around the big, regulated, electric utilities, Duke (NYSE:DUK) and Exelon (NYSE:EXC) are always worth the time. Still a bit early to party with the financials. They need to learn how to make money the old fashioned way. However, a few of the asset managers like AllianceBernstein (NYSE:AB) and Federated (NYSE:FII) might deserve at least a look. Oh and expect great things from big tech: Intel (NASDAQ:INTC) and, yes, even Microsoft (NASDAQ:MSFT) and Cisco (NASDAQ:CSCO). Give Apple (NASDAQ:AAPL) a rest. Build some new infrastructure. Stop playing with the toys for a bit.

But the scary trade mantra doesn't work anymore. The more real return and hard asset funds the mutual fund companies crank out the better normal, non-commodity linked stuff looks. Time to buy normal and tell the gold hucksters and the slicky boys in the Chicago pits to "Sit On It".

This week's three lil' piggies might help…

"Reading is still fundamental…"

Educational Development (NASDAQ:EDUC)
Recent Price: 5.30
P/E: 9.43
Current Yield: 9.05%

The Skinny
EDUC was one of the first stocks we covered back in 2009 so, out of sheer laziness, we're revisiting it. The company markets children's books, mostly in the U.S. and the U.K. through a multi level sales organization of independent reps as well as specialty retail stores and the internet. Shares trade at 1.06x's book and comes with $1.20 per share in cash. Significant when we're talking about a $5 stock. The company earned 50 cents per share last year and is at 30 cents so far this year. We will see. An interesting, under the radar idea.

The Danger
Over the last five years, revenues have slid from $31.79 million to $28.67 million. That's a 2% compounded annual earnings shrinkage rate. Wrong direction. Hasn't affected the dividend payout ratio yet at 44%, but it bears watching. Of course the usual micro cap caveats: $22 million market cap companies are thinly traded, liquidity is an issue, etc.



"Hong Kong Phooey…"
HSBC Holdings Plc (HBC)
Recent Price: 50.89
P/E: 14
Current Yield: 4.41%
The Skinny
It's big. It's a bank. It's a big bank. Freakin' huge. How huge? 8,800 offices in over 88 countries. Total assets…this is per S&P…$2.36 trillion…yes…bigger than the current U.S. budget deficit. Analysts forecast 7% revenue growth for 2011. The company focuses more on Asia than any other developing market, so, HBC shares are an idea if you're looking for some cheap emerging markets exposure. Shares are 16% off of a 52 week high and have a forward P/E of 11.3x's. Not bad. Plus, it's pretty tough to find a big bank paying a 4% or better dividend. Hell, it's hard to find a big bank PAYING a dividend.
The Danger
It's a bank. It's a big bank. It's a big foreign bank with a lot of exposure to places like..oh..China. During what the consensus says was the secular low of 2009 shares got as low as $22.89 down from highs of nearly a $100 during the market peak of 2007. HBC also was very active in the American subprime business via its consumer finance arm. It's well discussed in Michael Lewis' awesome book
The Big Short
. It's not a flattering profile. I don't need to devote a lot of space to the risks. You're all big girls and boys.
"A Duck!!!"


Aflac Inc. (NYSE:
AFL
)
Recent Price: 49.30
P/E: 11.08
Current Yield: 2.43%
The Skinny
Who doesn't know this brand? America's favorite waterfowl will likely join the Golden Arches and the red and white whatever it is on the Coke can. This stock is incredibly cheap. 7.9 times forward earnings. Great cashflow. Not the highest yielder, but the growth is the attraction although 2.43% is a helleluva lot better than what some money markets or even the S&P 500 is yielding collectively. Shares got battered after the Japanese earthquake (75% of revenues come from the Land of The Rising Sun) and subsequent nuclear emergencies, recovered, and then have gotten smacked down again. Around $10 off of the 52 week high. Looking long term, the company's affordable supplemental insurance products will help fill gaps in America's dysfunctional healthcare system. The need is there and AFL can satisfy it. It's a good opportunity and the price ain't bad.
The Danger
Well, 75% of their revenue, as stated above, comes from Japan which is an absolute mess now and will be for a bit. That will impact earnings. Also, insurance companies also have lots of real estate related stuff lying around: mortgage back securities, commercial real estate loans, even the properties themselves. That's definitely spooked some folks with good reason. The company has cleaned up a lot of that stuff, but it still bears watching.