About four weeks ago, I published an article ahead of GT Solar's fourth quarter FY2011 earnings. Since I published that article, GT Solar has announced several new orders, including $91 million on 10-May-2011 for sapphire furnaces, multiple orders totaling $84.3 million for DDS crystallization growth furnaces on 16-May-2011, and finally, its largest order to date, $228 million for polysilicon production equipment on 18-May-2011.

All of these press releases deserve some brief comments. (See emphasis in bold text.)

From the $91 million sapphire furnace press release:
Two of the orders are from customers in Taiwan, Alpha Crystal Technology, a new customer, and Tera Xtal, who last week announced a sapphire material purchase agreement with GT Solar. The third order comes from a new customer in China, the Lingyang Group.

"These new orders continue a very robust order rate for our ASF furnaces," said Tom Gutierrez, GT Solar's president and CEO. "The interest shown by new market entrants and existing sapphire producers for our ASF systems has surpassed our expectations and is a testament to the confidence customers have for our proven ability to quickly ramp to high volume, low-cost manufacturing with leading edge crystal growth technology to meet the market demand for high quality sapphire material."

From the $84.3 million DSS crystallization growth furnace press release:
... both new and existing customers totaling $84.3 million. The new customers include Nantong Zongyi New Material Co., Ltd. and Inner Mongolia Zhong Huan Solar Material Co., Ltd. ...

"We continue to add new customers who have selected our industry-leading family of DSS multicrystalline ingot growth systems for their wafer production," said Tom Gutierrez, president and CEO of GT Solar. "Our DSS systems offer customers an upgrade path to higher levels of productivity as we increase the performance of our systems through upgrades and system improvements. This philosophy to our architectural design delivers a high return on their capital investment and lowers their cost of ownership."
GT recently announced that researchers at Georgia Institute of Technology were able to demonstrate breakthrough cell efficiencies on monocast silicon material grown in GT's advanced ingot casting furnace. Customers will benefit when this technology becomes fully commercialized, by lowering their cost per watt of material produced.

From the $228 million polysilicon production equipment press release:
... largest order to date for polysilicon production equipment and technology totaling $228 million from South Korea-based polysilicon producer OCI Company, Ltd. The production equipment will be incorporated into OCI's new Phase 4 production facility.

OCI expects to complete construction of its 20,000 metric ton Phase 4 production plant by the 4th quarter of 2012.

GT Solar's polysilicon production equipment includes the industry's most productive and energy efficient CVD reactors and a full range of technology including hydrochlorination, filament and product processing equipment to provide a complete end-to-end production solution.
These press releases show GT Solar is expanding its customer base, while maintaining and building relationships with current customers. The geographical location of its customer base is also expanding, including just about all of Asia. Finally, the company's technology is a differentiator between GT Solar and its competitors. GT Solar's technology adds value for its customers. I find the work with Georgia Institute of Technology very interesting. It shows that GT Solar's technology is evolving and will continue to add value for its customers.

On 23-May-2011, GT Solar released its Q4 FY2011 earnings and gave guidance for Q1 FY2012 and full year FY2012.

Q4 FY2011 had $271.6 million in revenue, a 3.3% sequential increase from Q3 2011 and a 39.5% increase year over year. EPS for Q4 FY2011 was $0.41, a 78.3% increase year over year, but a decrease from $0.46 in Q3 FY2011. Q4 had a reduction in operating margin (as warned in last quarter's conference call) down to more realistic levels, which prevents the increase in revenues from being converted to EPS. For Q4, the bottom line (net income) was 19.1% of revenue. Q3's bottom line was 24.2% of revenue.

Comparing FY2011 to FY2010, revenue increased 65.2% and EPS increased 106.7% year over year. GT Solar has taken on $101.5 million in long-term debt (up from $0). As of April 2, 2011, accounts receivable covered both short-term debt and accounts payable ($87.1 million vs. $82.2 million). Cash and cash equivalents of $362.7 cover the $101.5 million in long-term debt.

I have not listened to the actual conference call as of this writing. Reuters reported that the EPS for Q1 FY2012 will be below analytic estimates. This news, along with what I would imagine as some joyful profit taking, sent shares down 10% from their open. GT Solar still closed up 3.3% on 24-May-2011 from the previous day's close. That does not tell the whole story; the chart is less impressive.
Click to enlarge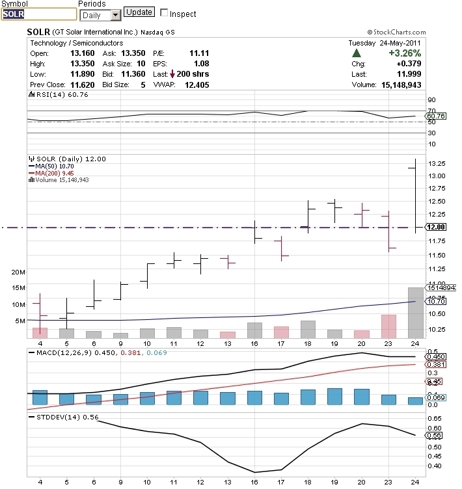 Click to enlarge

GT Solar closed below the trading level just a few days before earnings. I am a fundamental investor, so chart reading is not my strong point. However, there appears to be a nice resistance line at $11.50 that will be interesting to watch. SOLR closed at $11.55 on 25-May-2011. Long-term investors may want to watch this stock for a while and see where it settles before adding to their long positions.
Click to enlarge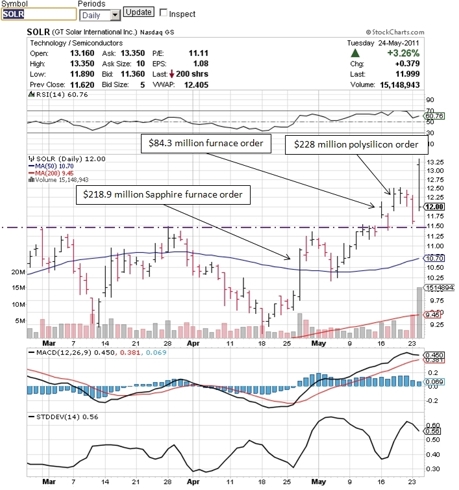 Click to enlarge
Click to enlarge
I find this price action a little bothersome. I do not think that GT Solar should be closing below the price of the stock a few days before earnings, especially since GT Solar raised FY2012 guidance (in what I believe to be a conservative manner).

FY2012 revenue was raised to $1.0 to $1.1 billion and $1.55 to $1.85 EPS. I estimate that with a 19% top line to bottom line factor, $1.0 to $1.1 billion in revenue will result in a $1.45 to $1.59 EPS. If FY2012 has higher margins (as a whole), say 24% top line to bottom line, the range for EPS should be $1.83 to $2.01.

Using $1.59 as a reasonable EPS target (I actually think it is low), GT Solar closed at 7.5x FY2012 earnings on 24-May-2011. Over the past three months the share price has had a ceiling of $11.50, which would have been 9.7x FY2011 average analyst estimates and 7.9x FY2012 average analyst estimates. That translates to a trading range of $12.56 (7.9x) to $15.42 (9.7x), assuming a FY2012 EPS of $1.59.

Reuters and Bloomberg report that GT Solar is a good candidate for a buyout. If you assume the price to purchase GT Solar has the same multiple as EPS growth from FY2011 to FY2012, a 28x multiple would be $44.52/share (assuming FY2012 EPS of $1.59). This share price is 5.8x FY2012 revenue of $1.0 billion. Veeco Instruments (NASDAQ:VECO) may be an interested buyer.

On 24-May-2011, Wunderlich Securities analyst Theodore O'Neill restated a buy recommendation with a price target of $16. He raised his $1.55 FY2012 EPS estimate to $1.68. On 25-May-2011, Brean Murray reiterated his buy recommendation, raising his previous price target from $15 (08-March-2011) to $18.

The next three months will probably bring some weak trading in a range, unless there is a news event (like another large order). Assuming some more orders, the guidance for FY2012 will be revised again as the revenue for FY2012 will become clearer. Long-term (one-year) investors may want to increase positions at a price under $12.56/share. Looking at historial P/E ratios and recent analyst estimates, this should be $15/share, which is a 30% upside from its 25-May-2011 close.

In summary, GT Solar is still cheap to FY2012 earnings, which have been confirmed. The previous concern over a limited customer base has improved as new customers come on board. GT Solar has diversified away from only polysilicon equipment manufacturing. Check out the company's website, nifty new logo and name (GT Advanced Technologies).
Finally, some comments from CEO Tom Gutierrez, taken from the 23-May-2011 press release of Q4 FY2011 earnings (emphasis added via underline):
"The strength of our balance sheet enables us to significantly increase our investment in a continued flow of new products and additional strategic opportunities. Combined with our strong backlog and continued bookings momentum, this positions GT very well for the foreseeable future."
Disclosure: I am long SOLR.