Often, on news related to secondary offerings, stocks decrease in value. Shares of electric vehicle (EV) maker and innovator Tesla Motors (NASDAQ:TSLA) bucked that trend, rising $2.25 to close at $28.98 on Wednesday. Here is what Tesla announced that triggered the impressive ascent:
The company will offer 5.3 million shares to the public at $26 per share.
The company will offer the deal's underwriter -- Goldman Sachs (NYSE:GS) -- up to 795,000 additional shares at $26 apiece.
A Daimler AG (OTCPK:DDAIF) partner, Blackstar Investco, LLC, will purchase 644,475 shares from Tesla at $26 each.
Tesla CEO Elon Musk plans to buy 1.5 million shares (must be nice) at the $26 offering price.
The first two points tend to drive stock prices down. As a result, most people point to the Blackstar and Musk pieces of the puzzle as a reason for the increase in the stock price. Considering the hefty short interest in TSLA, a bit of a squeeze was likely at play Wednesday as well. Undoubtedly, many shorts were caught off guard by the news. While I think all of these points make sense and contributed to TSLA's strength, a larger, longer-term story deserves more than a passing mention.

As I noted in a recent Seeking Alpha article, Pacific Crest hit the nail on the head when it initiated coverage of TSLA. Nobody should care much about how TSLA performs financially for the next year or so. All that matters is what happens post-Model S launch in 2012 and that Tesla can follow up the Model S sedan with the crossover Model X. These two EVs will complete Tesla's transition from providing a toy to the rich -- the six-figure flagship Roadster -- to being the Apple (NASDAQ:AAPL) of EV companies. At the height of its evolution, Tesla will provide quality, high-end products not completely out of the reach of the aspiring middle class. That's how I see it playing out anyway.

Back on April 1st, I suggested going long TSLA. The stock closed at $26.66 on that day. My suggestion to sell puts to get into TSLA at $25.00 would have only half-worked out for you. While it's unlikely you would have realized the goal of going long at $25 per share, you would at least have notched a gain by keeping all of the premium income generated by the worthless puts. Seeking Alpha contributor Frederic Ruffy highlighted bullish call activity in TSLA in his Wednesday column,
which was written prior to the closing bell:
Tesla Motors gained $1.38 to $28.10 and options volume is approaching 5X the average daily on news the company's CEO will buy 1.5 million shares and a Daimler affiliate will purchase 644K. The stock buys are part of a follow-on to a secondary offering of common stock. In options action, 16,000 calls and 3,250 puts have traded on the San Carlos, CA electric vehicle maker. June 30 calls are the most actives. Volume is approaching 8,000 and 61 percent traded at the ask. July 28 and June 30 calls are seeing brisk trading as well. Upside call buying has implied vols increasing by about 20 percent to 60.
Because I think Wednesday's announcment puts the kibosh on any inane talk that Tesla would not remain solvent in time for a Model X launch, I am comfortable with a rather aggressive approach to the shares even in light of the runup. Here's how I might play it.

Often, when a stock enjoys the type of run TSLA has, it pulls back. It's only natural, particularly when the company has yet to turn a profit. While the future looks bright, there's got to be at least temporary room to the downside. Looking at TSLA July put options, hefty premiums exist. Pick a price you feel would be a bargain for TSLA shares and consider selling a put with that strike. TSLA July $26, $27, and $28 puts closed at $1.30, $1.70, and $2.20, respectively.

With a put writing strategy, you keep the premium income the puts generate. And if TSLA breaches the strike price you select, you might be "forced" to buy 100 shares of TSLA at that strike price on or before options expiration date. Additionally, you can use the income generated by selling puts to go long TSLA calls. Consider the example below, displayed in Schwab's StreetSmart Edge platform.

(Click to enlarge)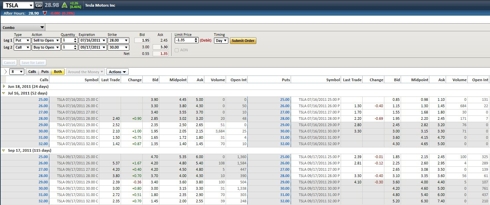 In this scenario, you collect income, give yourself the chance to buy shares on a pullback, and use the income you collected to partially finance the purchase of a call that banks on TSLA continuing its upward trend over the next three to four months.

Disclosure: I have no positions in any stocks mentioned, but may initiate a long position in TSLA over the next 72 hours.