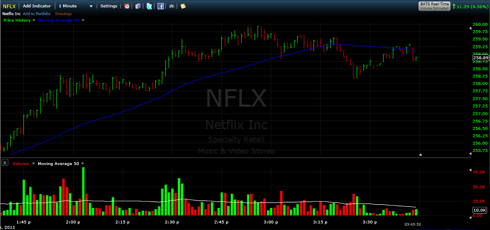 Click to enlarge
(Chart courtesy of FreeStockCharts.com; Click to enlarge)

That's one heck of a chart. And one heck of a momentum stock. Netflix (NASDAQ:NFLX) not only notched a new 52-week high on Wednesday, it managed to splash even more egg on the faces of people like me who maintain a bearish stance on the stock. It doesn't take much to power a hyper-bullish move up in the stock. The following blurb that appeared on the popular Fly on the Wall website, apparently fueled the surge.

(Click to enlarge)


Click to enlarge

That's all it takes, "talking with Facebook." The financial pundits went insane over what LinkedIn (NYSE:LNKD) did the day it went public. Where is the outrage in relation to NFLX?

Mere conversations with Facebook are enough to send an already overvalued stock about five percent higher? Newsflash -- Facebook users know all about Netflix. While I think it would be smart for NFLX to make its own website more interactive -- more of a social media destination -- nothing they do can change the largely-ignored story of rising content costs and international expansion expenses.

As I digest the Facebook news, however, I intend to write about what a Netflix-Facebook hookup might look like. Or, could what's behind these talks actually be something a bit bigger than a hookup?

Disclosure: I have no positions in any stocks mentioned, and no plans to initiate any positions within the next 72 hours.

Additional disclosure: I am short NFLX via a long position in NFLX put options.