Shares of Avanir Pharmaceuticals (NASDAQ:AVNR) had recently risen by more than 20% over a two week span due to improving and increasingly impressive weekly prescription data for its flagship product, Nuedexta. Nuedexta is a drug used for the treatment of pseudobulbar affect, a disease which is characterized by involuntary, sudden, and frequent episodes of laughing and/or crying. It can dramatically alter its sufferers' qualtiy of life.
No sooner did Avanir begin to silence some of its critics (and some journalists) by demonstrating success in the market than it received a most peculiar letter from the US Congress, specifically the Senate Special Committee on Aging. It was signed by Herb Kohl, Henry Waxman, Frank Pallone and Diana DeGette. In the letter, Avanir seems to be accused of charging too much for its recently FDA approved product.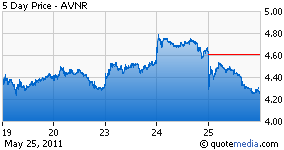 From the May 23, 2011 letter:
Doctors and patients were understandably upset at the news that this drug, once available for about $20, was now going to be $600. In order to address these concerns, we request that Avanir Pharmaceuticals submit written documentation in response to the following questions and requests for information. The Attachment of this letter will specify in full detail what materials are to be included in response to this request.
If it's congress' desire to include Avanir in a pharmaceutical-industry-price-gouging-witch-hunt, it would serve them better to get all of the facts straight:
In October 2010, Avanir obtained FDA approval for this combination and received a three year term of exclusive marketing.
Misleading, as Avanir has patent protection that extends well beyond three years.
Doctors and patients were understandably upset at the news that this drug, once available for about $20, was now going to be $600.
Not true. Nuedexta has never been available for $20 or anywhere near that amount.
Some analysts project revenue from Nuedexta to be approximately $4,365/patient after stocking fees and discounts are subtracted from Nuedexta's stated annual wholesale cost of $5,868.
Most unusual and inaccurate. The author seems to have used the $4,365/patient figure from a 2-part Avanir article that I co-authored in March, which takes into consideration estimated royalties Avanir must pay on gross sales of Nuedexta that will be subtracted by the company as COGS and, as such, shouldn't be part of GAAP revenues.
Avanir's stock traded down as much as 8.89% on Wednesday in reaction to the letter, even though it was pointed out by multiple analysts covering the company that the congressional inquiry should have little or no impact on Nuedexta's sales which are, as previously stated, currently on the increase.
Who brought Avanir/Nuedexta to the attention of a US government special committee?
Jack Mitchell, chief of oversight and investigations at the U.S. Senate Special Committee on Aging, who is listed as the primary contact on the above referenced letter, refused to comment as to how or why Avanir was targeted and has yet to return a follow up call.
Is someone intentionally trying to throw a stick into Avanir's spokes just as the growing company is beginning to gain some market momentum? I'll leave that for you to ponder. I will say, however, that the timing of the release brings back the memory of the stock's highly suspect flash-crash of 10/29/10 (the day Nuedexta was approved by the FDA).
For now, I see no need to go into any detail as to why I feel the committee's inquiry is a blatant attack on capitalism and a slap in the face to a company that has spent several years and millions of dollars in effort to bring a safe and effective drug to market. Regardless of how or why the US Senate came to be involved in Avanir's affairs, I believe the sell-off which was sparked by the news of it should be viewed as a buying opportunity.


Disclosure: I am long AVNR.