Today, Athersys Therapeutics (NASDAQ:ATHX) reported encouraging results for the single dose arm of MultiStem for the treatment of Graft vs. Host disease (GvHD). The following are the key takeaways from the 8-K:
No observations of infusional or product-related toxicities over 30 days following treatment, and no product-related serious adverse events (SAEs) over 100 days following treatment; No primary or secondary HSCT-graft failure through day 100; Overall, a low cumulative incidence of acute GvHD over the 100-day observation period for all subjects enrolled (28% grade II-IV, 6% grade III-IV), which compares favorably with expectations for this patient population based on historical experience; In the high dose group, no cases of grade III-IV GvHD, and only one case of grade II GvHD, which was subsequently resolved with treatment; and Other clinical parameters, such as infection and survival, were in line with or better than expectations for this patient population based on historical data.
Dr. Richard Maziarz, M.D., co-principal investigator of this study and Medical Director, Adult Stem Cell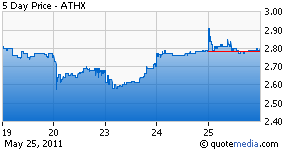 Transplantation Program and Center for Hematologic Malignancies at the Oregon Health & Science University Knight Cancer Institute, had this to say about the results (as per the Athersys press release):
GvHD remains a major obstacle for treatment of patients with blood associated cancers. Continued exploration of novel approaches to prophylaxis and treatment of GvHD is necessary as this complication remains one of the major limiting factors to achieving wider application of donor blood and marrow transplantation. The results obtained to date, within this Phase 1 clinical trial, certainly would justify further study in this arena.
There are two points to keep in mind regarding this study. While this was a small study, the results released today only relate to the single dose arm of clinical trial. The multi dose arm of the study, which has the potential to show greater efficacy will be completed during 2011 although efficacy is not a primary endpoint of the study. The second point is that MultiStem for GvHD was granted Orphan Drug Designation from the FDA in September 2010. Orphan drug designation, which is intended to facilitate drug development, provides substantial potential benefits to the sponsor, including funding for certain clinical studies, study-design assistance, tax incentives and seven years of market exclusivity for the product upon regulatory approval.

MultiStem technology has the potential to create an off-the-shelf platform for multiple indications. For a link to its clinical progress click here.

These are the personal views of Wall Street Titan. Please do your own due dilligence.


Disclosure: I am long ATHX.