So the CEO of HDY was on Mad Money with Jim Cramer Tuesday night. Love him or hate him, he and his viewers (aka-sheeple) have the ability to move a stock, both up and down. Ray Leonard's appearance is sure to add more eyes and momentum players to this name over the next few days. I look for the stock to jump out of the gates and I will watch the volume and bid/ask to determine where it will move in the next few weeks.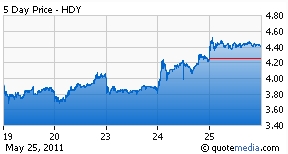 HDY owns 77% of the largest concession in offshore West Africa. HDY has over $150 million in the bank, which it will use for drilling either 2 or 3 test wells and potentially shooting additional 3-D seismic data in the deeper areas of their concession. HDY has just signed an agreement with the "Jasper Explorer" drillship and is on target to meet their targeted drilling date in Q4 2011. HDY has a 52-week range of $.98-$7.78, and closed on 5/25/11 at $4.25. It is important to note that they recently over-subscribed a $125 million dollar offering at $5 a share.
Currently around 10% of the shares in this name are short. I believe a large chunk of these shorts are institutions from the latest offering, hedging their position until HDY drills later this year. With a market cap of just over 500 million, we could be looking at a potential short squeeze at some point in the future. Because of this, it wouldn't surprise me to see 10% intraday moves both up and down. This is heaven for day traders. If you are looking to establish a long-term position, I would suggest waiting until this post-Cramer volatility dies down, and it will.
However, two positive events that could happen in June should put some additional bids under the name longer term into drilling. The first is a potential addition to the Russell 2000 or 3000, which would be announced around June 10th. The second is a NSAI (third party) report on the recent 3d that farther de-risks the potential oil in this concession. It is my understanding that additional targets have also been found that weren't seen in the original 2d data. So, this report should increase HDY's risked and unrisked reserves. Currently, HDY has 6 billion barrels unrisked and 750 million barrels risked according to Netherland Sewell, who is the third party reviewer of HDY's data. Additionally, HDY has recently opened up their data room to allow third-party oil companies to review HDY's 3d data. This could lead to another partner in the concession.
HDY just happens to be my favorite speculative investment pick. When I say speculative, I mean that in the sense that it has the potential for outsized returns or outsized losses. It's all going to come down to how much (if any) commercially viable oil is found in their concession. Again, remember their concession is in West Africa, which has historically had greater percentages of successful test wells than other areas of the world. I'm not investing in HDY for natural gas, though that is certainly possible as well.
While this investment isn't for everyone, I believe that it has the best risk/reward combo of any stock trading on a major US exchange right now. That is why I'm long HDY, and added to my position Wednesday.
HDY has a lot of information from recent press releases on their website.
Please do your own due diligence before buying shares.
Disclosure: I am long HDY.