Morningstar has carved out a nice niche in the investment research and financial data world, with such interesting analytical tools as the Style Box for mutual funds, the Economic Moat for stocks, the Cash Flow Cushion (pdf) for credit, and a variety of other tools to aid institutional investors, retail investors, and financial advisors in their analyses (ETFs, closed-end funds, etc.). Regardless of your investment philosophy, it's hard not to like Morningstar's subscription-based and licensing business model, which keeps cash coming in the door at a nice pace to fund internal growth and future acquisitions (and now a small dividend and share-repurchase program). However, the firm looks fairly valued at this time, and investors should expect no better than a market return from these levels.
The firm's business can be broken down into two segments:
"Investment Information (about 80% of revenue), which includes all of our data, software, and research products and services. These products are typically sold through subscriptions or license agreements...(Form 10-K)"
Within its Investment Management segment, its licensed data service, which offers investment data (including real-time pricing data) across numerous databases, is the firm's largest revenue-generator at about 18% of consolidated revenue. Morningstar Advisor Workstation, about 13% of consolidated revenue, offers financial advisors a web-based investment planning system. This product has held the line at roughly 150,000 licenses during the past 4 years (153,100 in 2010; 148,392 in 2009; 151,874 in 2008; and 150,505 in 2007).
Another key contributor in this segment is Morningstar.com (about 9% of consolidated revenue)--its well-known website for individual investors--which reaps in revenue from premium memberships (about two-thirds of Morningstar.com sales) and Internet advertising (the balance). Premium subscribers have fallen off considerably during the past few years as a result of the economic slowdown, a weak trial pipeline, and heightened competition from rivals like Seeking Alpha, TheStreet.com, and The Motley Fool, but growth in its institutional equity and credit business should more than offset these declines over the long haul (advertising revenue, though cyclical, should help as well). Assuming $185 per annual subscription, Morningstar needs to generate just over $7.7 million from its institutional equity and corporate credit research efforts to replace this lost retail subscription revenue, a very achievable level.
(Click charts to expand)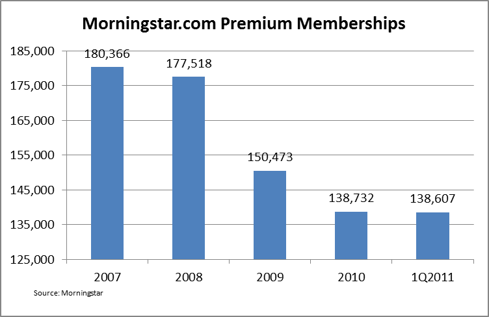 Click to enlarge
Perhaps the biggest growth driver in its Investment Information segment has been Morningstar Direct (about 7% of consolidated revenue), a web-based platform that provides advanced research (performance comparisons, in-depth analysis, etc.) of a portfolio's investment style. Direct licenses maintained a nice growth clip in the firm's first quarter, and expansion should continue to be phenomenal in the years ahead.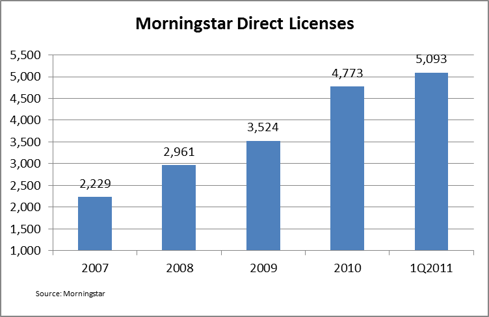 Click to enlarge
Morningstar Site Builder, Morningstar Principia, Logical Information Machines (LIM), Morningstar Indexes, and Realpoint (an NRSRO focused on CMBS) are other contributors to the firm's Investment Information segment, which has grown (organically and via acquisitions) roughly 14% since 2008.
"Investment Management (about 20% of revenue), which includes all of our asset management operations, which operate as registered investment advisors and earn more than half of their revenue from asset-based fees...(Form 10-K)"
The largest products and services in Morningstar's Investment Management segment are its investment consulting services (Morningstar Associates, Ibbotson Associates, etc.)--roughly 13% of consolidated revenue--retirement advice, and its managed portfolios, a fee-based service that manages roughly $2.7 billion in assets. Business results in this segment have been volatile during the past few years due in part to its emphasis on asset-based fees (12% of consolidated revenue), which tend to move in tandem with the overall market. After falling off in 2009, revenue from its Investment Management segment is now just shy of 2008 levels.
Put Morningstar on Your Radar Screen
Morningstar's organic growth has resumed its ascent following the rolloff of revenue related to the global analyst research settlement period (ended July 2009). Look for the firm's organic growth to hover in the high-single-digits to low-double-digits in the quarters ahead.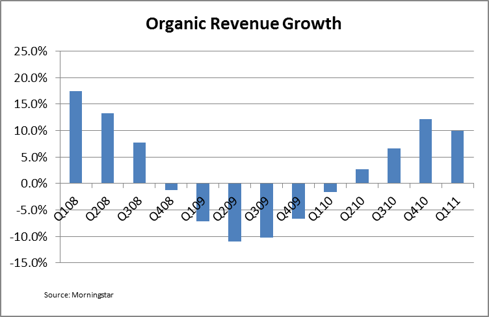 Click to enlarge
Morningstar operates a relatively high fixed-cost business--meaning the variable costs of adding the next customer are relatively low (particularly since a significant portion of its products and services are Internet-based or generate fees from assets under management). As such, look for Morningstar's operating margins to improve gradually in the years ahead.
Outlined below are expectations for Morningstar's business. Assuming a 10-year revenue CAGR of 8%, 10-year EBIT CAGR of 10%, and a corresponding 10-year free cash flow CAGR of 10% (as represented by the forecasts below), Morningstar's fair value at this time is in the mid-to-high $50s (assuming a discount rate of 10% and low-single-digit growth assumptions in perpetuity). Though there's lots to like about Morningstar's business model, investors should expect to earn only a market return from these levels. That said, keep Morningstar on your radar screen and look for an entry point in the low $40s, which should offer an adequate margin of safety given risks related to its business.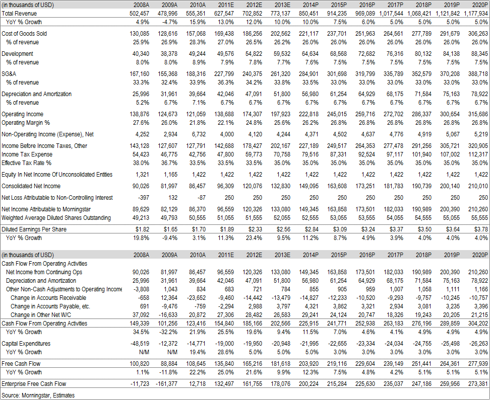 Click to enlarge
Disclosure: I have no positions in any stocks mentioned, and no plans to initiate any positions within the next 72 hours.
Disclaimer: This article is for information purposes only. Assumptions, opinions, and estimates are based on judgment as of the date of the article and are subject to change without notice.