On Monday JP Morgan upgraded fertilizer maker CF Industries (NYSE:CF) to Outperform. Citi issued upgrades for other prominent fertilizer makers: Potash (NYSE:POT), Mosaic (NYSE:MOS), and Agrium (NYSE:AGU). It was a great day for Ag stocks. But I wrote about them last week, so this week I will look at farm machinery makers. If Ag does well, the Ag machinery makers should do well too. Three deserving of attention are: Deere & Company (NYSE:DE), AGCO Corporation (NYSE:AGCO), and CNH Global N.V. (NYSE:CNH). Yes, the Durable Goods Orders Wed. were a big disappointment; but if the farmers earn big money, they should be the exception to the weak durable goods buying.
Before the Mississippi River flood the World Agricultural Supply and Demand Estimates from the USDA (May 11, 2011) already called for large price increases for grains from the 2010/2011 year to the 2011/2012 year. The wheat price for the 2011/2012 is projected to be $6.80 - $8.20 per bushel compared with $5.65 for the 2010/2011 year. Corn prices are projected to be $5.50-$6.50 per bushel compared to $5.10-$5.40 per bushel in the 2010/2011 year. Soybean meal prices are forecast to be $350-$380 per short ton compared to $350 per ton. Soybean oil prices are projected at $.56-$.60 per pound compared with $.535. The flooding is only likely to push these prices higher.
I doubt the flooding will necessitate the purchase of much more machinery. As a Mississippi River area farmer or two commented in my fertilizers article, the farmers got plenty of notice to move their machinery to non-flood threatened ground. Those farmers affected will have been hurt by their crop losses to flooding. Others in Texas may be getting hurt by a drought. However, the bulk of the farmers will end up making more money than perhaps even they had anticipated. This means they will have more money to buy new equipment. For some it will mean that they will want to buy new equipment to maximize their yields (and perhaps to cut down labor and fuel, etc. costs). They actually have such things as GPS guided harvesters these days.
With this in mind, let's take a look at some of the fundamental information for these companies in the table below (the data is from Yahoo Finance and TDameritrade).
| | | | |
| --- | --- | --- | --- |
| Stock | DE | AGCO | CNH |
| Price | $84.89 | $49.47 | $39.70 |
| 1 yr. Analysts' Target Price | $105.79 | $64.56 | $52.17 |
| PE | 14.59 | 16.49 | 16.21 |
| FPE | 11.56 | 11.30 | 11.38 |
| Avg. Analysts' Recommendation | 2.0 | 2.6 | 2.9 |
| Price/Book | 4.81 | 1.62 | 1.21 |
| Price/Cash Flow | 10.54 | 11.43 | 9.33 |
| 5yr. EPS Growth Estimate per annum | 10.80% | 10.00% | 16.00% |
| Market Cap | $35.63B | $4.69B | $9.51B |
| Enterprise Value | $57.62B | $4.92B | $21.24B |
| Beta | 1.62 | 1.86 | 2.66 |
| Short Interest as a % of Float | 1.11% | 3.88% | 1.54% |
| Cash/Share (mrq) | $8.37 | $3.32 | $18.50 |
| Total Debt/Total Capital (mrq) | 77.82% | 19.47% | 67.17% |
| Quick Ratio (mrq) | -- | 0.78 | 1.45 |
| Interest Coverage (mrq) | 7.97 | 19.76 | 2.31 |
| Return on Equity (ttm) | 38.12% | 11.30% | 8.14% |
| EPS Growth (mrq) | 66.24% | 675.16% | 838.98% |
| EPS Growth (ttm) | 152.55% | 152.77% | 1,305.77% |
| Revenue Growth (mrq) | 24.94% | 35.35% | 15.97% |
| Revenue Growth (ttm) | 25.38% | 16.70% | 15.38% |
| Annual Dividend Rate | $1.40 | -- | -- |
| Gross Profit Margin (ttm) | 26.29% | 18.87% | 18.14% |
| Net Profit Margin (ttm) | 8.55% | 3.29% | 3.55% |
| Insider Transactions in the last 6 months | (319,135) | (64,832) | N/A |
| Net Shares Purchased by Institutions in last 6 months | (16,740,900) | (597,958) | N/A |
In these uncertain times you probably do not want high beta stocks. All of these have relatively high beta's. Two of the three (DE and CNH) have high indebtedness (Total Debt/Total Capital). CNH has lower return on equity than I would like. DE's return on equity is great, but its continuation is questionable. DE has the best net profit margin, but it has also been sold more by insiders and institutions. DE has announced that it is building a new factory in China. Work will start in Q3 2011, and it is scheduled to finish in late 2012. This may be good long term, but in the short term the extra costs may negatively affect the price of the stock. ACGO looks like it might be the strongest performer in the short term. With its lower debt level it is also less vulnerable to a downturn in the world economy. The extra bit of short interest it has may only serve to make it more susceptible to short squeezes (drive the price up faster). CNH has the highest 5yr. EPS growth estimate per annum but its 2.66 Beta worries me in this uncertain market. The uncertainty associated with the EU also worries me (CNH is European).
Let's look at the chart performance now:
The 2 yr. chart of DE: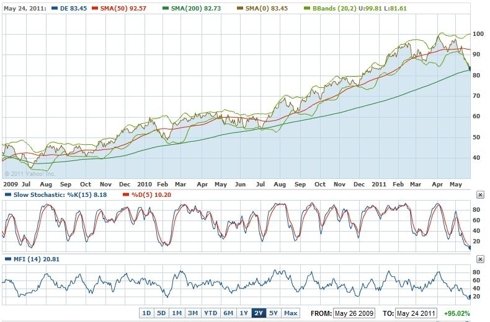 Click to enlarge 
(Click to enlarge)
DE shows as oversold in its slow stochastic sub chart. It did bounce today (Wed.) off of its 200-day SMA. This is a good sign. This bounce may continue near term as the markets may rally into the end of the month and the first day(s) of June.
The 2 yr. chart of AGCO: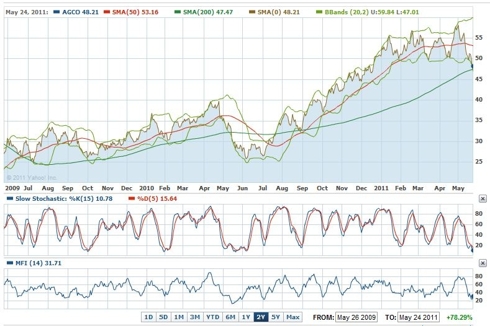 Click to enlarge
(Click to enlarge)
AGCO shows as oversold in its slow stochastic sub chart. It bounced today (Wed.) off of its 200-day SMA. This is a good sign. As with DE this bounce may continue into the end of the month and the first day(s) of June.
The 2 yr. chart of CNH: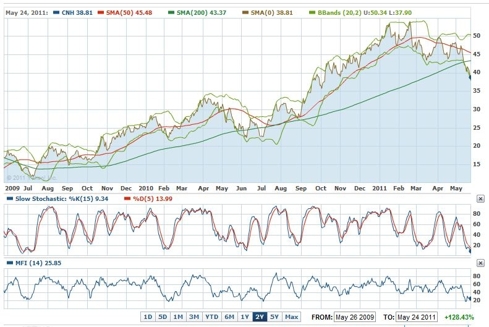 Click to enlarge
(Click to enlarge)
CNH bounced up today, but it has journeyed far below its 200-day SMA. It's uptrend is broken. Some of this is likely due to the fact that it is a European based company. It has suffered along with other European stocks lately (partially due to the EU credit crisis). It has been hurt by the recent rise of the USD, since it is more heavily traded in euros. These factors may continue to hinder its performance in the short term. I think I would wait to buy this stock until after the EU credit crisis resolves itself more. I might wait until the euro starts to rise again against the USD.
In sum I like AGCO best. It is smaller than DE. It is a not as known as a leader. It is not as approved of by analysts. However, this may just mean it has more potential gains in the market psychology arena. Fundamentally it is very sound. Plus it has very little debt (on a percentage basis) compared to the two bigger companies. Still DE is trading at lower multiples. One has to pay attention to that. Technically DE and AGCO bouncing off of their 200-day SMA is a strong sign. Barring an overall market down movement, there should be good upside. Look at these two for some good profits. Keep in mind that DE will start to pay for its new build China plant in Q3 2011. You could try to trade these two short term for a quick profit, or you could take a long term approach. Either approach should work as both have good growth prospects.
The GDP revision for Q1 and the Intial Claims number come out tomorrow. You may wish to look at this data before you buy. Bad futures numbers before the market may be a sign that you should hold off. Still the sentiment seems to indicate that the market is going higher in the short term.
Good Luck Trading.
Disclosure: I have no positions in any stocks mentioned, but may initiate a long position in DE, AGCO over the next 72 hours.