Apple (AAPL) is operating on all cylinders with the iPhone 4, iPad 2, and MacBooks all experiencing robust sales. Since Apple last reported earnings in April, the company's stock is down almost 5%. Certainly there must be some reasons for such a well managed company to be underperforming. I am asked frequently for a justification for Apple's price movement on a given day. The primary reasons for the daily volatility are news and rumors, but some topics have a greater market impact than others. Often times a story with no long-term fundamental impact on Apple can cause market turmoil (for example, the NASDAQ rebalance). Below I have identified ten topics that have historically impacted Apple's stock over approximately the past twelve months. I remain quite bullish on Apple but it is important to identify the factors that could cause the stock to decline further in the short-term.
(Click chart to enlarge)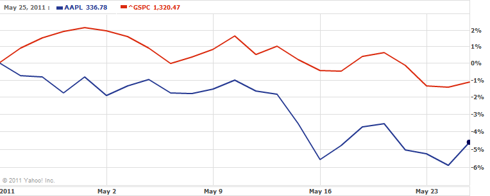 iPhone 5 Uncertainty and Delays: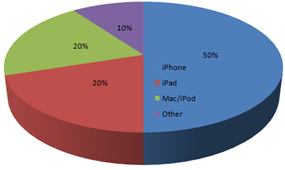 The iPhone is Apple's flagship product that now accounts for 50% of total revenue, according to Piper Jaffray's Gene Munser. As a consequence, any rumors about NFC, 4G, or the release date have investors understandably nervous. It appears more and more likely that Apple will surpass its usual June/July release cycle and opt for releasing a more evolutionary iPhone "4S" but I would never bet against Apple's creativity. Analysts and investors were able to model Apple more accurately last year because the iPhone 4 was leaked by Gizmodo but this year's model has remained in a cloud of secrecy.
iOS 5 and iCloud:
Closely related to the uncertainty for the iPhone 5 hardware is the vagueness involving the software on the magical device. Apple is widely rumored to be moving toward software upgrade cycles in which the underlying software for the iPhone is upgraded more significantly than the hardware each year. This is logical for two reasons: software is easier to test/develop/deploy and because the rate of hardware improvement is decreasing. Let's be honest – not even Steve Jobs can make the iPhone that much smaller. This will also allow Apple to better compete with rivals who release numerous phones per year.
iPad 2 Supply Constraints:
Apple has faced multiple bottlenecks in the production of the iPad 2, primarily the Japanese tsunami and Foxconn factory explosion/shutdown. Thus far demand has far outstripped supply, according to Chief Operating Officer Tim Cook, and this imbalance could be worrisome if it continues for the long-term. I do not believe that the iPad 2 shortage will have negative long-term implications although there is no denying that the lack of supply is slowing Apple's growth.
Unwieldy Cash Surplus:
As Apple's cash and marketable securities surge every quarter, many investors call for Apple to pay a dividend or return money to shareholders. Regardless of which side of the debate you stand on, it is becoming apparent that Apple is trading at a lower multiple in part because of its tremendous cash stockpile. One of the dividend supporters' favorite statistics is that Apple could have $100B in cash by the end of 2012. As has been mentioned before, there are real reasons why Apple does not distribute its cash. Nevertheless, this is yet another concern that Apple investors must deal with.
Privacy Concerns:
The iPhone location tracking saga emerged swiftly and exploded into a national story that prompted two Congressional hearings. I believe that this has been thoroughly addressed by Apple and Jobs but some reports indicate that this could be a lingering concern of future purchasers. If even one percent of consumers choose to avoid purchasing a smartphone in the immediate future this could have ramifications for the entire industry, not just Apple. Just remember that all cell phones are required to maintain location information on customers for a variety of innocuous purposes.
Increased Competition:
If you follow the tablet market closely you have noticed that a new tablet is announced or launched almost every single week. With Research in Motion (RIMM), HP (HPQ), Dell (DELL), Samsung (SSNLF.PK), Amazon (AMZN), and even Barnes & Noble (BKS) in the space it is inevitable that they will gain market share in the new market. I strongly believe that Apple has a natural monopoly in the tablet space due to its iOS ecosystem and insurmountable lead; however, it is important to monitor the competitive landscape frequently.
Apple Store Employees Unionization Attempt:
As reported by PC World, some Apple retail employees are seeking to form a union. Not only could this drive up Apple's labor costs but any unrest or negative publicity could have impacts on customer service and Apple's valuable brand. The odds of such a union forming are certainly remote as, to the best of my knowledge, Apple employees are not subjected to hazardous environments or other unfair treatment. Despite that, any unionization talks can disturb shareholders.
Steve Jobs' Health:
This is a perpetual worry that is not going to vanish anytime soon. Each subsequent rumor about his health has less of a negative impact on the stock, which is a sign that the market has already priced in a substantial "Steve Jobs Discount." There is no denying that Jobs is a visionary and one of the best CEOs of all-time but it is foolish to attribute all of Apple's success to one man. Apple will continue to thrive even after Steve Jobs finally retires because of the thousands of high caliber employees working for the firm. The mark of a good CEO is the ability to build a company that will last into the indefinite future and Jobs has achieved this goal.
Carrier Shakeup:
If Apple-specific volatility isn't enough to keep you awake at night then the telecomm shakeup might do the trick. AT&T's (NYSE:T) attempted acquisition of T-Mobile could expose Apple to even more customers without having to change the core technology inside of the phone. There are also rumors that Apple is working on offering the next iPhone on Sprint (iPhone 4S), another factor driving sales growth. This is yet another reason why Apple is so difficult to forecast.
Outlandish Predictions:
I am extremely bullish on Apple's prospects but I look downright gloomy in comparison with James Altucher who predicts that Apple will more than triple in value and achieve a market capitalization of $1 trillion. I highly respect Mr. Alucher's work but when such unrealistically bullish statements are made it justifiably concerns investors who are terrified of investing in the next bubble. We do not need another Dow 36,000 prediction to spook the market. In such a volatile industry with cutting edge technology being released so frequently I take all long-term predictions with a grain of salt.
Conclusions:
Stay long Apple but constantly monitor your position. If Apple is your largest position and you are extremely concerned about principal protection, consider purchasing medium-term puts to limit your downside.

Sell covered calls, cash secured puts, or straddles to capitalize on the near-term pessimism for Apple. This will generate income while you wait for Apple's price recovery.

Focus on relative value. Apple is currently trading at a PE in the low teens after adjusting for cash; it is rare to find a company growing this quickly at such a low multiple.
Disclosure: I am long AAPL.