It was nearly two years ago that Cisco (NASDAQ:CSCO) entered the server business with a modular system it calls the Unified Computing System or "UCS." This was not to be your typical server; this system was to go one step beyond its predecessors by starting from a unified network foundation on 10 gigabit per second Ethernet (10 GbE) that delivers a true wire-once architecture.
This idea of entering the server space drew the ire of some of Cisco's current customers who then turned competitors; particularly Hewlett Packard (NYSE:HPQ). There was a time when both tech giants were the best of partners in the market of integrated circuits. But that ended when Cisco entered HP's server space. In competitive fashion, HP responded by launching the ProCurve line. This was said to have been an attempt to pinch customers from Cisco. Further fueling the battle was HP's acquisition of 3Com, a move that was perceived as a way to better compete with Cisco.
When Cisco made the decision to enter the server realm, the incumbents in the server market quickly responded by denouncing and discounting the strategy. The company announced recently that in just two years, sales of Cisco's Unified Computing System are outpacing market growth for x86 blades, and Cisco has become the #3 player worldwide in x86 blade server revenue. On the most recent earnings call, Cisco reported 5,400 UCS customers and an annualized order run rate of $900M for UCS product orders. The graphic below offers a better illustration.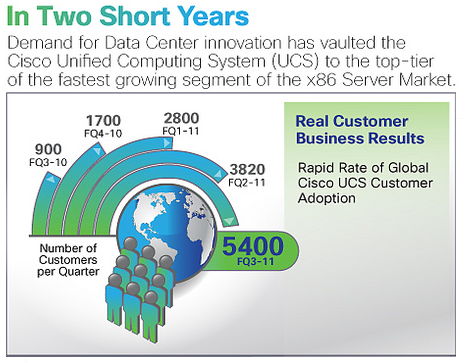 According to Cisco's website, blades are forecasted to be the fastest growing segment of the x86 server markets and market data have illustrated the impact of UCS innovation; businesses worldwide shifted over 10% of the x86 blade server spending to UCS, and in the U.S. nearly 20%. Cisco's rapid growth in such a short period underscores its leadership in the industry transition to fabric computing and converged infrastructure.
I have been one of the biggest supporters of Cisco in various articles. Though I have shared some frustration, I have never felt it was time to abandon ship. There have been many requests by readers for the firing of John Chambers, a move that I feel is still premature. The company has shown in recent weeks a willingness to shift and re-focus. It only seems logical to allow current management the time to steer from these "icebergs." In a previous article, I quote John Chambers as having said the following in the most recent earnings announcement:
I've always believed that our strategy and direction starts and stops with our customers and the partners that serve them. Having spent a lot of time with customers and partners, I am confident that we are well positioned in their minds in terms of our leadership. We are taking the network where our customers need it to be. No one has the breadth and scale of Cisco and Networking. No one has Cisco's breadth of innovation, the scale and reach of our customer delivery model or our talent and experience of our employees. Cisco's value to our customers is differentiated, and it is very simple. We are globally delivering to them a network-centric platforms that make them more competitive and allow them to achieve their business goals.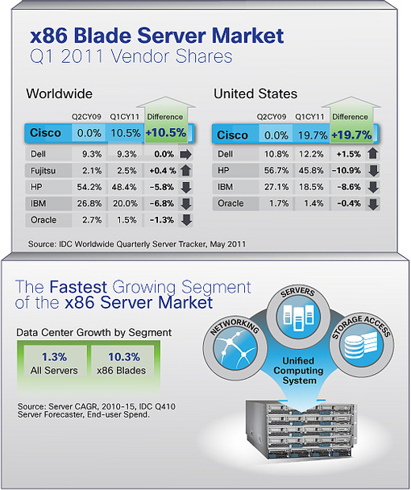 Market research firm IDC came out with its latest estimate of the x86 server market and listed Cisco as having 9.4% market share in servers. Hewlett-Packard and IBM of course were #1 and #2. But for Cisco to have earned such a giant leap forward in less than two years has to be somewhat of a vindication for some of its shareholders.
Summary
The recent success of the blade servers is evidence of the quote above by John Chambers and Cisco's ability to still deliver. Clearly the company is able to execute in a relatively new area yet it has been tagged for its lack of execution. Credit is now more than deserved for having produced these results. Today's market share news demonstrates Cisco's approach is taking hold and that it deserves additional time to cultivate value to shareholders.

Disclosure: I am long CSCO.