Quest Rare Minerals (NYSEMKT:QRM) was approved to start trading on NYSE AMEX last Monday morning. With the uplisting approved, Quest Rare Minerals is now eligible for inclusion in the Strategist Paper Portfolio and we are adding it in at the Monday open with a 5% portfolio weight.
We have updated our valuation model for Quest Rare Minerals and stress tested it for various downside scenarios.

Model Assumptions

CAPEX $913 million ($563 million from Preliminary Economic Assessment plus $350 million for a rare earth oxide separation plant)
Mid-2015 start of production date

$7.60/kg REO Cost of Production including by product credits

35% Tax Rate


12,100 per annum production

25 year mine life

We used three different pricing scenarios similar to those we used when valuing Molycorp (MCP). Our bullish scenario was current spot prices for the mine life of the B-Zone Strange Lake deposit. Our base case scenario was for 75% of spot prices in 2015 and 2016 with 65% 2017-2019 and 50% 2020 onward. Our bearish scenario was for 42.5% of spot price for the life of the mine which is our best effort approximation for current domestic Chinese prices.
We would note we also doubled the estimated cost of production that is in the corporate presentation and we assumed an additional $350 million in CAPEX for a plant to process rare earth concentrate into separate rare earth oxides.
At a 17.50% discount rate, our price target for Quest Rare Minerals is $21/share.
Click to enlarge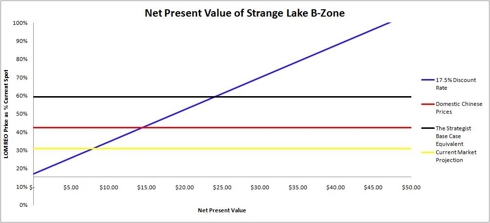 Click to enlarge

We derived this price target by giving a 70% weighting to our base case pricing scenario, 30% weighting to our bearish pricing scenario, and a zero percent weighting to the bullish pricing scenario.
If we assumed the bearish pricing scenario exclusively, the net present value would be $14.37/share which would be an 80% gain from the May 20th closing price. Under our base case scenario for long term rare earth prices, we would get a net present value of $24/share. Given current FOB spot prices for rare earth oxides over the mine life of Strange Lake B-Zone, the net present value of Quest Rare Minerals would be $47/share.
We would note for context that if we increased our discount rate to 20% and assumed our bearish pricing scenario, our net present value estimate would be $10.76/share. If we added a one and a half year delay on top of that bearish scenario, we would get a net present value of $8.19/share which is 3% above where Quest Rare Minerals is currently trading.
In layman's terms, Quest Rare Minerals' current stock price is reflecting at a 20% discount rate that production at Strange Lake will be delayed until the beginning of 2017 and that current domestic Chinese prices will be the prevailing rare earth oxide prices for the life of the mine. It's quite a bit of doom and gloom when you think about it. If we assume no development delays and a 17.50% discount rate, the market is currently pricing in a life of mine basket price at 31% of current spot price levels or 27% below our estimate of the current domestic Chinese basket price for the Strange Lake B-Zone.
With so much negativity currently priced into the stock, we think that Quest Rare Minerals offers the best opportunity to investors in the junior rare earth mining space. Some junior rare earth mining companies before the current pullback were priced for perfect execution given current spot rare earth prices outside of China, Quest has held up well during the pullback but the market is pricing in a lot of bad news relative to some of the other junior rare earth miners.
On top of this, when we look at the timeline of proposed projects, only Avalon Rare Metals (NYSEMKT:AVL) is ahead of Quest Rare Minerals in the development process with a mine that will be able to provide substantial amounts of the rare earth elements that won't be coming from Molycorp and Lynas (OTCPK:LYSCF). The projected CAPEX for Avalon Rare Metals' Nechalacho project is almost $300 million more than it is for Strange Lake, and it will be an underground mining operation vs. the fact that the Strange Lake B-Zone can be mined via an open pit.
(Author's Note: We are aware of the projects be advanced by Alkane Resources (OTCQX:ANLKY) and Great Western Minerals (OTCPK:GWMGF), but if added up those two projects are not currenlty projected to have annual production in tonnage equivalent to one year's production at Strange Lake or Nechalacho. We do not think it's fair to evaluate Alkane Resources purely in a rare earth context because of its diversified mineral holdings, and until we see the resource at Steenkampskraal expanded and brought into compliance, we will continue to evaluate its merits on the basis of the historical estimate just as we evaluate all junior rare earth companies based on the most up to date resource estimate).
We acknowledge the issue of ore grade since the Strange Lake TREO is sub-2% which is a level Molycorp management has repeatedly said is the cut-off in terms of economic mining. The reason we are bypassing this issue is because Nechalacho is also sub-2% and there are no other projects advanced in the development timeline with similar levels of projected heavy rare earth element production that has a 2% or higher TREO grade. We then have to look at what is available as a response to the western world's heavy rare earth supply deficit - and Strange Lake B-Zone and Nechalacho are best in breed. We think there is a 90% probability that at least one of these deposits will make it to producer status by 2016.
Bottom Line
After Molycorp and Lynas, the rare earth company that investors should look at is Quest Rare Minerals. It offers a very compelling risk/reward to investors in terms of the scenario currently priced in by the market, and the Strange Lake B-Zone deposit stands out for its large scale projected production of the rare earth elements not being produced by Mountain Pass and Mt. Weld in large quantities.
With the pre-feasibility study scheduled to be released by the end of 2011 and a definitive feasibility study scheduled to be completed by the end of 2012 we see defined catalysts that will "de-risk" the Strange Lake project. We would note again that at current Chinese domestic rare earth prices, our analysis indicates the net present value of Quest is over $14, so even in an extremely conservative scenario we believe investors have the potential to almost double their money over the next 18 months.
Disclosure: I have no positions in any stocks mentioned, and no plans to initiate any positions within the next 72 hours.
Additional Disclosure: Our editor is long QRM, MCP, LYSCF.PK. The Strategist Newsletter Paper Portfolio has long positions in MCP and QRM. The facts in this newsletter are believed by the Strategist to be accurate, but the Strategist cannot guarantee that they are. Nothing in this newsletter should be taken as a solicitation to purchase or sell securities. These are Mr. Evensen's opinions and he may be wrong. Principals, Editors, Writers, and Associates of The Strategist may have positions in securities mentioned in this newsletter. You should take this into consideration before acting on any advice given in this newsletter. If this makes you uncomfortable, then do not listen our thoughts and opinions. The contents of this article, email, and/or newsletter issue do not take into consideration your individual investment objectives so consult with your own financial adviser before making an investment decision. Investing includes certain risks including loss of principal.