It used to be an old adage that as broker-dealers go, so goes the market. The logic behind this relates to the idea that if stock investors in broker-dealers are causing the industry to underperform, it's because of a perceived slowdown in trading and a lack of growth in deals or overall investment assets under management.
If that's the case, then one might be able to view the group as an industry with some forecasting power in terms of overall direction of the market. With that said, let's take a look at the price ratio of the Dow Jones U.S. Broker-Dealers Index Fund (
IAI
) relative to the Dow Jones Industrial Average (
DIA
). As a reminder, a rising price ratio means the numerator/IAI is outperforming (up more/down less) the denominator/DIA.
[Click to enlarge]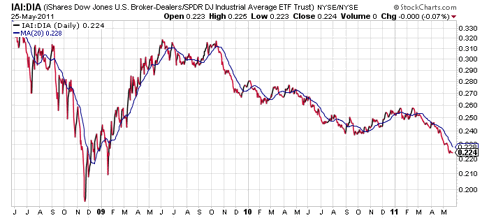 There are a couple of things worth pointing out. Broker-Dealers as an industry relative to the Dow bottomed out in late November, and the ratio began rising substantially in advance of the March low in 2009. Again, this ratio rose because of outperformance, which in the context of that time period meant being down less than the Dow. The leadership was an early signal of some kind of a market low.
What is stunning now is the complete lack of leadership in the industry, especially this year. The entire group has failed to keep up with the broader Dow, underperforming significantly in an unrelenting trend downward. If the industry does have some kind of predictive power because of the logic I outlined earlier, then the recent plunge and underperformance may be warning us that broader market declines lie ahead.
If that is not the message and investors are overreacting to the fundamental prospects of the group, then the ratio would presumably turn back up sharply, and soon. The trend does appear to be fairly definitive for now, so the burden of proof seem to be with the bulls.
Disclosure: I have no positions in any stocks mentioned, and no plans to initiate any positions within the next 72 hours.
Additional disclosure: Pension Partners, LLC, and/or its clients may hold positions in securities mentioned in this article at time of writing.