One of the fastest rising S&P 500 stocks these days is Salesforce.com (NYSE:CRM) which is up 8.75% in the last month vs. the Value Line Index, which is down 2.04% over the same period. The trading symbol -- CRM -- is a mnemonic for what the company does: Customer Relations Management.
I found this chart on Barchart based on its current momentum.
Click to enlarge: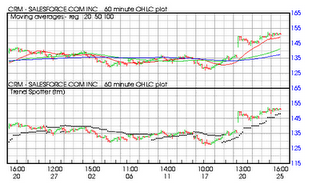 Salesforce.com is the market and technology leader in on-demand business services. The company's Salesforce suite of on-demand CRM applications allows customers to manage and share all of their sales, support, marketing and partner information on-demand. The Salesforce Platform, the world's first on- demand platform, enables customers, developers and partners to build powerful new on-demand applications that extend beyond CRM to deliver the benefits of multi-tenancy and The Business Web across the enterprise. The Salesforce Platform allows applications to be easily shared, exchanged and installed with a few simple clicks via Salesforce.com's AppExchange directory. Customers can also take advantage of Successforce, Salesforce.com's world-class training, support, consulting and best practices offerings.
Factors to consider are as follows:
Technical factors:
100% Barchart short term technical buy signal

Trend Spotter buy signal

Above 20, 50 and 100 day moving average

Only three new highs this month but up 8.75% vs the Value Line Index which is down 2.04%

Relative Strength Index 69.91% and rising

Trades around 150.93 with a 50 day moving average of 133.64
Fundamental Factors
Very popular with the Wall Street brokerage analysts with 11 strong buy, 16 buy and 11 hold recommendations based on very aggressive sales and earnings forecasts

Sales are projected to increase by 31.30% this year and another 23.20% next year

Earnings are estimated to increase by 7.30% this year but a whooping 42.70% next year followed by 26.56% annually for the next five years

The company has been burning through its cash for acquisitions lately
General Investor Sentiment
As measured on Motley Fool there is a difference of opinion between the professional and individual investor. Some 2,182 readers of Fool express an opinion on this one

CAPS members are split with vote 870 to 779 that the stock will beat the market

The more experienced All Stars seem equally split with a 279 to 254 vote for the same result
Summary: Professional analysts like Salesforce.com, but the individual investor is not impressed. Short interest has been building steadily over the past four months; not in the number of shorts but in the number of days to cover. The stock's recent price jump will give caution to the short sellers and if it continues, those shares will have to be covered. I like the sales and earnings growth prospects, but I'm cautious because of the difference of opinion with the individual investors. Short sellers see something the professional analysts don't. If you buy, stay protected with either a stop loss or put.
Disclosure: I have no positions in any stocks mentioned, and no plans to initiate any positions within the next 72 hours.